Master Wen Mei Yu has been teaching Chinese Martial and Healing Arts for over forty years. She was recognized as Top Instructor in Taijiquan in the Wushu division of China in 1983. Former professor at Jin Wu Athletic College and former General Secretary of the Shanghai Physical Culture Association for the Elderly, Master Yu has trained with some of China's top Masters of Taijiquan and Qigong. At age 17, she was diagnosed with a bleeding ulcer. At that time Eastern as well as Western Medicine was ineffective in her cure. Her family and friends urged her to try Qigong, which she did, and since that time she has devoted her life to the study of the healing methods and practice of Taijiquan and Qigong.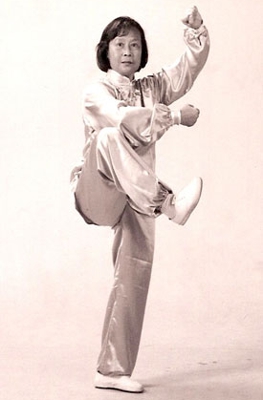 As a competitor she won many tournaments in China and the United States. She also received numerous awards including the "Award of Excellence" presented to her by the National Women's Martial Arts Federation. Master Yu annually sponsor a friendship tour to China to gather knowledge of various internal martial arts styles and forms. She has had extensive interviews with important Chinese Grandmasters and Masters. She preserves and spreads this precious knowledge in her teaching and writing. She has published more than 30 articles in the Inside Kung Fu magazine. She is currently working on several books as companion pieces to her previously released videos. She was recognized as 1994 "Writer of the Year" and as 1997 "Woman of the Year" by Inside Kung Fu magazine.
Her personal care, attention to specifics, and desire for her students to succeed make her one of the world's leading authorities of Taijiquan and Qigong and the science of why and how these arts are effectively learned. Master Yu is a treasure in the internal arts world, not only because of her knowledge, but also because of her care and devotion. She not only wants her students to benefit and succeed, she encourages them to go beyond her level and knowledge of these arts.
Master Yu's Education & Training
Master Wen Mei Yu is a Master Instructor of Chinese Internal Arts of Qigong and Taijiquan. Master Yu began Qigong training in 1953 in Shanghai when, at age 17, her bleeding ulcer was not treatable by Eastern or Western medicines. Her life has since been devoted to studying and teaching the healing methods and practice of Qigong and Taijiquan.
Master Yu trained with the following top Masters in China:
Taijiquan:
Gu Liu Xin, student of Great Grandmaster Chen Fake, the first Chen family member to publicly teach the Chen system of Taijiquan.
Fu Zhong Wen, husband of Yang Cheng Fu's grandniece. Yang Cheng Fu's teacher is Yang Jianhou, son of theYang style's creator, Yang Luchan.
Wu Ying Hua, daughter of Wu style Taijiquan's creator, Wu Jian Quan.
Ma Yueh Liang, son-in-law (husband of Wu Ying Hua) of Wu style Taijiquan's creator, Wu Jian Quan.
Zhou Yuan Long, teacher of the government sets, Simplified Taijiquan, Taijiquan 88, 48, and 42, and Chen style Taijiquan.
Qigong:
Guo Ling, creator of Guo Ling Qigong, a system designed to overcome cancer.
Yang Mei Jun, considered one of the greatest exponents of the Taoist Dunlun School.
Zhao Jin Xiang, Creator of the Soaring Crane System of Qigong.
Professional Accomplishments Professor; Jing Wu Athletic College
General Secretary; Shanghai Physical Culture Association for the Elderly
Judge and Coach; International Chinese Internal Martial Arts Championships, San Francisco
Judge and Coach; U.S. Kuoshou Championships, Maryland
National Advisor, Coach, and Judge; Chinese Martial Arts Division of the Amateur Athletic Union.
Instructor; Feminist International Summer Training, Netherlands
Instructor; National Women's Martial Arts Federation Special Training
Instructor; Pacific Association of Women Martial Artists Annual West Coast Women's Training Weekend
Instructor; Public seminars across North America
Private instruction for individuals with terminal illness and injuries from job stress and car accidents
Awards
1983 Top Taijiquan Instructor in China
1986 1st Place, Traditional Tournament, Shanghai
1989 1st Place, 2nd American Tai Chi Championships, San Francisco
1989 1st Place, World Cup, Los Angeles
1992 Honorary Lifetime Member, Pacific Association of Women Martial Artists
1993 Award of Excellence, National Women's Martial Arts Federation
1994 Writer of the Year, Inside Kung Fu Magazine
1997 Woman of the Year, Inside Kung Fu Magazine