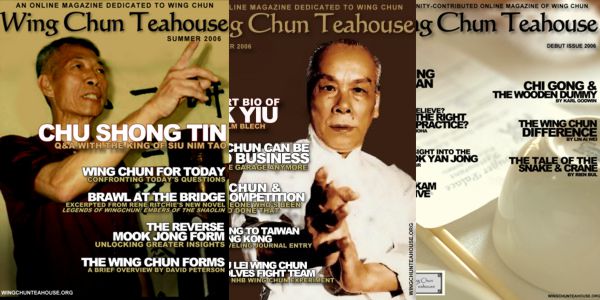 SAN CLEMENTE, CA OCTOBER 3, 2007
Wing Chun Teahouse announced today that is has changed its name to Wing Chun Magazine to better represent the publication with it's expanded commitment to reaching new readers world-wide.
The martial art of Wing Chun, occasionally romanized as Ving Tsun or Wing Tsun, is a southern Chinese fighting system that specializes in aggressive close-range combat. Core concepts of Wing Chun include practicality, efficiency and economy of movement. Its most famous practitioner was actor Bruce Lee.
"When we founded Wing Chun Teahouse in 2005 we wanted our readers to feel a sense of sharing stories between friends as in Chinese teahouses of old," said Adam Williss, publisher of Wing Chun Magazine. "Now, we are excited to introduce our new name and brand because it clearly tells new potential readers who we are.
"We're still the same great Wing Chun Teahouse publication bringing fresh Wing Chun content to readers around the globe," continued Williss. "We're proud to be the publication dedicated to Wing Chun in all of its forms."
In conjunction with the new name, Wing Chun Magazine introduced its latest issue last month with article contributions from authors Simone Sebastiani, John Ryckewaert Sr. & Jr., Armando Sainz, Marc Debus, John Broster and Mario Hostios. These articles include highlights and ideas from Wing Chun leaders such as Chow Tze Cheun, Donald Mak, Wang Kiu, Karl Godwin, Lo Man Kam, Alan Orr, Shawn Rawcliffe (Yip Chun), Alan Gibson (Wong Shun Leung), Paul Smith (Samuel Kwok) and more.
About Wing Chun Magazine
Wing Chun Magazine is the online magazine of Wing Chun. Wing Chun Magazine, formerly Wing Chun Teahouse, is dedicated to promoting the martial art of Wing Chun in all its forms, spellings, lineages, traditions, innovations and modifications. These names and spellings include but are not limited to Wing Chun, Wing Tsun, WingTsun, Ving Tsun, Weng Chun, Wing Tzun, Jun Fan Gung Fu, Wing Chun Do, Jeet Kune Do, JKD, etc. Distributed to subscribers via email in Adobe Reader format as well as available online at  , Wing Chun Magazine brings community-contributed articles to eleven different countries world-wide.
For more information, please visit the official Wing Chun Magazine website.
ADAM WILLISS
Wing Chun Magazine
949-223-6503
# # #
This magazine is now at eWingChun.com