Nations from all four corners of the globe gathered once again in the scenic tourist city of Chungju for the 13th Chungju World Martial Arts Festival under the auspices of WOMAU (World Martial Arts Union), an organization dedicated to the propagation of traditional martial arts and fostering brotherhood internationally through them.
Exponents of Filipino Arnis, Indonesian Silat, Russian Koresh, amongst many others walked shoulder-to-shoulder with Korean Tae Kwon Do, Taekgyeon, Teuk Gong Moo Sool and Kumdo at the massive Martial Arts Park built for WOMAU and the bi-annual Chungju World Martial Arts Festival by the city of Chungju.
Held in the latter part of 2017, exponents of dozens of countries representing their nation's indigenous arts came together for a 2-day WOMAU meeting in the city where several speeches and debates took places concerning the preservation of cultural heritage, economic prosperity, education of youth, exchange of martial knowledge and other topics of concern were tackled.
Without batting an eye, the delegates jumped into the most truly international event in all of Asia. It was free to the public to boot.
Events included a professional MMA event (Road FC), an amazing 3-storey martial arts museum, the 3rd Penjak Silat Championship, the 1st World Kids Masterships contests, the 2nd Uzbek Jang Sanati Championships, the 2017 World Martial Arts Festival Jiu-Jitsu Tournament, the 3rd International Thang-Ta Championship, and the 1st Arnis Friendly Match.
The biggest showstopper was the 2017 International Martial Arts Contest which was held Saturday to Sunday that week on the Main Stage of the World Martial Arts Park. There were 5 Events in 3 Categories. It was organized by the 2017 International Martial Arts Contest Organizing Committee with patronage by the Ministry of Culture, Sports and Tourism, Chung-cheong-buk province, Chung-ju city.
The participants consisted of 149 teams from 10 countries (Korea, Netherlands, Russia, Vietnam, Singapore, Bulgari, Indonesia, India, Uzbekistan, and the Philippines). The results are as follows: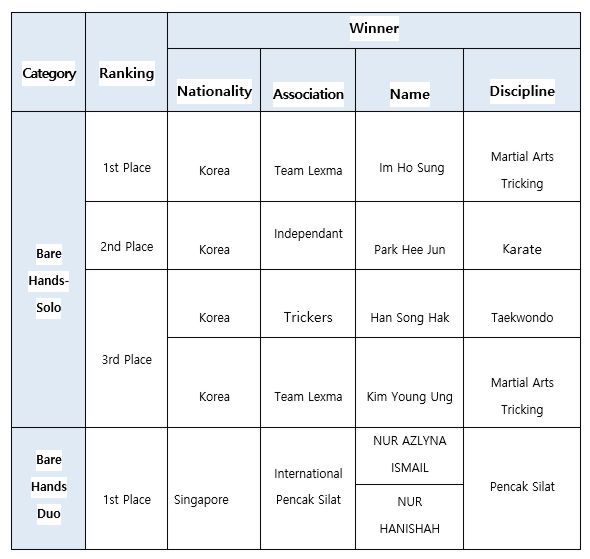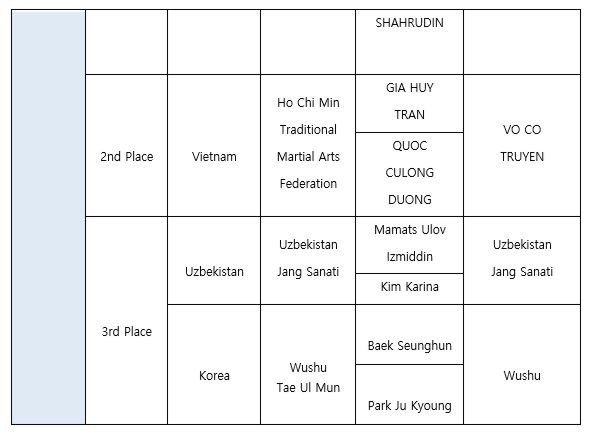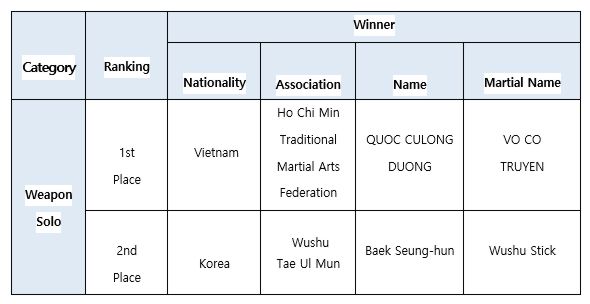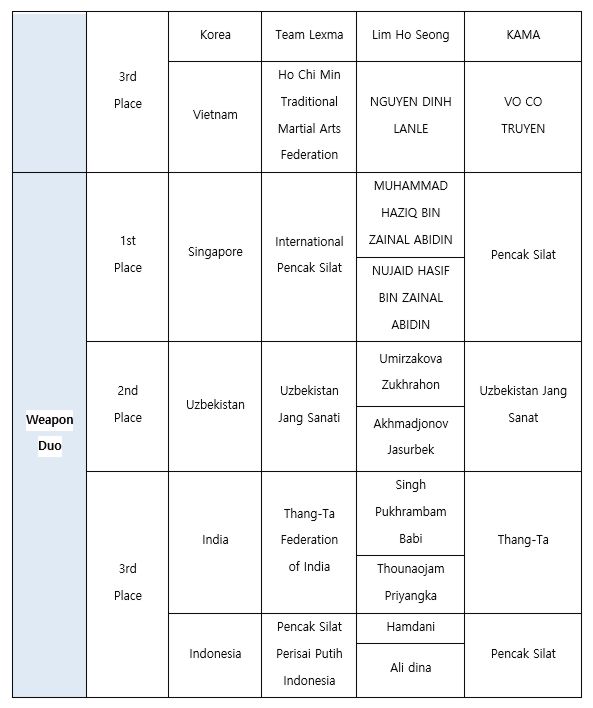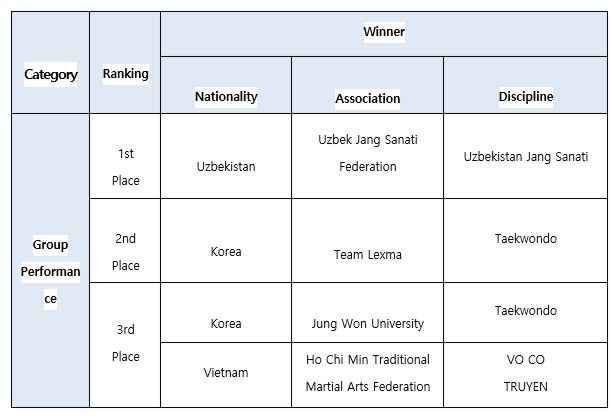 World Martial Arts Union: http://womau.org.
Chung-Ju World Martial Arts Festival: http://www.martialarts.or.kr/index_eng.php