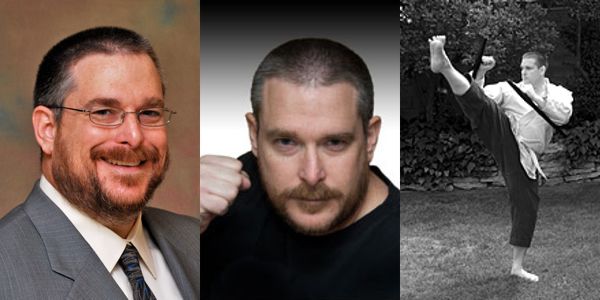 Alex Haddox is a skilled martial artist and self-defense instructor. He has over two decades of combined traditional martial arts training in multiple styles including American Kenpo, Hapkido and Gracie Jiu-Jitsu. He holds many trophies from his days of kumite (fighting) competition including: 1st place, Long Beach International Karate Championships, August 3, 2008; 2nd place, World Karate Invitational Championships, July 31, 1983, Under green; 4th Place, United States Karate Championships, November 6, 1983, Under blue; and many others.
Alex Haddox holds teaching credentials from the National Rifle Association (NRA) in multiple disciplines including Chief Range Safety Officer (CRSO), is licensed by the California Bureau of Security and Investigative Services as a firearms instructor (TIF 2258) and baton instructor (TIB 1874), and is a member of both the International Association of Law Enforcement Firearms Instructors (IALEFI) and International Law Enforcement Educators and Trainers Association (ILEETA).
An accomplished author, Alex Haddox has been published in peer-reviewed journals and authored a column on self-protection for TaeKwonDo Times Magazine for nearly seven (7) years (he continues to contribute general articles regularly). His book on personal security, Practical Home Security: A Guide to Safer Urban Living, is sold in nine (9) countries and available multiple languages. He is the creator and host of two free podcasts called Practical Defense and Security Professionals Podcast with downloads in the millions and heard in over 135 countries. He is also the creator of the Guard Card Training professional security guard training program used on five (5) continents.
His work and personal life have taken him all over the globe including countries in North America, Europe, Africa and South America. Mr. Haddox has seen some of the world's greatest cities and walked the streets of some of the most underprivileged. His experience has taught him that safety starts with knowing how to conduct yourself and what to be aware of, not necessarily where you are.
Alex Haddox spent over a decade working for Amgen, Inc., one of the world's largest multinational biotech firms, as a Senior Business Analyst, Senior eLearning Analyst and Training Project Manager. Among his many projects, he designed instructor-led and e-learning training modules for the Global Regulatory Affairs & Safety Education & Development and IS Training & Development departments. He holds a Masters degree in Adult Education and Training.
Alex Haddox was also the Product Manager and co-founder of the Symantec AntiVirus Research Center (SARC). He was considered one of the world's leading computer virus experts, traveled worldwide on speaking engagements and appeared on national television programs including Good Morning America, CNBC, the Discovery Channel and Fox News Network. He has been quoted in innumerable print publications from The New York Times to USA Today and was on the Advisory Board to the industry's leading publication, "Virus Bulletin."