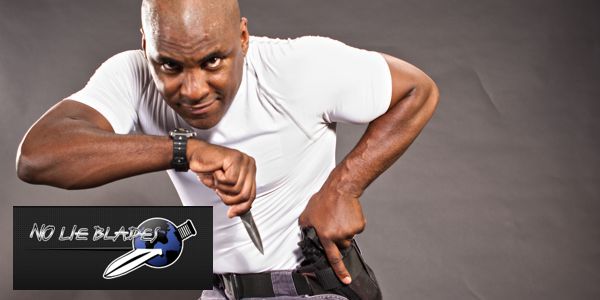 Hank Hayes was introduced to the Martial Arts at the young age of 10, where as a kid growing up on the streets of Brooklyn fighting could be very difficult to avoid. A fighting Arts practitioner/instructor since 1973, and a 10 year Executive Protection Veteran, Hank quickly found the need for realistic training programs to improve his personal fighting skills and techniques.
For 25 years, Hank Hayes has trained with and alongside many of the most elite martial artists in the world. His resume reads like a "Who's who" of martial arts.
As the years progressed, Hank's experience with weapon systems and weapon fighting developed. Like many who train in edged weapons combatives, he would find that the development of technique and cutting patterns would be lost in a flurry of fast action, ending in confusion on who was cut where and when, as well as the splinters and bruises associated with past blade mediums.
It was during one of these many moments that the inspiration and need for the No Lie Blades Training Blade occurred. After countless hours and numerous prototypes, the world's first tactical marking blade with safety edge for reality training was born.
Hank continues to train the Arts as a student and teacher, his passion has the same strength it did in when he started in 1973. Hank also competes as an amateur body builder, a extreme motocross enthusiast a high performance pilot and enjoys family fun activities with his wife Melissa and three boys Legend, Braxton, Dakota and two girls Raina and cheyenne which are his spark of life.
For more information about Hank Hayes and No Lie Blades Defensive Measures visit their website at http://www.nolieblades.com and their listing on the Martial Arts Schools and Businesses Directory by clicking on the image on the left.