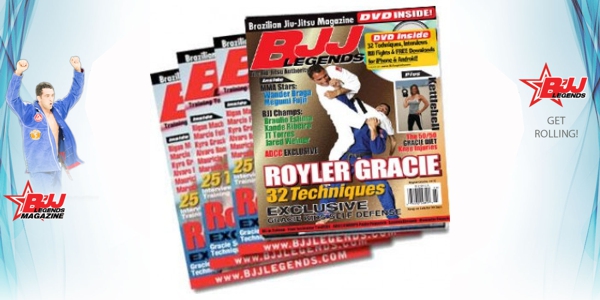 BJJ Legends Magazine was created to help spread the art of Jiu-Jitsu. BJJ Legends Magazine creators found that through their years in the sport they had a great amount of knowledge and access to top talent that the world was interested in and they wanted to spread their legacy, their passion and help people.
What you find in the magazine and here is a mix of in-depth interviews with Jiu-Jitsu Legends like: Royce Gracie, Marcio Fetiosa, BJ Penn, Kyra gracie, Rigan Machado, Tinguinha and more. The Magazine comes with a DVD of techniques, interviews, BJJ fights and more.
Full Color Magazine + DVD in each issue
Interviews
20+ Techniques / Submissions include:
Video & Print Techniques from Jiu Jitsu Legends
Video & Print Interviews with Legends Like: Royce Gracie, Rigan Machado, BJ Penn, Leo Viera, Kyra Gracie, Royler Gracie.