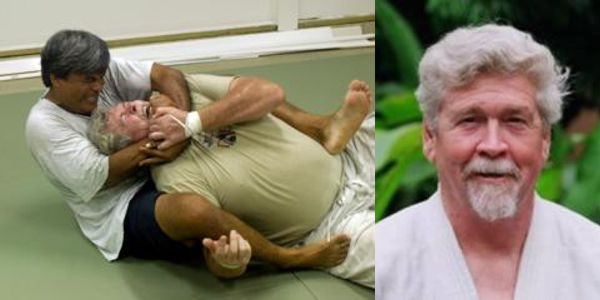 Bruce Raney
July 23, 1951-  January 27, 2010
Sensei Bruce Raney started his jujitsu training in 1970 in Larkspur California. He started his j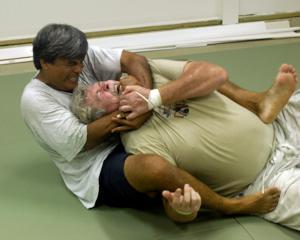 udo training in 1972 and eventually became a member of the San Jose State varsity judo team. His style is Mokomoko (rough'em up), a rough contact form of jujitsu using many of the elements of competition judo. Sensei Raney held a Sandan in Judo, a Sandan in Nihon Jujitsu and a Yondan in Kodenkan Danzan Ryu Jujitsu. He had the privilege of studying for many years with Professor Sig Kufferath and Professor Willy Cahill. Currently, Sensei Raney is the Director of Kilohana in Hawaii. He also relates that he has had the dubious honor of beating Sensei Hans Ingebretsen's butt on the mat for years.
Bruce Raney was born in San Francisco, California on July 23, 1951. He had a BS in Biology and a MBA from San Jose University. Bruce was a software consultant. He retired at the age of 46 and moved to Hawaii in 1998, where he later established his dojo "Halau O Ka Makani Malie" under Kilohana Martial Arts Association. Bruce met his wife, Ella, a retired engineering director at work 34 years ago. They were happily married for 29 years, and have a 26 year old son, Aaron who is a veterinarian in Australia. Aaron also has a 2nd degree from USJF.
These are some of the titles Bruce held:
8th degree in Art of Self Defense from Hawaii Martial Arts Society, Hall of Fame from Hawaii Martial Arts Society
6th degree in Danzan Ryu Jujitsu from Kilohana Martial Arts Association
3rd degree in Nihon Jujutsu from International Martial Arts Federation World Headquarter in Japan
4th degree and instructor of Jujitsu from Jujitsu of America, and 3rd degree from USJA
Bruce's style was (Moko Moko or Rough'em up) focused on using the arts in a practical way. Practice included moving, throwing, locking, grappling, escapes, percussion, trapping hands, choking and massage. He believed contact is an essential part of these arts. Movement, respect for your partner and "leather touch" is a necessary component of practice.
Bruce Raney was an extremely accomplished martial artist and a wonderful human being. His dojo always welcomed anyone who wanted to train and we often visited and trained there at his mountainside dojo. I have personally learned many things from him and we spent much time discussing philosophies and the like. My students trained at his dojo often where there was always an atmosphere of friendliness and camaraderie. His dojo was opened to the AJI Anniversary celebration event for 4 days of training and a wonderful get-together on the last day. His friendship, I will miss dearly. More information will be posted shortly. Daniel W. Saragosa, VP-AJI
Bruce Raney passed away at age 58 on January 27, 2010. Memorial Services were held at the Hawaiian Memorial Park Mortuary on Kamehameha Hwy, Kaneohe, on Thursday, February 11, at 10 a.m.