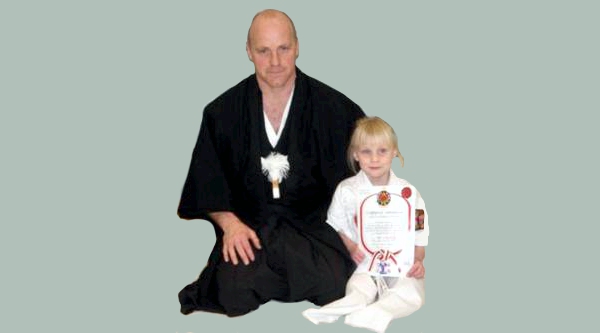 By Sensei Trevor Steward ~ I would like to take this opportunity to share with you all a story about Victoria Watson, a student of mine that recently achieved her first belt in ishin Ryu.
Victoria started training with me in Ishin Ryu Ju-Jitsu back in August 2009 and was a little shy but was a very active student who always really enjoyed her lessons.
On the 31st October on a Monday night at the start of the infant class, her parents walked in looking very upset and her dad found it hard to talk to me. When they said that Victoria was rushed into hospital and was fighting for her life with an aggressive strain of meningitis, I was completed shocked and saddened as I remembered only last week she was running around my mats having fun.
Over the next weeks I kept in close contact with them to see how she was doing, as I felt very concerned as I have two young children of my own. As a parent I felt for what they were going though and I wanted to help them as much as I could.
During a phone call to her parents I was told that there was a possibly that she would lose her hands and legs, and they were fighting to try and save them and her life was still in danger. I prayed for her and her family and hope that they could do everything they could to help her.
Over the next few weeks she started to show improvement and was fighting back and when I was told that they had saved her hands but unfortunately her legs were starting to poison her so they had to amputate the legs from the knee down to save her.
At first I was very sad but at least she was still alive and was getting better. When she first came round from the operation the first she asked was can she go back to Ishin Ryu when she got out of hospital? That made me feel so happy and that she was a fighter and determined to reach her goal.
The first time I went to she her she was very quiet and was fighting a virus, she wasn't the same Victoria Watson that I knew a few months before. I held her hand and told her to keep on fighting and not to give up. It was hard to see her like that and I felt very emotional and needed to give my kids a big cuddle when I got home. When I left I was told by the parents that she was so happy to see me and told everyone that her instructor had come to see her.
As she was still poorly and her legs were still healing she was going to have to spend Christmas in hospital with her parents living in flats nearby. A few days before Christmas I visited her and took her and her brothers some Christmas presents and to wish them all a very happy Christmas. I felt so proud of her and all the courage that she had shown that I wanted to give her some presents to show what a wonderful student she was.
I kept in close contact with the family to see how she was doing over the next few weeks, and was told that she would be out of hospital very soon which was fantastic news to hear.
The following Monday as I was about to start the lesson the door opened and Victoria came in on her wheelchair dressed in her Ishin Ryu Gi and had a big smile on her face.
I was so happy and amazed to see her as she came closer to the mats; I jokingly said to her are you coming onto the mats. And without hesitation she reached out with her hands for me to pick her up and I took her in my arms onto the mats.
All of the students were very quiet at first, so I sat down with Victoria and told the rest of the class what had happened. As soon as we started the lesson with a game the students thought nothing of it and got on with the game. Victoria Watson just went around on her hands and knees and did what she could with determination and adapted the techniques to suit her.
It was a very emotional evening to see Victoria Watson back on the mats having fun and giving it 100%. There were many times that I could have shed a tear or two, and to see how proud her parents were to see her back on the mats. All the parents were so amazed at what they were witnessing and it brought home that when ever I had a sore arm or a headache it was nothing compared to what Victoria had achieved since her return.
So whenever you are having a bad day or feeling a bit run down think about what Victoria Watson has had to go through over the last five months!
I am going to start a funding event to buy her state of the art legs so I will let you know when it starts. Life can never be that bad!
Written By Sensei Trevor Steward