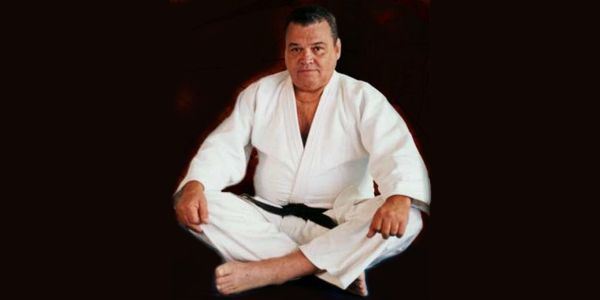 Carlson Gracie Sr. was a 9th degree black belt in Brazilian Jiu-Jitsu trained directly under the founder of Brazilian Jiu-Jitsu, Carlos Gracie Sr., his father. There are only three living persons ranked higher in BJJ worldwide. Carlson won over 600 professional NHB matches during his fight career. He is considered by many to be the greatest Ultimate Fighter in history. Carlson's numerous students include professional fighters Vitor Belfort, Murilo Bustamonte, Mario Sperry, Wallid Ismail, and more.
Eldest son of Carlos Gracie, the man who brought Jiu-Jitsu to Brazil, Carlson was launched by the family in the challenge against Waldemar Santana, who had defeated uncle Helio in the anthological bout that lasted 3:40h, held in 1955. Six months later, at 21, he would go into the ring in order to avenge the uncle in little less than 40 minutes, in a bout the press depicted as "a massacre." This would be the first of four fights against Waldemar (two wins, two draws) in Carlson Gracie Sr.'s record of 19 professional fights, with one loss.
After retiring from MMA, Carlson Gracie Sr. dedicated himself to teaching Jiu-Jitsu, and his team reigned supreme in the tournaments held from the mid-1970s to the mid-1990s. He raised such black-belts as Sérgio Iris ("Serginho de Niterói"), Cássio Cardoso, Peixotinho, Ricardo de la Riva, Murilo Bustamante, Amaury Bitetti, Ricardo Libório, Zé Mario Sperry and Wallid Ismail, amongst 200 graduates.
Controversial, loud talker, always gesticulating. With of an exotic taste that ranged from French music to cockfights, owner of a fantastic memory, master Carlson Gracie Sr. suffered a tremendous shock in 2000, when his elite fighters left the academy on 414 Figueiredo Magalhaes street, in Copacabana, and assembled Brazilian Top Team, after arguments concerning percentages of the fights' purses. Some followers, however, stood by the red-belt until the end, like Oswaldo Paquetá, Wallid Ismail and Luis Carlos "Manimal" Matheus.