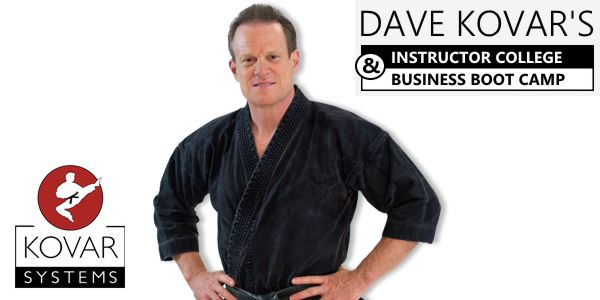 Dave Kovar Seminars offer two incredible opportunities to improve your business: Business Boot Camp AND Instructors College
Dave Kovar's Business Boot Camp
Dave Kovar seminars are designed for the martial arts school owner. After 35 years of experience in the industry, Dave Kovar has condensed his learnings to share his success secrets for the 21st century martial arts school.
Dave Kovar's Instructor College
Dave Kovar Seminars have condensed the essential elements of mat management into a special one-day program that will help any instructor upgrade their skills. These intensive training sessions will also cover other key areas such as The Five Keys to Superior Student Service, Ethical Referral Strategies and The Core Four Retention Techniques.
Date: Saturday, February 7, 2015
Time:
Instructor College from 12pm – 3pm
Business Bootcamp from 4pm – 7pm
Place:
Team Karate Centers
21038 Victory Blvd, Bldg A.
Woodland Hills, CA 91367
Instructor College from 12pm – 3pm
Business Bootcamp from 4pm – 7pm