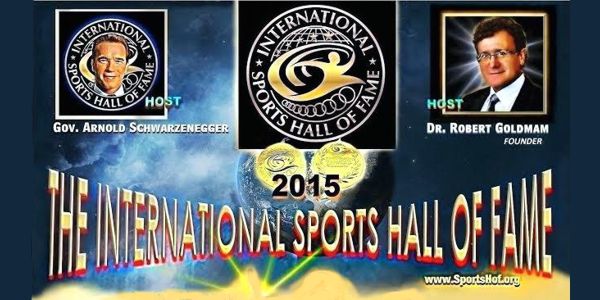 Two martial artists, Don "The Dragon" Wilson and Michael Jai White are being inducted into The International Sports Hall of Fame 2015.
Candidates are chosen not only for their athletic accomplishments, but also for their charitable works and mentoring of young children. The International Sports Hall of Fame headquarters is housed at the world's largest physical culture museum at the University of Texas, Austin, the Stark Center.
The Induction ceremonies will be held March 7, 2015 at the Arnold Schwarzenegger Sports Festival, the largest such event in the world, with over 175,000 attendees and 18,000 competing athletes (twice the size of the Olympics). The event is hosted by Hall of Fame Founder Dr. Robert Goldman  and Governor Arnold Schwarzenegger. Over 800 members of the international press are invited annually, as well as select world champion athletes and past International Sports Hall of Fame Inductees.
International Sports Hall of Fame 2015 A HUGE SUCCESS! (Read More)
The International Sports Hall of Fame
Hall of Fame Inductee Class of 2015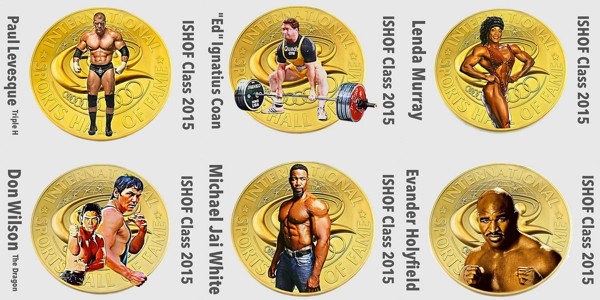 The International Sports Hall of Fame is pleased to announce their Inductee Class for 2015.
Hall of Fame Inductee Class of 2015 Includes:
Paul "TRIPLE H" Levesque – 13 Time World Champion
Evander Holyfield – 5 time World Boxing Champion
Lenda Murray – 8 Time Ms. Olympia World Bodybuilding Champion
Ed Coan-Holder – Over 70 World Powerlifting Records
Don 'The Dragon' Wilson – 11 Time World Kickboxing Champion and movie star (See Bio Below)
Michael Jai White – accomplished martial artist, holding seven different black belts: Shotokan, Tae Kwon Do, Kobudo, Goju Ryu,Tang Soo Do, Wushu and Kyokushin (See Bio Below)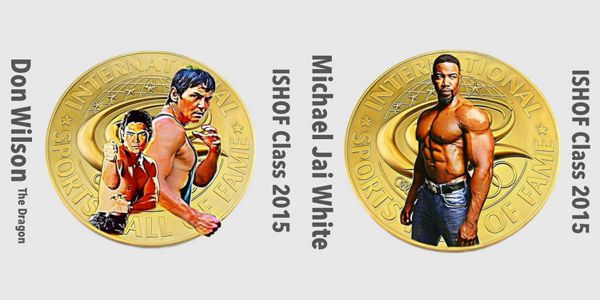 Don 'The Dragon' Wilson
Don Wilson is considered by many to be the greatest kick-boxing champion in the sport's history.
His first Pro bout was in 1974, with a career that spanned 4 decades, Don  won a total of 11 World Titles with several sanctioning bodies that included the IKF, WKA, KICK, ISKA, STAR and the PKO and is listed in the Guinness Book of World Records for the most World Championships in Kickboxing. He won his IKF FCR Cruiserweight World Title. Having never been challenged for his title, Wilson voluntarily retired it to move down to the Light Heavyweight Division, where he eventually retired from fighting a few years later. He posted a record of 72-5-2 with 48 wins by knockout. His was also inducted into the Hall of Fame in 2010 by WKL World Kickboxing League.
Don 'The Dragon'  is one of the most liked legends in the martial arts world. He has starred in 27 Hollywood martial arts action films with 4 HBO World Premieres and most recently a lead role  'The Martial Arts Kid' movie.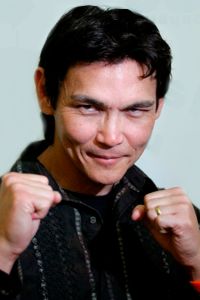 Widely regarded as America's greatest kickboxing champion, Don Wilson, is perhaps better known outside of martial arts sports as the star of nearly 40 internationally-released action thriller cable-TV movies. Upcoming in 2015, "The Dragon" will star in THE MARTIAL ARTS KID opposite fellow International Sports Hall of Famer Cynthia Rothrock, and also will appear in THE SCORPION KING 4: QUEST FOR POWER.
Don entered the international stage as the first Kung-Fu practitioner to win a world kickboxing title. His fighting nickname, "The Dragon," comes from his White Dragon (Pa'i Lum) Kung-Fu style. Over the next decade and a half, he won 11 World Title belts in 4 weight divisions, for 5 sanctioning bodies (WKA, STAR, PKO, ISKA and IKF). Along the way, he defeated 13 other World Champions.
Wilson headlined main event fight cards from Madison Square Garden (New York City), Caesar's Palace (Las Vegas & Lake Tahoe), Korakuen Hall (Tokyo Dome), Queen Elizabeth Stadium (Hong Kong), Lumpinee Stadium (Bangkok), Verdun Auditorium (Montreal), Deutschlandehalle (Berlin) and MGM Grand (Las Vegas) as broadcast over NBC-TV, ESPN-TV,  TSN-TV (Canada), Ashai-TV (Japan), TVB-TV (Hong Kong), Channel 8 (Thailand), FNN/SCORE-TV and Canal Plus (Europe).
He amassed a total kickboxing record of 73-5-2, with 49 KOs, 7 by Kick-KO.  His 61.2% knockout average remains slightly better than boxing's "The Greatest" Muhammad Ali's 60.7% average. By 2002, Wilson was entered into the GUINNESS BOOK OF RECORDS for winning the most Kickboxing World Titles, a feat as-yet unequalled.
Following  advice from Chuck Norris, "The Dragon" relocated to Hollywood where, among his early film roles, he appeared as John Cusack's sparring partner in Columbia Pictures' SAY ANYTHING (1989). He also trained Mr. Cusack in kickboxing for that film. Next, Wilson was hand-selected by renowned "King of the Bs" producer Roger Corman to star in eight of Concorde Pictures' BLOODFIST film franchise.  Subsequently, four Wilson actioners became HBO World Premieres, including RED SUN RISING (1994) – the highest Nielsen-rated HBO movie of that year (10.3 Nielsen, 15 share). He further made cameo appearances in Warner Brothers' BATMAN FOREVER (1995) and Columbia Pictures' STEALING HARVARD (2002), as well as starred in SYFY-TV's THE LAST SENTINEL (2007).
Don 'The Dragon' is one of the most liked and admired legends in the martial arts world, says the World Kickboxing League.
Don Wilson on Martial Arts Entertainment
Michael Jai White
Michael Jai White (born November 10, 1967) is an American actor and martial artist who has appeared in numerous films and television series. He is the first African American to portray a major comic book superhero in a major motion picture, having starred as Al Simmons, the protagonist in the 1997 film Spawn. White appeared as Marcus Williams in the Tyler Perry films Why Did I Get Married? and Why Did I Get Married Too?, and currently stars as the character on the TBS/OWN comedy-drama television series Tyler Perry's For Better or Worse. White portrayed Jax Briggs in Mortal Kombat: Legacy. White also portrayed boxer Mike Tyson in the 1995 HBO television movie Tyson.
White was born in Brooklyn, New York and moved as a teen to Bridgeport, Connecticut, where he graduated from Central High School in 1985.
He is an accomplished martial artist, holding black belts in seven different styles: Shotokan, Tae Kwon Do, Kobudo, Goju Ryu (for which he studied under Master Eddie Morales where he learned to sharpen his Goju karate technique), Tang Soo Do, Wushu and Kyokushin, with a specific focus in Kyokushin (although his style incorporates aspects of many different martial arts forms). White started training in the martial arts at the age of four in Japanese Jujutsu and then Shotokan at seven moving to other styles later.[citation needed]
White is a former teacher. He cites his history in education as the reason why, despite his personal love for the music genre on "a lot of levels", he cannot "in good [conscience]" have a positive opinion on hip hop or "excuse some of [its] pervasive and destructive elements", due to his experience with youngsters who had difficulty seeing the difference between it and real life.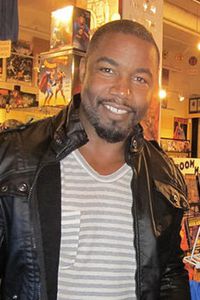 White's first major starring role and breakout performance was in the 1995 HBO film Tyson, as heavyweight boxer Mike Tyson. He portrayed the eponymous character in the 1997 movie Spawn, making him the first African American to portray a major comic book superhero in a major motion picture. His work in Spawn earned him a nomination for the Blockbuster Entertainment Award for Best Male Newcomer. White starred opposite Jean-Claude Van Damme in Universal Soldier: The Return. In 2001, he also starred opposite fellow martial artist Steven Seagal in Exit Wounds. In 2003, he starred in Busta Rhymes' and Mariah Carey's music video "I Know What You Want". Since 2003, in addition to his on screen roles, White has been doing voice work, including Static Shock and the Justice League. White showcases his martial arts skills in the direct-to-DVD film Undisputed II: Last Man Standing. He also appears in Michelle Yeoh's Silver Hawk in 2004. He appeared in Kill Bill Vol. 2, although his role was cut from the theatrical release. His film Why Did I Get Married? opened at number one at the box office on October 12, 2007.
White played the role of the mob boss Gambol in the 2008 film The Dark Knight. He also starred in the film Blood and Bone and the blaxploitation homage Black Dynamite, both released in 2009. White wrote the scripts for both Black Dynamite and his upcoming 3 Bullets in which he stars with Bokeem Woodbine.
On March 30, 2010, White appeared on The Mo'Nique Show to promote his film Why Did I Get Married Too. The two joked about the acclaim that comes with winning an Oscar. In May of that year he appeared in the music video for Toni Braxton's new song "Hands Tied" from her album Pulse, as well as the Nicki Minaj music video for "Your Love" as Nicki's sensei and love interest.
He also starred in Kevin Tancharoen's short film Mortal Kombat: Rebirth, as Jax Briggs, and reprised the role in Mortal Kombat: Legacy, a webseries from the same director. He recently posted on Twitter that he would not be returning to the role for the second season, but would return for the 2013 film.
White made his directorial debut and starred in Never Back Down 2: The Beatdown, which was released on home video on September 13, 2011.
White also provided the voice of Green Lantern John Stewart in the video game Justice League Heroes.
Michael Jai White on Martial Arts Entertainment