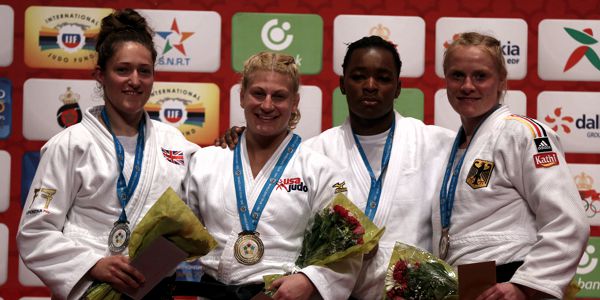 USA Judo's Kayla Harrison Wins World Judo Masters Jumps to #2 Ranked in the World
Kayla Harrison, Reigning Olympic medalist shows her determination for 2016 Rio Olympics domination.
COLORADO SPRINGS, CO, May 24, 2015 – Kayla Harrison wins World Judo Masters – one of judo's premier tournaments. With a victory over the world's current No. 7 rank, Natalia Powell-GBR, in the final, Harrison climbed up the International Judo Federation' s (IJF) world ranking to No. 2, only 100 points away from the leading spot.
Harrison kicked off the tournament by defeating opponents from Russia and Ukraine in the preliminary rounds. She then advanced to the semifinal to beat Guusje Steenhuis of Netherlands. Once in the final for the gold, Kayla won by ippon in 2:26 minutes. In a different perspective, Harrison beat current No. 7,8,9 and 10-ranked judoka in the world in the -78 kg weight category.
"As the Olympic games approach, these incredibly talented athletes are all deeply committed to succeed and with this victory, Kayla Harrison is setting the tone and march towards her defending moment in Rio 2016."
USA Judo President, Lance Nading
The World Judo Masters, which in this occasion took place in Rabat, Morocco, is an IJF invite-only event that brings together the world's top 16 judokas in each weight category and USA Judo's Kayla Harrison was among the 225 elite participating judoka from 50 countries.
USA Judo history was made this weekend with the participation of six of our athletes at this event, as it was the largest delegation of U.S. athletes invited to compete at any World Masters. Kayla Harrison was the only medalist.