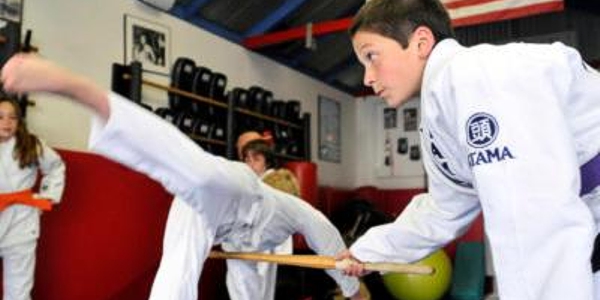 Jean Paul LeBosnoyani is a Hermosa Beach fifth-grader who likes to study math, science and social studies.
But he's also a trained fighter who could subdue a man twice his size, break his arm and choke him with just a few graceful movements.
The 11-year-old is a two-time jiujitsu world champion who has taken home four gold medals since he began competing in mixed martial arts last year.
After school and before he trains, he teaches boxing, wrestling and Brazilian Jiu-Jitsu at his father's karate studio.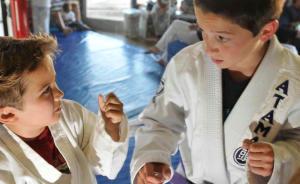 Jean Paul Lebosnoyani"He's really cool," said 6-year-old Kade Cohen, a student of Jean
Paul. "I kind of like his voice."
Jean Paul took the California State Championship twice, and won gold at the Gracie Kids World Tournament and Pan-American Kids Jiu-Jitsu Championship this year.
"I'm insanely nervous before competitions," Jean Paul said. "The night before I can't sleep. Once I get in the ring, all that nervousness goes away and it's my world."
His goal now is to compete in the 2016 Olympics in Brazil in both boxing and jiujitsu.
During a recent class, Jean Paul taught his young students how to overpower a competitor.
"Grab their collar. Grab the belt. Knee on the stomach. Face up," he said, holding a student down on his back to demonstrate. "That's the only way you get points."
The students responded, "Yes sir!"
Jean Paul said he likes to think of "teaching as giving," and he enjoys seeing his students become more skilled and self-confident as they learn.
"They change, like, every day," he said. "Some people come in shy and then become the class clown."
His father, Nono LeBosnoyani, opened Nono's One-On-One Hapkido Karate 23 years ago on Pier Avenue in Hermosa Beach. He immigrated to the United States from France when he was 18 years old, and made a career of martial arts.
When Jean Paul was born, Nono decided to begin teaching him his trade as soon as possible.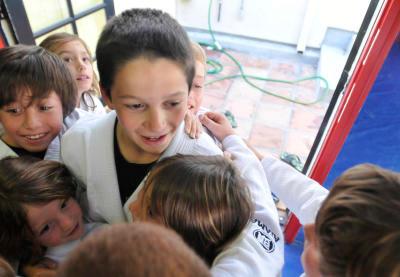 Jean Paul Lebosnoyani"I had a plan when he was born," Nono said. "He learned to crawl and walk on this mat. Now he's pretty confident for an 11-year-old and he's not cocky. It's a tool in life."
Jean Paul said he remembers getting a dollar for cleaning the mats when he was 3. Now he makes $60 an hour teaching.
He said he wants to be a professional mixed martial arts fighter, and he can't imagine what his life would be like if he hadn't been trained at a young age.
"I think about what I'd be like if I didn't do this," he said. "A couple years ago I wanted to be a basketball player. Not anymore. I want to fight really bad."
He is also helping to teach his 9-year-old sister, Bianca, how to fight. She already has achieved some success, recently taking a gold medal at a tournament.
"It's all discipline," Nono said. "Just the fact that they're here working out, not hanging out or graffitiing."
By Sandy Mazza of The Daily Breeze