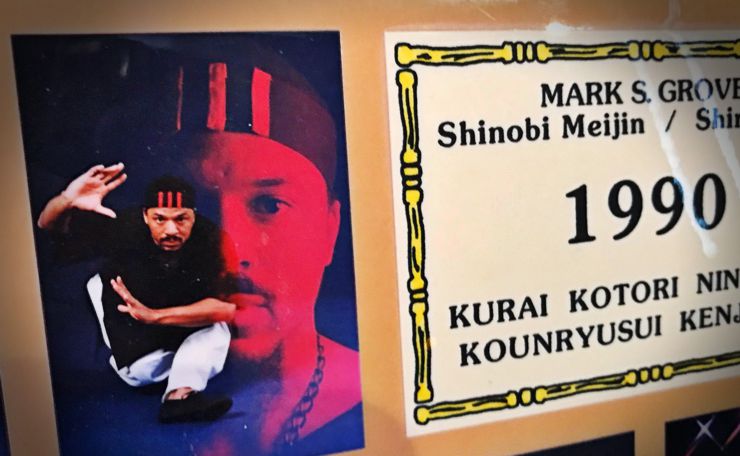 Warrior, scholar, healer, mentor… all of these words describe Dr. Stephen Abayomi Meeks, yet none of them come close to expressing the depth of the man. His passion for teaching was unlimited and his passion for life was inspirational. I know his students will honor his memory in their own way, but I want to offer a different perspective from someone outside his inner circle.
I met Abayomi Meeks in 1989 and we quickly became friends. I visited the Moyo Nguvu Cultural Arts Center in 1990 and was immediately drawn in to the energy of the facility. We had an extensive discussion about the Kupigana Ngumi (African self-defense skills) and the conversation left me with a new perspective concerning the origin of Martial Arts. I knew this was the beginning of a long friendship.
He began teaching Tai Chi classes at my studio and would always come early so we could fight with one another beyond the prying eyes of our students. He and I shared a common interest in close quarter fighting, swordsmanship, and the use of the short range weapons. We also exchanged information about herbology and the creation of healing liniments.
When I heard of his passing it immediately took me back to those days in the early 90's. Although I was not his teacher and he was not mine, we were both focused on refining our skills so we could better lead those who followed us. I am very honored to have shared such great memories with a man I would proudly call brother.
Farewell my friend,
Mark Steven Grove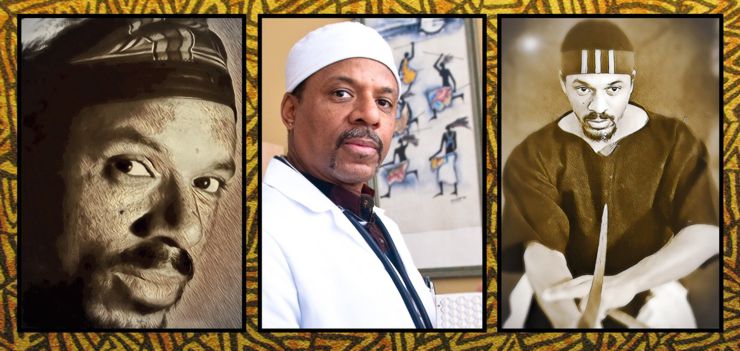 Eulogy for Dr. Stephen Abayomi Meeks
On Tuesday, February 13, 2018, Dr. Stephen Abayomi Obadele Meeks, a king within our midst, returned to his spiritual home. Born to this realm in August 1958, his life mission was to serve, elevate, and heal. A highly skilled and accomplished Community Leader, Martial Artist, Doctor of Oriental Medicine, Musician, and Yoruba Priest, he was a vanguard with the ability to inspire others to be their best authentic selves. Dr. Meeks believed that "as a servant for god, love inspires the willpower which then directs us with the wisdom to help others!"
Recognized nationwide for Martial Arts skills in both African and Asian traditions, Dr. Meeks instilled his students with a respect for tradition while encouraging innovation. He taught that the way of the warrior is to establish harmony by nurturing the seeds of love, compassion, courage, and integrity.
He is lovingly referred to as Bawo by his students, recognizing his rank as an 8 degree black belt and the highest ranking Master Teacher in the South African martial arts tradition of Isinaphakade Samathongo in the United States.
In 1990, Dr. Meeks co-founded the Moyo Nguvu Cultural Arts Center, the first Pan-African cultural and healing arts center in the state of Colorado that promoted diversity and inclusiveness. Originally from Brooklyn, New York, he brought his nationally recognized Children's Rites of Passage (CROP) program to Colorado. A program which has since graduated more than 2,000 children of all ethnic backgrounds. In addition, the Center's Kwanzaa Karimu was the first and largest public celebration in Colorado for more than 22 years.
Dr. Meeks was the first licensed African American acupuncturist in the state of Colorado and, over the course of 27 years was responsible for helping hundreds of thousands in Colorado restore health and balance to their lives. As a healer and activist, he was committed to providing health services to underserved communities successfully partnering with social service organizations and foundations to reduce health disparities, especially in the Black and Latino communities.
He approached problems with tenacity and sincerity resulting in the formation of meaningful relationships, innovative solutions; and, for his patients, physical and spiritual healing.
His courage, spiritual integrity, unconditional love, and generosity made a positive and lasting impact on all who had the honor and privilege to know him. He was peerless. He was larger than life, our super-hero… He will be, well and truly missed.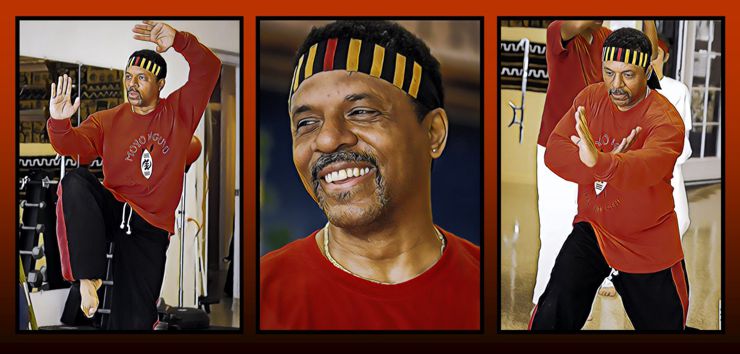 About Dr. Stephen Abayomi Meeks
Born on August 31, 1958, Dr. Stephen A. Meeks, B.S, D.Ac., L.Ac. grew up in the Bedford-Stuyvesant neighborhood in Brooklyn, New York, and was raised in the Afrikan-Cuban, Yoruba-Lucumi religious traditions. He was a master of several disciplines and achieved significant accomplishments in multiple fields.
I have organized this brief biography by discipline, and have attempted to capture, to the best of my ability, these accomplishments. Any omissions are not intentional.
Martial Arts
Dr. Meeks martial arts studies began in 1968 and encompassed a variety of Asian martial systems, including: Shodokan, Jujitsu, Ninjitsu, TaeKwando, ChunChuan and TaiChiChuan, in which he competed earning brown and black belt rankings and Sifu status. By the late 70s and early 80s he was a top fighter for Howard University AAU Tae Kwondo Team and The Dennis Brown Shaolin Wu Shu School in Washington, D.C. It was in the 80's that he began an intensive study of Afrikan warrior system of Kupigana Ngumi. At the time of his passing, he was the highest ranking instructor and heir apparent to the late Dr. Hodari Mqulo who was the Master Grandfather of "Isinaphakade Samathongo", a South Afrikan ancestral esoteric martial art.
Dr. Meeks goal was to build high character, spirituality, and exceptional skill in his students. In 2001, he produced and published a documentary called "Dance of The Scared Warrior" outlining his philosophy.
His teachers include Grand Masters: Charlie Williams, Nzazi Malonga, Dong Ja Yang, Curtis Black, Dennis Brown, Keith Blackmon, John Dinkins, Jose Santos; Professors Moses Powell and Ronald Duncan; Dr. Hodari Mqulo, Nganga Mfundishi Tolo-Naa, Mfundishi Maasi, Oso Tayari Casel, Mfundishi Bakari Kalinda, and Mfundishi Nana Sakyi.
Music
It was in 1983 that Dr. Meeks began to take his drumming seriously while under the tutelage of the great elder Afro-Cuban drummer Montego Joe. He cultivated a foundation in Afro-Cuban and Haitian rhythms, as well as a working knowledge of the Lucumi ritual rhythms (i.e., Guiro) and Oriki (song prayers). He studied Afrikan with Master drummers like the late Malonga Casquelourd, Fred Simpson, Titos Sampa, and Chief Bey. He played professionally for over 25 years having played with Gil Scott Heron, Vinx, and numerous other renowned musicians. The Afrikan instruments he played included congas, djembe, djunjun, mbira, shekere, berimbau, dondo, tama, and bata. In 1997, he established Kush, an Afro-Caribbean Jazz band that played through-out the Colorado region.
Dr. Meeks produced two music CD's: "Dr. Oba and the Drums of Asé" (1996); "Kush" Afro-Caribbean Jazz (2004)
Medical
Dr. Meeks graduated Howard University Undergraduate Pre-Medicine program in 1982. He went on to complete his post-graduate studies in acupuncture and oriental medicine at the First World Institute of Traditional Chinese Medicine in Harlem, NY and the International Institute of Traditional Chinese Medicine in Quebec, Canada. By 1988, he had successfully completed the requirements and was conferred his Doctor of Acupuncture/Oriental Medicine degree. In 1989, he was the first African American licensed to practice acupuncture and oriental medicine in the State of Colorado. His successful practice treated 1,700 patients on average annually. Since 2003, he was a regularly featured speaker at Colorado's annual "Sistah Summit", addressing African American women on health issues. From 2009-2013, he served as a member the Colorado Department of Public Health and Environment's Minority Health Advisory Commission. He also authored a number of health related articles in Denver's Urban Spectrum Newspaper as well as Ebony Magazine.
Community Leader
While studying in the mid-80s, he was on the cutting edge of the school-based clinic movement in New York City. Dr. Meeks was responsible for designing and developing the first male involvement health and sex education program targeting teen fathers and sexually active teens (male or female) in the U.S. school system. His program included a condom-distribution pilot program and, by the second year of implementation, it provided services to ten community clinics and 12 NYC high schools. He also published a paper as the key researcher for the American Public Health Association in 1985 titled, "The Role and Needs of the Male Partner in Reproductive Healthcare: A survey of Low-Income Inner City Males". Due to the success of the program, in 1987 Dr. Meeks received an award from the City of New York as "Outstanding Young Man of the Year".
Community Leader Colorado
Dr. Meeks came to Denver in 1989 and co-founded the Moyo Nguvu Cultural Arts Center, Inc. When Moyo was just five years old, he purchased its first building in the Capitol Hill neighborhood. Two years later he sold and purchased a second larger facility. Since Moyo's inception, more than 2,000 youth have graduated from Dr. Meeks' nationally recognized Children's Rites of Passage program. Many of these youth have pursued post-college and graduate education with an emphasis on social entrepreneurship, health sciences, and the arts. Through his School Visions program, Dr. Meeks conducted workshops, seminars, and classes in every school district in the Denver metro area, resulting in more than 25,000 direct youth contacts per year. In 2008, Dr. Meeks launched the Healthy Youth Healthy Futures program with funding from the Colorado Department of Public Health and Environment. This program aimed to reduce health disparities in Black and Latino communities and reached over 10,000 people.
Continuing the Legacy
Since 1990, the Moyo Cultural Arts Center hosted the largest public Kwanzaa Karimu. It quickly became the largest celebration in the western region with an average of 1,200-1,500 attendees in the late 90s and early 2000s. Meanwhile, the Moyo Arts Ensemble performed at some of the most prestigious venues, arts fairs and festivals in Colorado reaching on average an additional 20,000 persons annually.
Dr. Meeks designed programs, rites of passage and youth programs, and youth mentorship programs for other organizations around the country. He was an expert in the area of youth leadership, training and health, having received national recognition for these programs.
Media have featured him in local and national publications, and on television for his community work. Dr. Meeks received Urban Colors Arts and Mentoring "Lifetime Achievement Award" (2017), the Nation of Islam's Doing for Self Award for his "Outstanding achievements and services to self and community" (2011), The African American Leadership Institute Mountain Award for his "Contributions in Human Services" (2004), Channel 7's Everyday Hero Award (January 2003), noted in Urban Spectrum newspaper (2004) as African Americans Who Make a Difference. Was also featured in the Denver Post and Rocky Mountain News in the early 1990s as one of the African Americans who is a "Mover and Shaker".
Prior to his death, the leadership of the Moyo Nguvu Cultural Arts Center was passed on to his protégé Ms. Bathsheba Everett. She was the Center's third Executive Director, its first female Black Belt, and the youngest non-profit leader at the age of 21. She has reassumed leadership of the organization and is relaunching it with a new and expanded vision in 2018. Ms. Everett is supported in her efforts by another Moyo alumni, protégé and Black Belt student of Dr. Meeks, Ms. Cerise McCaston.
Ikhalipha Lateef Hodge, is the highest ranking student in the Moyo Nguvu System of African Martial Arts and continues to teach classes in Colorado.