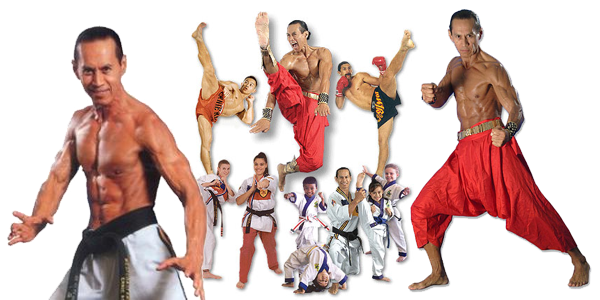 Ernie Reyes, Sr. was born into a large Philippine family in Salinas, California in 1947. in high school Reyes, Sr. was an All Star in football and basketball.
In 1967 he began to study Tang Soo Do under Moises Arizmendi and trained throughout Junior college. When he transfered to San Jose State University he began training in Taekwondo under Grand Master Dan Choi. From Choi, Reyes, Sr. learned the values of honor, loyalty, fmily and bravery based upon respect and discipline through traditional martial arts training. He trained hard and began competing and teaching for Grand Master Choi. He moved from point fighting into full contact Taekwondo and became the lightweight USA National Champion.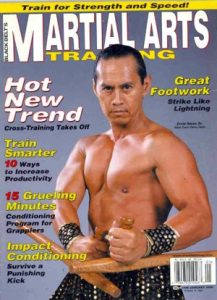 Reyes Sr. had a profound effect on the tournament circuit as he revolutionized kata competition and introduced creative musical forms into the American tournament circuit. His students were some of the best competitors at tournaments and in the early 1980's he had 7 of the top ten black belt forms champions.
His West Coast Demo Team, which featured his young son, Ernie Reyes, Jr., traveled the country demonstrating martial arts with weaponry and aerobics becoming the number one demo team in the United States.
In he late 1970's Reyes, Sr. began mixing other arts, including Remy Presas' Fillipino stick fighting, boxing and kickboxing with his Taekwondo.
In 1982, Ernie Reyes Sr. and Ernie Reyes Jr. were spotted by a manager and producer from Hollywood and 6 months later the moved to Hollywood. Reyes, Sr. did not want to leave his students but he knew he was suppose to be with his son. In 1986, Ernie, Jr. was written inot the movie The Last Dragon and then Jr. starred in The Last Electric Knight, which lead to the tv series Sidekick. Reye's Sr. became his sons best supporter and helped with fight sequences and choreography. Before filming the tv shows, Ernie Jr. was cast by Dino de Laurentiis in Red Sonja with Arnold Schwarzenegger and Bridgitte Nielson. Father and son starred together in Surf Ninjas in 1993.
Even while his sons career continued to move forward, Reyes, Sr. traveled back to his school to continue training his students. He and Tony Thompson founded Ernie Reyes' West Cost World Martial Arts Association and the association grew to abot 35 schools.
Wesley Snipes produced the highest rated cable special of all time, TNT's "The First Tribute to the Martial Arts Masters of the 20th Century," which showcased some of the greatest innovators of the martial arts including Ernie Reyes.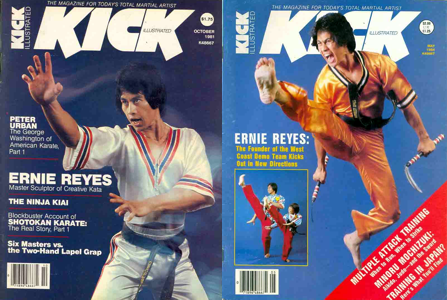 Kick Illustrated Magazine bestowed the title of "Master of Creative Karate", upon Ernie Reyes for his mastery of unique martial arts instruction and creative choreography of martial art performances. Ernie Reyes has a reputation as a pioneer of progressive martial arts training in America, and Master Reyes has been featured in every national karate magazine in the world.
Founder of the West Coast World Martial Arts Association with Master Tony Thompson.
Inducted into the Black Hall of Fame, Black Belt Magazine, Instructor of the Year.
(PKA) Professional Karate Association, Instructor of the Year.
California State Tae Kwon Do Grand Champion, UC Berkeley, (Fighting)
USA National Tae Kwon Do Champion (Fighting and Forms)
Bronze medal winner at the 3rd World Tae Kwon Do Championships (Fighting)
Rated in top 10 in Open Forms Competition in the USA.
California State Lightweight Champion, (Open Tournament Point Fighting)
"Trainer of Champions", accomplished the incredible feat of producing (7) Black Belt National Champions in one year from his West Coast team.
Coached National Champion Ernie Reyes Jr. the first youngest child in the history of martial arts to be rated in the adults professional forms division.
Directed and coached the internationally famous West Coast World Action Team. Bushido Magazine in Europe called his team the #1 Martial Arts Demo Team in the World. The team has been performing for more than 25 years nationally and internationally. Ernie Reyes' creative martial arts genius had led him to Hollywood as a martial art actor, choreographer, and entertainer. He also managed his son Ernie Reyes Jr. in developing his own television series called Sidekicks, a Motown, Disney, Production, for (ABC). Master Reyes also starred in, "Surf Ninjas", with Ernie Reyes Jr. Leslie Nielsen, Rob Schneider, and Tone Loc, a New Line Production.
Inducted into the Black Belt Hall of Fame, (EFC) Educational Funding Company as, Professional Martial Arts Business Man, of the year.
Master Reyes has been featured on every national martial arts magazine in the United States and Europe for his unique, dynamic and creative teaching and story.
Master Reyes is in high demand as a world martial art motivational speaker. He is also a graduate of San Jose State University.
On June 22, 2003 Master Reyes was awarded a "Life Time Achievement Award" by the National Association of Professional Martial Artist, for 25 years of excellence.
He is also an co-author of the book, "Little Dragons", children curriculum for martial arts training, produced by Century Martial Arts.
In the community services arena Master Reyes has received, "Proclamation Certificates from the State of California", presented to him by the Lt. Governor himself, Cruz Bustamante. He has been presented certificates by many mayors in the Santa Clara Valley as well as across the United States, Hawaii, Ohio, Reno, for his contribution toward a positive influence to their cities. He has also been given, "The Key To City", by the mayor of Forest Park in Ohio.
ERNIE REYES' PHILOSOPHY
"I am first and foremost a martial artist, striving to reach the highest level of living, through the martial arts process. The Way – The Do!"
"I am committed to learning, to free my spirit, so I can become the best I can possible be. Only then can I help stimulate, inspire, share powerful ideas and lead others to become the best they can possible be. Giving this unconditional love to my students brings me an overwhelming feeling of self-fulfillment. It taps into my – Spirituality!"
"I believe martial arts is one of the greatest gifts and treasures of life to create positive change in peoples lives. I am totally certain it is my noble calling in life.