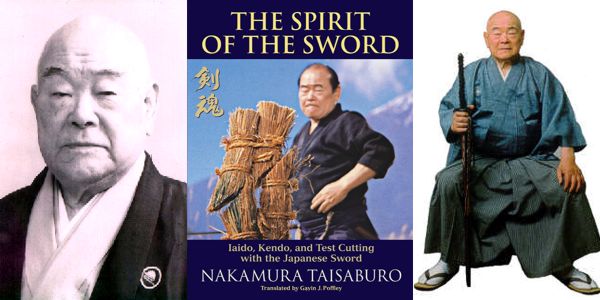 "The Spirit of the Sword was a great joy for me to read; I now have the immense satisfaction of finally understanding Nakamura Taisaburo's thoughts on swordsmanship. Gavin J. Poffley has done a masterful job of accurately translating Nakamura sensei's philosophy, technical explanations, and anecdotes, capturing the nuances and subtlety of his instruction; it is a beautiful and captivating book that should be on the shelf of everyone who is interested in practical swordsmanship." ~ Guy Power, Renshi seventh dan, Okuden Menjo and Densho, Nakamura Ryu
Nakamura Taisaburo's landmark book, The Spirit of the Sword, on the art of the sword includes technical information, thoughtful analysis, and fascinating recollections of his own training and teaching. One of the most famous Japanese swordsmen of the twentieth century, Nakamura sensei is widely acknowledged as the preeminent reinvigorator of the practice of tameshigiri (test cutting) as a test of technical and spiritual mastery.
The Spirit of the Sword–first published in Japanese in 1980, now translated into English for the first time–is regarded by many as the most complete of Nakamura's writings on Japanese swordsmanship. Here Nakamura instructs the reader on the integration of iaido, kendo, and tameshigiri; the correct mental approach to sword practice; training methods; numerous kata or forms; a guide to sword maintenance; and historical notes on the use of the sword as a weapon.
The Spirit of the Sword is Illustrated with over 800 original photographs, this book is a must-have for any student of the Japanese sword and an excellent resource for sword enthusiasts in general.

Author Biography:
Nakamura Taisaburo (1912-2003) was a renowned sword master and the founder of the Nakamura-ryu style of sword arts. He was the chief instructor of the All-Japan Toyama-ryu Iaido Federation and the head of the All-Japan Battojutsu Federation. He held a 9th-dan rank in Battojutsu and Iaido as well as an 8th-dan rank in Jukendo and a 7th-dan rank in Kendo. Gavin J. Poffley has a master's degree in Japanese translation from the School of Oriental and African Studies and has also studied at Tokyo University of Foreign Studies and Hiroshima University, writing dissertations on the modernization of Japan's martial arts and the history of Okinawan karate. He has dan ranks in Shorin-ryu karate and Dentokan aiki-jujutsu as well as experience in many other systems. Gavin currently resides in East London with his wife, Taeko.
Publicity Contact:
Nick Sanchez
Marketing Coordinator
North Atlantic Books
510-549-4270 ext. 45
nsanchez@northatlanticbooks.com
NABCommunities.com
---