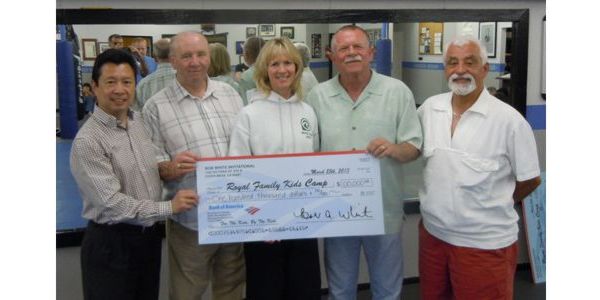 AT THE invitation of Kenpo Master Bob White and his wife, Barbara, High Street Kenpo Karate Academy senior instructor Master Barney Coleman was in the USA recently as a special guest at the American couple's Annual Royal Invitational Kids Championships in Orange County, California.
"The fundraiser competition was like a 'who's who in Kenpo'," Coleman remarked. "Special thanks to Bob and Barbara for their invitation to what was one of the best events I've attended in my long martial arts career." Before the tournament Coleman and White teamed up with Irish black belt Ed Downey and his black belts and students. Well known American Kenpo instructor John Supulvida also attended the charity event, which included an evening banquet and auction, which raised an incredible $100,000 for the childrens' charity.
Passing up a professional baseball career at a young age, Master Bob White has been contributing to Kenpo Karate for over four decades. During his career he won numerous state, national, and international fighting championships. He fought on the famous American National All Star Black Belt Team, which went undefeated in 1973 and 1974. As a teacher and coach, he has consistently turned out some of the world's finest Karate fighters.
Over the years, Bob White's Karate Studio has produced many world champion fighters and each year throughout the 1990s his students accounted for at least one of the black belt grand champions at the famous International Karate Championships in Long Beach, California. White was involved in the original 'Karate Kid' film and appeared as a referee in the production. His studio had over 50 students that appeared in the movie as tournament competitors. He was also involved in the 'Karate Kid III' and worked to promote the new 'Karate Kid' version which starred Jackie Chan and Jaden Smith.
The White's annual competition raises money for the 'Royal Family Kids', an organisation that provides a week-long camp for abused and neglected children. The 'Bob White Invitational' began in 2005, and to date, has raised hundreds of thousands of dollars for the charity. "Not only have hundreds of children been helped through the tournament, but the Kenpo community throughout the world has gained an awareness of the charity and become involved in the cause," Bob White commented. In the 1980s Bob White was promoted to 7th degree black belt by the late Senior Grandmaster, Ed Parker. This was the highest rank that Parker ever promoted and Bob White was one of only a very few to earn that rank.
Barbara White started her martial arts journey in 1991 and through hard work and determination has risen to a very high skill level. Barbara White started learning a Japanese Karate style but made the transition to Kenpo 20 years ago. She has competed on every level and has first place victories in all levels including first place at the International Karate Championships as a lightweight black belt. She also competed and was on the first place women's black belt team at the 2012 International Karate Championships.