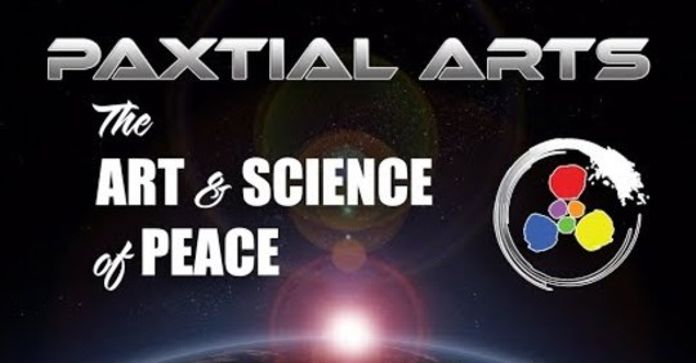 The Paxtial Arts self defense formula developed by Ed and Baer Parker has been called the "ideal anti-bully solution" and is the art & science of peace.
My name is Ed Parker, many know my name from the Martial Arts Community. For those of you who don't know me, I am a Professional Artist and a Martial Artist.
In the early 1970's my late father Ed Parker Sr. was named by Black Belt Magazine The Father of American Martial Arts.
My dad was born to be a Peace Keeper.
His life work, philosophies, and creation of the Art of Kenpo Karate has influenced millions of people around the world.
Hawaiian born and raised; my dad was an 11 year old island boy when he was introduced to death and war while standing in the streets of Honolulu watching Japanese torpedo bombers invade the skies of his home on the outskirts of Pearl Harbor on December 7th 1941.
I am the only son of Edmund Kealoha Parker.
My father and I share the same name and our gifts and talents were well suited for each other which is why we worked well together for the last ten years of his life.
My life over time found it's way to the opposite side of my dad's coin.
My destiny it seems was to become a Peace Maker.
My early life was peaceful in Pasadena California in the 1960's and proffered me a clear contrast of experience to my dad's childhood.
By 1963 an invasion of yellow happy faces named 'Smiley' exploded in my childhood on t-shirts, signs, and corners, practically mandating cheer and love of life throughout my elementary years.
In the backdrop was an ever present chatter about the war in Vietnam, but that was a distant sound and concern for a kid as young as I was.
On July 4th 1969, a few months shy of my 10th birthday, John Lennon's anti-war single 'Give Peace A Chance' hit the radio airwaves.
A new conversation erupted about the war in Vietnam and it clashed with the peaceful American way of life I was used to. I was old enough to understand the conversation.
My dad raised me to look for the opposite sides of coins in life and I did look in all things for contrast. It's something quite natural for an artist.
So I guess it was fate that I came to these two life altering questions:
* Is there an opposite science to the Martial Arts?
* Is there an art and science to Peace?
My world was steeped from birth in the art and science of war.
Every solution I witnessed in the Martial Arts world had to do with a bruise, a dislocation, a break, a tear, a gouge or a knockout.
As a Hawaiian from a warrior culture, I wasn't really a peaceful kid, but I didn't understand why there was only one option; destroy!
There had to be an opposite.
This is why I went on a 30 year quest to look for an opposite science to the Martial Arts.
My search for the kinetics and science of peace happened while teaching thousands of Martial Arts students spanning 30 years, a thousand different seminars, and 14 countries around the globe.
It was within this 30 year Martial Arts lab that I actually did find the opposite kinetic science to the Martial Arts.
A peaceful self defense formula, Paxtial Arts, was born.
This self defense formula has been called by many of my students the "ideal anti-bully solution."
My Paxtial Arts self defense curriculum is a culmination of the knowledge, training, and understanding I acquired from years of anatomical art schooling combined with the many lessons I learned from a lifetime of Martial Arts exposure and training.
In my Paxtial Arts curriculum art patterns and formulas are merged with the kinetic sciences, psychology and mathematics relating to the golden spiral or fibonacci sequence.
My wife Baer Parker is an educator and editor who has written curriculums in Asia and America.
Together we have written an entire curriculum of my self defense system and we have compiled thousands of notes, photos, video footage, charts, diagrams, teaching tools and related material.
We invite you to watch our 16 minute video in order to get a better understanding of who we are and what this culture changing discovery is about.
Following thousands of hours of work we have finished the writing and are now ready to typeset, design, and publish our works into a 9 book curriculum.
Our goal is to publish the Paxtial Arts 9 book curriculum by the end of 2020 or sooner.
Paxtial Arts Inc is a nonprofit corporation and we need to raise funds and awareness for this ground breaking and culture changing self defense system.
In order to publish our 9 book curriculum we are seeking your involvement and when the time is right, your participation.
You can first help us by donating at our GoFundMe campaign and second by spreading the word to people, organizations, philanthropists, or foundations who may be in a position to help us move this forward.
We all have connections to someone who can make a difference.
Today's violence is overwhelming our world culture with divisions, talk of war, and hate tipping the global scales off balance.
WHEN IS THE BEST TIME TO HAVE A DISCUSSION ABOUT PEACE?
We believe that now during this tumultuous time on earth is the perfect time to ask the right questions and balance the scale by offering peaceful solutions in order to counterbalance the heavy weights sitting on the war side of the scale.
We understand that at times war is necessary but before we go headlong and deeper into local and global war posturing; it is our appeal at Paxtial Arts Inc that we first carve out, preserve, develop, and teach what the ultimate objective is all about.
WE MUST MAKE A PLACE WHERE PEACE CAN EXIST.
We suggest that the seeds of peace must first be planted in the youth and the teachable.
The best place to plant peace first is in the heart, second in the mind; third in the body, and the soul will follow by sprouting peaceful actions outward.
MIND, BODY, and SOUL are the core foundational lessons in our peaceful self defense curriculum.
The Paxtial Arts self defense system takes the concept of peace a giant leap beyond talk.
The Paxtial Arts self defense system offers hope and solutions to youth and adults for a more peaceful future.
This has the potential to bring about healing and a reduction to the global bully epidemic within school settings as well as outside of school settings.
The teaching of Martial Arts has not typically been conducive to educational settings due to the litigious society we are all part of, therefore it is typically found near but not in school programs.
Our Paxtial Arts self defense formula is the only self defense program and curriculum we are aware of that has successfully been taught in Charter Schools as well as entertained by Public School systems in the USA.
The Paxtial Arts Self Defense formula has been shared and taught around the world to thousands of students of the Martial Arts. It was well received and a huge success, but without a written curriculum it will not grow.
The oldest known symbol of peace came from the Mesopotamians which contained a series of three dots within a triangular pattern.
Further along in history from the Mesopotamians on April 15, 1935; Nicholas Roerich raised a Banner of Peace on a white background with 3 spheres encompassed in one uniting circle as a symbol of Eternity and Unity…
"attracting the attention of great intellects, directing from one heart to another, and awaking the idea of Peace and Benevolence among peoples."
The Roerich International Pact and Treaty was enacted for the protection of culture and values; a mere few years before the onset of World War II.
Inspired by the Mesopotamians Symbol of Peace and the Roerich Peace Banner, the Pax Cultura, and keeping in line with the evolution of these historic Peace symbols, we now present the name of our movement, the Paxtial Arts and our evolved logo of peace.
On this day September 12th 2019; one day following the 18th anniversary of September 11, 2001, and in memory of precious lives lost to war throughout history, we at Paxtial Arts Inc seek to plant seeds of peace in hearts willing to receive our clarion call to:
Create a Path for Peace
Preserve Peace
Sustain the Well Being of the Collective Minds, Bodies and Souls of the Future.
As my quest began with questions; my wife Baer and I will leave you with this one question:
WILL YOU GIVE PEACE A CHANCE AND DONATE TODAY BY CLICKING ON THE LINK BELOW