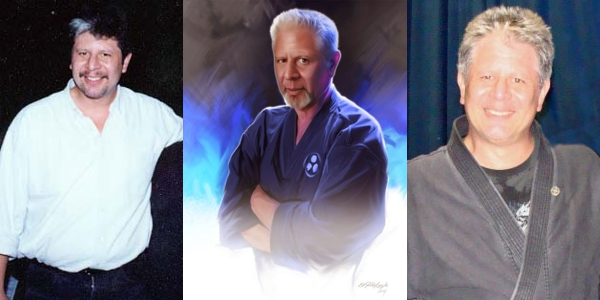 Ed Parker Jr., son of the late Ed Parker, Senior Grandmaster and found of American Kenpo karate. Many considered Grandmaster Parker a one of the greatest martial artists who ever lived, and was dubbed, "Father of American Kenpo Karate," by Black Belt Magazine.
Ed Parker Jr. grew up among the stars, as his father was the personal karate instructor and bodyguard for Elvis Presley in addition to a host of other Hollywood celebrities.
"I remember Elvis was so impressed with my father and his kenpo that the King of Rock'n'Roll put my father's martial arts logo on the side of his guitar," Parker Jr. recalled.
Ed JR's focused on studying art and theater, then at age 19 he moved to Arizona, doing social work as a missionary with the Navajo, Hopi, Zuni, Southern Ute, and Jicarilla Apache tribes.
Two years later he moved to Oahu, Hawaii where he obtained a degree from in Theatrical Arts. Ed Parker Jr. excelled in film making and won Best Student Film at the Hawaii Film Festival. He also received an internship on Magnum P.I.
Up returning to California Ed Parker Jr. went into partnership with his father. From 1983 to 1991 he produced 9 International Karate Championships, which played host to more than 6,000 competitors. Originated by EdParker Sr. the Internationals were the largest and longest- running martial arts tournament in the world. For more than 35 years Ed Parker's International set the stage for many of the arts superstars including Bruce Lee, Chuck Norris, Joe Lewis, Benny "the Jet" Urquediz and many more.
In December of 1990 Ed's father, Grand Master Parker passed away. Continuing in his father's footsteps Ed Jr. has continued to promote American Kenpo and martial arts in general by producing a series of martial arts videos and published more than 20 martial arts books.
In June of 1992 Ed Jr. published "The Encyclopedia of Kenpo," a complete reference on American Kenpo karate, based on the teachings of his father, Grandmaster Ed Parker. In 1993 Ed Jr. produced the firstannual Martial Arts Expo, an event that attracted more than 8,000 participants. The Expo featured the first-ever martial arts talent star search.
In addition to acting in numerous feature films Ed Parker Jr. choreographed the action in several martial arts films that include: Deadly Takeover, with Jeff Speakman and Cage 11 starring Lou Ferrigno.
Currently Ed Parker Jr. is a freelance illustrator and graphic artist, and is dedicating his talents to the drawing of a tribute to the legacy of his father and Kenpo karate.
Editors Note: Ed Parker, Jr. has created Paxtial Arts (Peaceful Physical Conflict Resolution through Mastery of Mind, Motion, and Touch) with the goal of providing an alternative study of self-defense; based upon simple engineering principles and an understanding of human kinetics. In addition to the self-defense focus,  Paxtial Arts Formula also provides a category of study, development, and practice of Peaceful options, starting with the physical options at Level One, and progressively going deeper into the intellect in more advanced levels.
The first three letters in the word Martial refers to Mars, the Roman God of War. Mars loved blood, war, and brutality. We are taking Pax, the Roman Goddess of Peace as our model for the Paxtial Arts. Pax, the Goddess of Peace, reflects the exact counter balance of Mars if examined under the Yin Yang symbol. The two halves operate separate from each other, yet together they are the symbol of a completely balanced whole.
To contact Ed Parker Jr. and Paxtial Martial Arts visit their listing on the Martial Arts Schools and Businesses Directory by clicking on the image on the left.
---