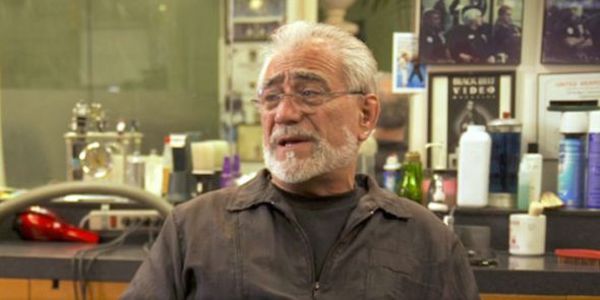 By Eric Pfeiffer, Yahoo! News ~ Every good barber has tall tales to tell. But in the case of Albert Cornejo, the winding and often grandiose stories are actually true. That's because Cornejo not only cuts hair, he's a renowned sculptor and one of the most-awarded martial artists in the world today.
To those who know him, Cornejo is a living legend. But unlike some of his former contemporaries—such as Bruce Lee and Ed Parker—few outside the tightly knit community of Kenpo Karate have ever heard his name.
"If I do something, I have to be good at it," Cornejo told Yahoo in a series of interviews as part of our Viewfinder video series.
"But I never wanted the spotlight. For me, it is all about the passion and the work."
By day, the 73-year-old athlete cuts hair at his modest barbershop tucked away inside a Santa Monica business park. There, he holds court with a truly unique collection of personalities, and a mixture of clients and social calls blend together as the day winds on.
But while most men his age have settled into the quiet life, it's this barber himself who has the most interesting stories to tell.
Even with his seemingly laid-back demeanor, riding into the sunset does not come naturally to a man who spent decades practicing Kenpo Karate on the shores of the Pacific Ocean until sunrise.
In the early 1960's, Cornejo was, in his words, "a poor Mexican kid" who wanted to learn how to fight. He wandered into a Kenpo Karate school owned by legendary founder Ed Parker, the man who singlehandedly brought Karate to the United States.
After just one session, Albert knew he had found his calling. Although too poor to afford the lessons, Parker saw something in Cornejo and offered to teach him for free. That act of generosity has stayed with Cornejo over the years: As he has risen through the ranks to become one of the most-decorated Kenpo Karate students in history, he has trained literally thousands of students and rarely asks for financial compensation. The same ethic has carried over into his other pursuits.
After Karate, Cornejo's second love is art. But while his sculptures have represented the U.S. at the World's Fair. Perhaps his most impressive creation, a life-size horse carriage hand-crafted from bronze metal, rests under a sheet on the back porch of Cornejo's small house.
But another interesting facet that has come to define Cornejo was his past refusal to sell his work for money. Famed art appraiser David W. Streets provided Cornejo with an estimate that his metal sculpture collection was worth more than $2 million but Cornejo says he was too prideful to sell his works. Now in his twilight years, Cornejo is open to selling his collection, though he would prefer it stay together as a whole.
It was while he was in the army that Cornejo learned to cut hair—and found a way to earn a pay check. Over the years, he has been the personal barber to Hollywood celebrities and politicians, including former President Ronald Reagan. It was Kenpo that brought Cornejo into contact with many of his celebrity clients, who also included Red Buttons , Jack Dempsey, Lou Ferrigno, Bruce Lee, Stan Laurel and Lawrence Welk.
Technically, Cornejo even once cut Elvis Presley's hair. But as he explains, that was a literal exercise not an ongoing relationship.
"Ed Parker brought Mr. Presely into my barbershop one day," Cornejo said. "And I told him, 'Mr. Presley, just please let me cut one hair off your head. Then, I can tell people I cut Elvis' hair!'"
Today, most of Cornejo's legacy is relegated to the framed photographs chronicling his previous brushes with fame. The dust gathering on the pictures serves as a reminder that the cost of Cornejo's modesty and generosity is that he had been largely forgotten. And his chosen forms of artistry — Kenpo Karate, metal sculpting and the life of a barber are all relegated to smaller parts of the culture than they once occupied.
But in late January, Cornejo received recognition from the Kenpo community—which has been a part of his life for more than 50 years—when he was awarded with a 10th degree black belt, a true rarity in the martial arts community. "Almost no one get s a 10 th degree anymore," martial arts instructor and filmmaker Dino Vicencio told Yahoo. "It's a pretty rare thing these days."
The Kenpo community, including other living legends like Chuck Sullivan and Robert Temple, have tried to bestow the honor on Cornejo for a number of years, but he had always declined out of modesty. "It's embarrassing," he said. "To get up and have everyone cheering for you."
Still, for a man who has so often avoided the spotlight over the years, it was a fitting reward for a life focused on becoming the very best at what he does and using that knowledge to help others.
After he received the award, Cornjeo said, he was back at his barbershop early the next morning, trading stories with friends, clients and random people passing by his shop.
Everyone is a potential new friend to Cornejo. Coming into his circle means you become part of the ongoing epic story that is Albert Cornejo. And with any luck, his own tale will be one that survives beyond the man hundreds have come to know as "Sifu."
UPDATE: So many Yahoo readers have commented on Albert's similarities, both in appearance and behavior, to the popular "The Most Interesting Man in the World" character from the Dos Equis commercial. And you know what? We have to agree with you, so, we've changed the story's title to reflect that.
Visit Albert Cornejo's Web Site