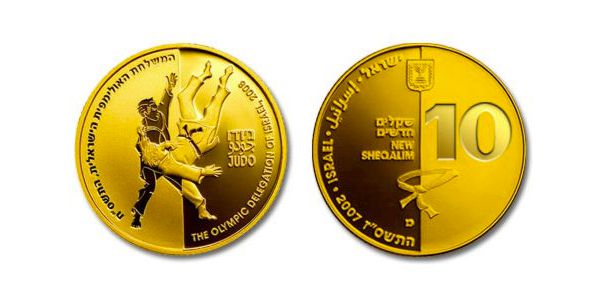 For many of you who may not know, Judo is a modern martial art and combat sport that originated in Japan. The main objective is to throw one's opponent to the ground, immobilize or otherwise subdue the opponent with a grappling maneuver, or force an opponent to submit by joint locking the elbow or applying a choke. An exciting and dynamic sport, Judo is growing a devoted following all around the world and becoming more popular with each year. Judo is a promising Olympic sport for Israel, as Israeli athletes have competed successfully in Judo competitions and championships in all age and weight groups around the world. The Bank of Israel is now proud to announce the release of a Commemorative Judo Coin honoring the Israeli Olympic Delegation for the Beijing 2008 Olympics. The reason for a Judo coin from Israel is quite simple – half of all of the Olympic medals that Israel has won have been in the sport of Judo. Panda America is proud to offer this limited edition coin to our customers.
Of six Olympic medals Israel has won so far, three have been in Judo. The first Israeli to win an Olympic medal was Yael Arad, who made history when she won a Silver medal at the 1992 Barcelona Games. This achievement, signaling Israel's arrival at world-class level competition, was followed immediately by Oren Smadga who won a Bronze medal at the same Olympics. In 2004, Arik Ze'evi won a Bronze Medal at the Athens Olympics.
The face of this coin depicts two Judoists in a hold and throwing technique that is characteristic of judo. On the reverse side of the coin is the denomination and below that an image of a Judo belt which denotes the levels of competency and achievement in the sport of Judo. The coin details and specifications are below:
Issued by the Bank of Israel, this coin puts the spotlight on a sport in which Israeli athletes excel while also saluting the entire Israeli Olympic Delegation. The Israel Olympic Committee's motto for the 2008 Beijing Olympics is "Hope is Worth Gold". The competitors in Judo look forward to making this Hope a "golden reality". This coin wishes all the athletes good luck in achieving the Olympic Motto, "Faster, Higher, Stronger".