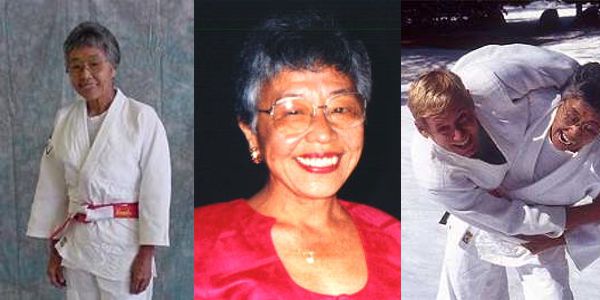 She was proud and direct, she was always straightforward and truthful, and set the bar high for the rest of us. We can feel blessed that we had such a woman in our circle. She will be sorely missed. ~ Sensei Hans Ingebretsen, Kilohana USA President
Professor Louise "Imi" Okazaki-Mullins, youngest daughter of Professor Henry S. Okazaki, began training at home with her two sisters, Betty Wolf and Myrtle Oberman. Their father taught them Jujitsu techniques andLouise Okazaki-Mullins under his direction, they established a foundation of massage (heads, hands and feet) through many hours of practice with him as the patient.
Professor Imi Okazaki-Mullins Throwing Rich
Bob Reish getting tossed around in the snow by Imi Okazaki-Mullins
Photo courtesy of G. Arrington
He entered his three daughters in a woman's Jujitsu class instructed by Iwalani Tanaka and Jackie Wong. In the early sixties, the sisters were trained by Keiko Fukuda, the highest ranked female judoka in the Kodokan.
Professor Mullins taught both Kodenkan and Kodokan techniques until 1970, when for health reasons retirement seemed reasonable. In 1993, encouraged and supported by Professor Clyde Zimmerman, Professor Mullins came out of retirement and returned to teaching. In 1994, she was promoted to Godan and Professor by Shoshin Ryu, and now holds rank of Rokudan, a 6th Degree black Belt, by the Shoshin Ryu Yudanshakai.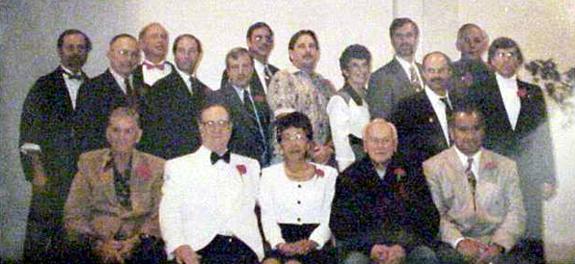 Instructors from Ohana 1992
Seated (L-R) Jack Wheat, Lamar Fisher, Imi Okazaki-Mullins, Sig Kufferath, Willy Cahill. Standing (L-R) Herb LaGue, James Musselman, John Congistre, Rory Rebmann, Pat Browne, Clyde Zimmerman, Tony Janovich, Jane Carr, Don Cross, Robert Hudson, Tom Jenkins, and Tom Ball.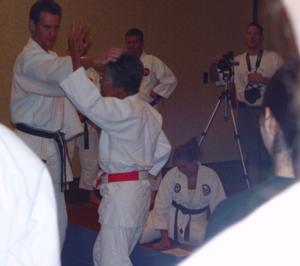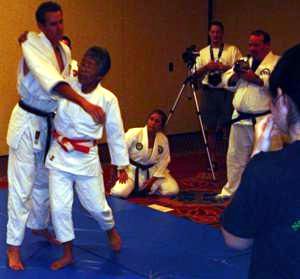 It is with a very heavy heart that we share that Professor Louise "Imi" Okazaki-Mullins has passed away on Friday, January 4, 2008, in a local Oakland hospital. She was fighting lung cancer and experienced complications after surgery. She will leave a very large hole in the heart of martial arts and we will truly miss her.
A "Celebration of the Life of Professor Imi Mullins" was held Saturday, January 26, 2008 at 1:00 p.m. at the Eden Japanese Community Center 710 Elgin St San Lorenzo, CA 94580.