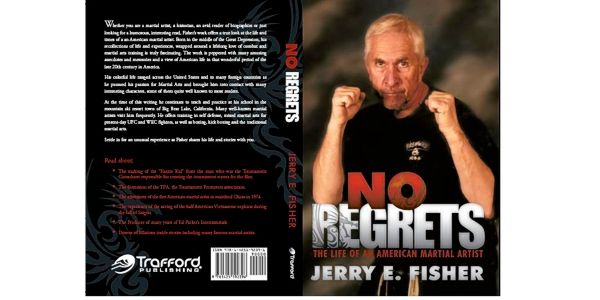 Whether you are a martial artist, a historian, an avid reader of biographies or just looking for a humorous, interesting read, Jerry E Fisher's book, Jerry E Fisher No Regrets, The Life of an American Martial Artist, offers a true look at the life and times of a an American martial artist. Born in the middle of the Great Depression, his recollections of life and experiences, wrapped around a lifelong love of combat and martial arts training is truly fascinating. The work is peppered with many amusing anecdotes and memories and a view of American life in that wonderful period of the late 20th century in America. His colorful life ranged across the United States and to many foreign countries as he pursued his passion for martial arts and brought him into contact with many interesting characters, some of them quite well known to most readers. At the time of this writing he continues to teach and practice at his school in the mountain ski resort town of Big Bear Lake, California. Many well-known martial artists visit him frequently. He offers training in self defense, mixed martial arts for present-day UFC and WEC fighters, as well as boxing, kick boxing and the traditional martial arts. Settle in for an unusual experience as Jerry E Fisher shares his life and stories with you
Read About:
The making of the "Karate Kid" from the man who was the Tournament Consultant responsible for creating the tournament scenes for the film.
The formation of the TPA, the Tournament Promoters Association.
The adventures of the first American martial artist in mainland China in 1975.
The experience of the saving of the half-American Vietnamese orphans during the fall of Saigon.
The producer of many years of Ed Parker's Internationals
Dozens of hilarious inside stories including many famous martial artists.
Jerry E Fisher was exposed early to Golden Gloves boxing and this led him to pursue other methods of fighting, eventually landing him in the middle of the Southern California martial arts world of the 1970s. Jerry E Fisher was one of the first to reach across traditional boundaries of styles, and was respected and well liked by proponents of Japanese, Chinese, and Korean martial arts at a time when those art forms were largely separate. As a tournament announcer, promoter, organizer and competitor, his contribution to the growth of martial arts in America is far-reaching. In the 1990s, he retired from his professional career and concentrates now on teaching the Pacific Unified Martial Arts (PUMA) system founded in the late 1970s by Jerry E Fisher and his two sons, and which is now taught by dozens of black belt instructors to hundreds of students around the world.
---