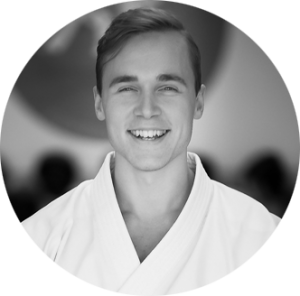 Jesse Enkamp is "The Karate Nerd", #1 Amazon.com best-selling author, entrepreneur, traveler, athlete, educator, carrot cake connoisseur and founder of Seishin International.
Jesse Enkamp and his little brother Oliver would spend their days kicking each other's butts in their parent's martial arts centre, in Stockholm, Sweden. Although his mom and dad were Karate teachers, they regularly invited other martial arts instructors to their centre to help pay the bills. This early exposure to numerous martial arts provided Jesse EnKamp with curiosity and respect for all martial arts.
As they got older, Jesse and his brother went their separate ways. His brother became a professional MMA fighter, and Jesse decided to carry on his family's Karate legacy. After graduating high school, he moved to Okinawa (the birthplace of Karate) to study at university and explore the roots of the martial arts.
Living in Japan – without family, friends or knowing the language – forced Jesse to grow up fast. This period of his life was a crash-course in self-reliance, grit and social skills.
During this time, Jesse started a blog called "KARATE by Jesse" to document his observations in Okinawa. Although the original purpose was to share his own journey, the writings resonated with so many readers that it became a platform for likeminded Karate practitioners around the world.
Today, KaratebyJesse is the #1 Karate blog in the world.
Jesse left Okinawa in 2009, but he has returned over a dozen times since.
Jesse returned home to Sweden, and was finally selected for the national team (after failing 4 times earlier). This was the starting point for Jesse as an athlete, representing his country at international tournaments including the Premier League, Nordic, European and World Championship (WKF).
By the age of 25, Jesse had visited over 25 countries. Although he won trophies and medals for his country, what he values most are the memories, friendships and experiences.
Jesse continues his travels to learn from Karate experts around the world. By sharing his discoveries in articles, books, videos and seminars, he has built a community of fans who embraced the full spectrum of Karate – regardless of stylistic preference, political agenda or dojo dogma. These people are what Jesse calls Karate Nerds. These are people who, like Jesse, think that you should study the complete scope of Karate, and not limited yourself to one singular aspect.




The purpose of tradition is not to blindly follow the footsteps of the masters, but rather, to seek what they sought.
Empowered by passionate Karate Nerds around the world, Jesse launched global projects (like KNX Seminars) and companies (like Seishin International) to supercharge the Karate community. This has become Jesse's life's mission.
Every day, he strives to find new ways to hammer home the message of adopting the Karate Nerd mindset in order to make the world a better place.
Ultimately, this is what gives Jesse's life a sense of purpose.
You only live once. But if you do it right, once is enough.