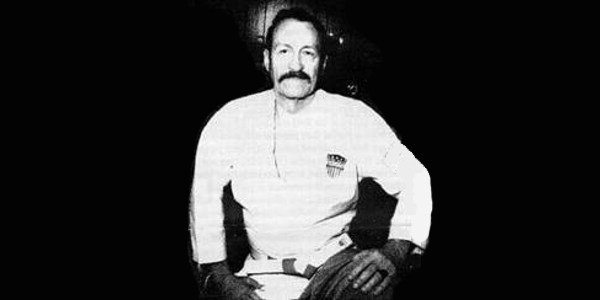 Grandmaster Douglas Grose began his martial arts training as a young boy growing up in Illinois. A neighbor of Chinese descent, started teaching him Chinese Gung fu. Throughout his youth, Master Grose was active in all types of athletics and showed a particular interest in boxing. When World War II started, Master Grose entered the Army Air Corps and was stationed in Las Vegas as the chief gunnery instructor.
While there, Douglas Grose started taking Shinto Yoshin Ryu Jiu-Jitsu classes from Sensei Uechi Takashi, a top student of Hironori Otsuka. Otsuka had a few years earlier started his "new" style of martial art, Wado Kai Karate. Sensei Takashi, who had moved to the United States, kept with his original style of Shinto Yoshin Jiu-Jitsu and began teaching a few select students. Master Grose studied with Sensei Takashi earning letters of proficiency until toward the end of the war he was sent to Europe and flew numerous bombing missions over Germany in B-17 Bombers. Master Douglas Grose and his squad were shot down three times. On one mission he was shot down behind enemy lines and had to walk out of Germany. Two other missions ended with his plane being shot up so bad they had to crash land in friendly territory. For his service to his country Douglas Grose was awarded two Distinguished Flying Crosses, a Bronze Star, a Purple Heart, a Medal of Bravery and other distinguished medals. After the war, he returned to Las Vegas to find his old Teacher. Sensei Takashi had been rounded up and moved to a containment camp with the other Japanese people that lived in the United States during the war. After searching fruitlessly for Sensei Takashi he moved back to Illinois and became a policeman working with numerous law enforcement agencies until his retirement from law enforcement in the late 1970's. After his retirement Master Grose continued teaching and giving seminars all over the country.
In 1945, Douglas Grose started The A.J.A. (American Jiu-Jitsu Association) and started teaching students and continued his studies in the martial arts. He became friends with Shujiro Hotta of the Hotta family of Japan whose lineage is steeped deep in Kendo Shinto Yoshin Ryu. Master Hironori Otsuka the last Grandmaster of Shinto Yoshin and the founder of the Wado style would send people to Master Grose for instruction in the Shinto Yoshin style. Over the years he has traveled all over and has worked out and taught some of the best martial artists of our time. He has rank in Shorei-Goju, Shorei Ryu, Shuri Ryu, Shorin Ryu, Judo, Aikido, Kobudo, Tae kwon do, Kendo Shinto Yoshin Ryu and Shinto Yoshin Ryu Jiu-Jitsu. In the mid 1970's Master Grose changed the name of his Association to the American Jiu-Jitsu Karate Association to encompass all the martial arts. In the 1990's, International was added to include our members from other countries. He holds the rank of Judan (10th Dan) in Shinto Yoshin Ryu and in Shin Mei Shorin Ryu. He recently passed away on October 19, 2006. His kindness, generosity, wit, humor, knowledge and friendship will be missed by all.