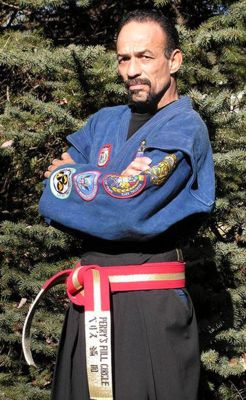 When Jody Perry first started High School he ran around with guys that liked to fight. Actually it was a carry-over from Jr. High School. He remembers having to live up to his older brothers reputation – tough, part crazy and not afraid to fight anyone. His friends were all pretty well known for their fighting abilities, and must of them had big brothers, usually two to three years older than he was. So he and his friends had that ace in the hole, if anybody beat them up, they had to deal with one of the older brothers.
During his freshmen year, Jody Perry wanted to be "Cool" so he hung out with a group of people that smoked behind the school and stayed on the borderline of dropping out of school or being kicked out.
One day a friend who hung out with Jody Perry joined the wrestling team at school and spent the whole freshmen year trying to talk him into trying out for the team. But Jody was "too cool." Jody kept telling him that wrestling was crazy and that he would never join because it wasn't "cool."
When their sophomore year began, Jody's friend continued to try to talk him into joining the wrestling team. Jody did have a new mind-set about school after his freshmen year. He finally realized that hanging out with the crowd was not going to get him anywhere but in trouble. He also wanted to have more to show for high school then a fat lip, black eyes, and missing teeth from fighting. So he agreed to try wrestling. He told his friend that he would try it once, and if he didn't like it, he had to leave me alone and never talk about wrestling again. As it turned out, to this day, Jody Perry has not stopped wrestling.
Wrestling in high school was one of the most influential times in Jody Perry's life.
"I believe that wrestling not only helped me get through school, but it opened up doors to my mind, heart, soul, and imagination. I'll never forget my first wrestling meet; it was at home and we were down to the last match when the captain of our team dislocated his shoulder. I remember the coach walking onto the mat to consult the captain that was in a lot of pain. After some hand gestures and head shaking one of the coaches held the captain while the other coach jerked and popped his shoulder back into place. Then the match continued. The two wrestlers battled on initiating move, after move, one person gaining control then the other winning it back. Then a scream and the match was stopped again. The captain's shoulder was out again. The score was in our favor by two points and the two wrestlers still had two minutes to go. Because our captain was hurt, he could have forfeited the match, but we would have lost the meet. Again the coaches approached the mat, and again arms were waving and heads were shaking. Then again, the coaches secured our captain and popped his shoulder back into place. By now everyone is dying just thinking about the pain. The match went on. With 30 seconds left in the match, it happened again for the third time. Everyone wanted to stop the match but the captain of our team would not have it. He grabbed his shoulder himself and with a great yell, jerked his shoulder back into place himself. With tears running down his face from the pain, he pushed the coaches away and ran back to the center of the match motioning his opponent to come to the middle to finish. Thirty seconds later it was over. When the referee blew the whistle indicating the end of the match, and that we had won, the captain ran into the locker-room screaming and holding his shoulder. SACRIFICE. DEDICATION. DISCIPLINE. LOYALTY. TOUGHNESS. GIVING ALL. DOING WHATEVER IT TAKES. That was Jody Perry's first impression of a wrestler."
Old School/Warrior
As a high school wrestler Jody Perry wrestled in the 95 lb. weight class his first two years. In his senior year he wrestled in the 105 lb. weight class. He doesn't know what his normal weight would have been because he was always dropping weight. So Jody Perry never had a normal weight. He remembers sitting in a sauna after our workouts trying to shed a few more pounds so I could eat. There were times they stayed in the sauna until they passed-out and someone had to carry us out. They would then jump or be thrown into a winter cold outdoor swimming pool, then go back into the sauna. There were times they sat in the sauna that was so hot the newspapers would become brittle and crack. There were times they exercised in the sauna fully dressed in hooded sweatshirts, sweat bottoms and gloves until they lost 5 to 10 lbs. As if that were not enough, there were times that they would not eat for one, two, or three days to make sure we made our weight. And then, there were those who even after not eating for one day, running 5 or 6 miles, on top of their normal wrestling workout, and sitting in a sauna, would go home at night and eat a box of ex-lax laxative to get out anything that was left inside our stomach. Little did they know how detrimental that was to their health. Although dieting was dangerous and unhealthy, we still wrestled well and always made weight.
Judo Sensei Al Ikemoto told Jody Perry a story one day when they were on their way home from a seminar in Mazatlan. He told him of how his father had trained in Japan under one of the great Judo instructors. He told Jody Perry that at the dojo where Al's father trained, during the summer they closed all the windows and doors. During the winter, they opened all the windows and doors. Snow, wind and rain would determine the temperature of the dojo. Sensei Ikemoto said that many times the practices were so hard it made his Father urinate blood. Their training was hard and very demanding. Many sacrifices had to be made.
Jody Perry learned that demanding and pushing to the limit, your body, your strength, your mind, your soul, your spirit, and your ego must be experienced before you can understand the true value of training as the warrior athlete.
Wrestling taught him about sacrifice and dedication – a high school warrior? Perhaps.
In 1979 Jody Perry moved to Turlock, California to Coach on the staff with, and train under Greco-Roman Olympian Buck Deadrich. He trained in Freestyle wrestling, Greco-Roman wrestling, and Sambo.
In 1980, after the boycott of the Olympic games, Jody Perry began training with Sifu Kym Camacho in Turlock, California. The discipline were Kung Fu and Tai Chi.
In 1982 trained in Wing Chun in San Jose, Calif. under Ben Der. At the same time I was studying Fu Jow and Tibetan Meditation also in San Jose, California.
In 1983 Jody Perry continued training with Ben Der in Wing Chun but left Fu Jow and started training at the San Jose Judo Buddhist Club. We also trained with the San Jose State Judo team that were 22 time Judo Champions.
After the Olympic trials and games in 1984 Jody Perry trained and assistant coached with Steve Siroy at Chabot College in Hayward, California. Steve was trained by Professor Wally Jay in Jujitsu and Professor Willy Cahill in Judo. With Steve Jody trained in wrestling, Judo, and Sambo. Steve Siroy was known internationally in the Sambo world, for being the best Sambo fighter the United States ever produced.
In 1986 Jody Perry moved to Hawaii for a short time, worked with wrestling programs at Iolani High School, Waipahu High School and other wrestlers preparing, as he was to compete in the Hawaii Pacific Rim Games. He also trained at the YMCA. The discipline was Kempo Karate, and jody trained with a few members of the Hawaii Police Department Judo Club.
In 1988, after the World Championships, Jody Perry traveled to Oklahoma to train in Judo and Sambo under his world team coach, Olympian Sensei Pat Burris and Sambo World Championship Silver medalist Ron Tripp.
In 1988, 1989, 1990, 1991 when Jody Perry was in Hawaii he trained with Relson Gracie in Gracie Jujitsu. Also during those year both in Guam and in the U.S.A. Jody Perry trained in Okinawan Karate and Muay Thai.
In 1991 Jody returned to the U.S. Mainland and trained under Sensei Al Ikemoto and the Sacramento School of Martial Arts in judo and Sambo. Jody received his Black Belt in Judo from San Jose Judo Buddhist Club.
In late 1991 Jody Perry moved to Santa Rosa California and began training under Sifu Brian Ollis, and Sifu Sam Goodman. The Disciplines they trained were Cha Na, Tai Chi, Pa Kau, and Escrima/Arnis. He also began Aikido classes with Sensei Denise Tatoya. (Denise spent 10 years training with O'Sensei in Japan. He teaches traditional Aikido). In 1991 Jody began the First Full Circle Classes and he researching and training and competing in Sport Jujutsu.
In 1992 Jody continued studies that he had started in 1991 plus he was introduced to Daito Ryu and more Pa Kau. Also ventured into Tang Soo Do, Choi La Fut, Tae Kwon Do, and Jeet Kune Do
In 1993 he was introduced to the founder of Model Mugging, Matt Thomas and started training to be a model mugger padded assailant.
In 1997 Jody Perry received his Judo Rank of Sandan from Team Sacramento School of Martial Arts, Sensei Al Ikemoto and Sensei Jack Carter. In 1997 and 1998 he began documenting and refining the development of his Full Circle program.
In 1999 Pankration was introduced to the U.S. by Greece via, Black Belt Magazine. Jody Perry responded to the call and assisted in the organization and development of International Federation of Pankration Athlima in the U.S. becoming a certified referee. He also coached 10 fighters to the Pankration Nationals, and World Team trials.
In the year 2000 Jody continued the development of Perry's Full Circle and Pankration Team building and they produced more Pankration National Champions along with his son Sensei Jay Perry.
In 2001 Jody Perry began studying Wing Chun under Sifu Bert Rodrigus of Santa Rosa Wing Chun. This school is associated with Sifu Chris Chan and the U.S. Wing Chun Kung Fu Academy, San Francisco California.
Ranks
Sambo – 11th degree (per FIAS – Federation Internationale Amateur de Sambo)
Karate – 10th degree Black Belt and Grandmaster title (Hawaii Martial Arts International Society)
Pankration – 7th degree (International Pankration Black Belt Council)
Aikido – Nidan (Sensei William Elderts, Universal Ki Aikido Association)
Judo – Sandan (Team Sacramento, School of Martial Arts – Sensei Atsushi Ikemoto and Sensei Jack Carter)
Judo – Shodan (San Jose Judo Buddhist Club)
Gracie Jiujitsu – Blue Belt (Relson Gracie, Honolulu, Hawaii)
Wing Chun -Sifu (Sifu Chris Chan, San Francisco/ Sifu Bert Rodriguez Santa Rosa, CA)
Achievements & Experience
Sambo World Champion (Masters) Gold Medalist – 1996 (St. Jean de Luz, France)
Sambo World Champion (Masters) Silver Medalist – 1996 (St. Jean de Luz, France)
Sambo World Team Coach – 1998 (Kaliningrad, Russia)
10-time National Sambo Champion
4-time AASF Pan American Sambo Champion
National Silver Medalist, Greco-Roman Wrestling – 1985 (Mt. Pleasant, Michigan)
National Bronze Medalist, Freestyle Wrestling – 1979 (Ames, Iowa)
International Silver Medalist, Judo – 1991 (Pacific Northwest Open Judo Championship)
National Bronze Medalist, Judo – 1991 (Honolulu, Hawaii)
3-time Olympic contender
2-time ADFPA California State Powerlifting Champion – 1987 & 1988
Has studied 22 different styles of Martial Arts
Over 35 years of active competition and coaching
6 years' experience as assistant or volunteer coach, Junior College and University wrestling.
10 years' experience as assistant or head coach for high-school wrestling.
6 years teaching curriculum classes in self-defense and martial arts, Sonoma State University
Hall of Fame Inductions & Awards
1999 – International Federation of Pankration Athlima
2000 – International Federation of Pankration Athlima (Father & Son award)
2001 – World Martial Arts Hall of Fame – awarded a Ph.D. / M.A. and promotion to 12th Dan
2001 – World Martial Arts Hall of Fame – Sokeship Founders Award, Perry's Full Circle style officially recognized
2001 – World Martial Arts Hall of Fame – Outstanding Contribution to Martial Arts
2001 – World Martial Arts Hall of Fame – Outstanding Male Competitor
2001 – The State Association of Pankration Athlima of Baja California, Mexico
2002 – Hawaii Martial Arts International Society – Outstanding Achievements in the martial arts, promotion to Grandmaster and 10th Dan
2002 – United States Martial Artist Association – Supreme Grandmaster of the Year
2003 – Action Martial Arts Magazine – Outstanding Contributions to the martial arts as a Grandmaster
2003 – Karate Kidz Online – Teacher of the Month, Teacher of the Year
2003 – Hawaii Martial Arts International Society – HMAIS Board Member of the Year
2003 – Hawaii Martial Arts International Society – Honorary Achievement & Dedication to the martial arts
2008 – International Jujitsu Association – International Grandmaster of the Year
2011 – International Independent Martial Arts Association – Grandmaster of the Year
2013 – World Head of Family Sokeship Council – Grandmaster of the Year