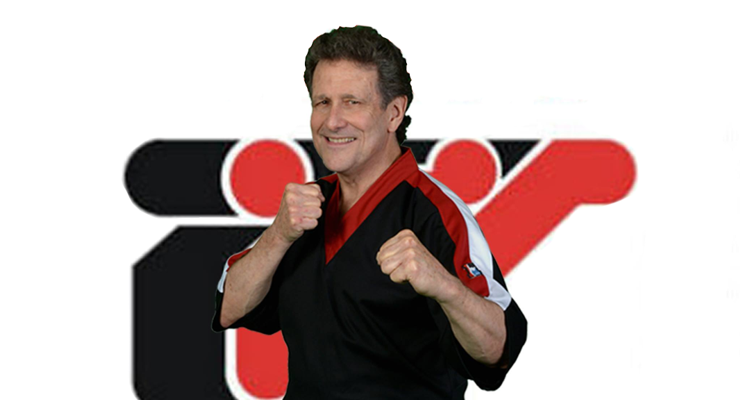 Atlanta's Joe Corley is a Black Belt with a mission. A master instructor with 36 years experience in the martial arts, Corley's life-long purpose for being is to share with everyone the positive feelings of confidence, courage, intensity, focus, personal discipline and integrity engendered by good martial arts training and competition. He has done that through the promotion of the martial arts on television around the world.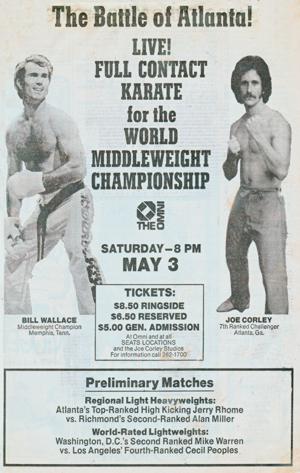 Joe Corley began his karate classes at age 16, earned his black belt at 19, opened his first studio at 20, won three US titles in the next three years, founded the Battle of Atlanta at age 23 and has fervently spread the word ever since. Joe has sought to share the most practical physical karate movements available and combine those real life defensive techniques with modern American positive philosophy.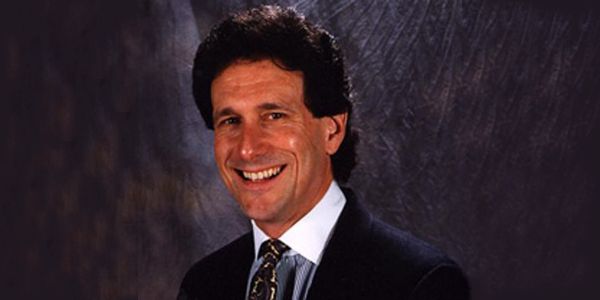 There are but a handful of men in the martial arts anywhere in the world who have accomplished so much for the furtherance of the martial arts philosophy Joe Corley and physical applications. As a fighter, Joe Corley won three United States Championships in point karate and went on to retire as the number one ranked MiddleWeight contender in the world. Now a 9th degree black belt in American Karate, Mr. Corley has taught more than 25,000 men, women and children in his chain of Atlanta studios.
As a Black Belt in Tang Soo Do, he opened Atlanta's first full time karate studio in 1967 while he was still competing and expanded the studios to become the most well known martial arts chain in the Southeast. In 1970, Joe Corley founded the BATTLE OF ATLANTA, now considered the largest and most prestigious open karate tournament in the world, which will celebrate its 38th staging September 30-October 1, 2005 at the Hyatt Regency Atlanta (https://www.thebattleofatlanta.com).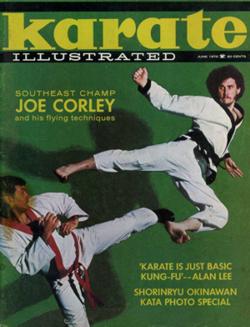 Mr. Joe Corley also became the voice for American Karate on national television, where he did commentary with long-term friends Chuck Norris and Pat Morita on NBC, CBS, ESPN, SHOWTIME, USA NETWORK, SPORTSCHANNEL AMERICA, PRIME NETWORK, SPORTSOUTH and on international television syndication. As expert analyst and host for PKA KARATE world championships on network, cable and pay per view, Mr. Corley became synonymous with the sport to the millions of fans who followed the 1,000+ hours of coverage on television. From such diverse locales as 50 cities in the United States, Canada, France, Belgium, South Africa, South America and the United Arab Emirates, Joe Corley has educated an entire generation of sports fans.
Joe Corley has been named Official Karate Magazine's Man of the Decade, is found in the Who's Who in Martial Arts and has received more awards in the martial arts community than anyone can count.
But the thing that continues to drive Joe Corley is the knowledge that he and his staff can use all their experience and all their accomplishments to share with everyone in Atlanta the great feelings of confidence, courage, discipline, honor and integrity that come from learning the martial arts properly. The expansion of his chain in Atlanta provides the infrastructure to achieve his life-long goals, bringing karate and kickboxing to as many people as his schools and television campaign can reach.
Mr. Joe Corley's wife Christina is his right arm and chief administrator in the Joe Corley Studios and at the Battle of Atlanta. Mr. Corley's daughter, Christiana, is his compelling force to make the karate world an even better place to live in.
To contact Joe Corley and Atlanta Extreme Warrior Martial Arts visit their listing on the Martial Arts Schools and Businesses Directory by clicking on the image on the left.