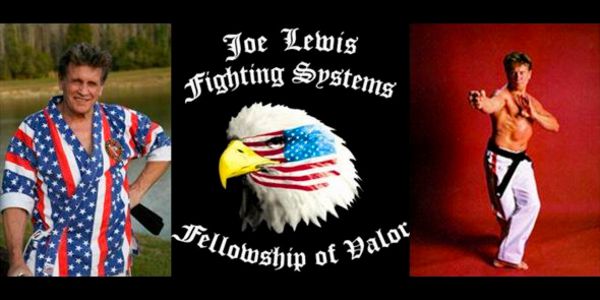 JOE LEWIS FUNERAL INFORMATION
September 7  – September 9, 2012
Introduction
The Joe Lewis Fighting Systems has recently received many great responses from people and appreciate all the kind words. We look forward to seeing many of you this weekend and wish you safe travels.
Below is information on locations, hotels, airports, and events planned. The JLFS Association is working diligently to make your travels and visit as pleasant as possible. Please feel free to contact us with any questions or how we may assist in your visit.
If you would like to send flowers, they can be sent to the funeral home (information below).
You can also consider to make a financial donation to the Veteran's Association at: Click Here!
At this time, Mike Allen is unable to be reached while working on the many plans being made for this weekend.
Please feel free to contact Steve Snyder at SnyderMartialArts@gmail.com with any questions.
Sincerely, Mike Allen and Steve Snyder, Joe Lewis Fighting System Association
Airport
Raleigh / Durham, NC (RDU) – Hilton provides free shuttle service from this airport
Greensboro, NC (GSO) – 1 1/2 – 2 hours drive to Hilton Raleigh Hotel
Hotel
Hilton North Raleigh Midtown
(919) 872-2323
Web Site: CLICK HERE!
Group Room Rate:  $95 (night)
Use Rate Code: "Joe Lewis Memorial" or "JLM"
**If you booked your room before receiving this email, please contact the hotel to put you under this group name.
(The hotel offers a free shuttle from RDU airport to hotel.)
Funeral Home and Cemetary
Funeral Home
L. Harold Poole Funeral Service and Crematory
944 Old Knight Road
Knightdale, NC  27545
Web site:  CLICK HERE!
Cemetery
Knightdale Baptist Cemetary
264 Mailman Road
Knightdale, NC  27545
Suggested Attire:  Coat / Tie or Dress
Memorial Training Session
Workout Location
Team RIMA
601 East Six Forks Road
Raleigh, NC  27609
Web Site:  CLICK HERE!
Training session for Joe Lewis Black Belts and JLFS Association Members.
Session will be led by senior ranking members of the JLFS.
RECEPTION INFORMATION
Location:  Hilton Raleigh North Midtown
Cost:  $35 includes buffet meal – paid at the door
(Cash or Check accepted – sorry no credit cards)
*You will need to RSVP at SnyderMartialArts@gmail.com to reserve your space.
Please do not assume you have a space reserved.
A confirmation email will be sent to you that your space is reserved.
Meal includes:
Baked Chicken, Flank Steak, Mashed Potatoes, Green Beans, Tossed Salad, Water, Tea
* A cash bar will be available at the reception
There will be assigned guest speakers at this event.  These individuals will be notified by the JLFS Association.
Suggested Attire:  Coat / Tie or Dress
SCHEDULE OF EVENTS
Friday, September 7, 2012
Visitation with Family
Times:  7:00pm – 9:00pm
Location:  Funeral Home
Saturday, September 8, 2012
Memorial Workout for JLFS Black Belts
Times:  8:00am – 10:00am
Location:  Team RIMA
Funeral
Times:  2:00pm
Location: Funeral Home for Eulalogy.
After service, Joe Lewis will receive full military burial at Knightdale Baptist Cemetery.
Reception
Times:  7:00pm – 10:00pm
Location:  Hilton North Raleigh Midtown
Funeral Home & Cemetary