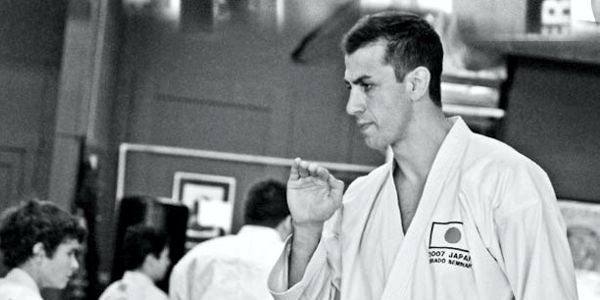 John Fonseca has been competing in a wide range of national and international tournaments since the age of seven. In addition to his impressive competitive credentials, Sensei Fonseca also holds a 4th Degree Black Belt in Shotokan Karate, and is a nationally-certified Karate coach and referee with significant teaching experience in the martial arts and fitness fields.
America's Most Decorated Male Karate Athlete
In 1996, John Fonseca became the first American to medal at World Championships in almost twenty years. He is the only male karate athlete in the world to win repeat gold medals at the Pan American Games, and the only American karate athlete to win the Paris Open. His competitive accomplishments are recognized both nationally and internationally, earning him the U.S. Olympic Athlete of the Year award three years running and an induction into both the USAKF's and Black Belt Magazine's Halls of Fame.
Training Award Winning Athletes
Sensei John Fonseca has been teaching children and adults martial arts for the last fifteen years. In 2003, he opened Elite Martial Arts & Fitness in Skokie, Illinois (now named Fonseca Martial Arts). The dojo has afforded Sensei Fonseca and his staff the ability to instruct several hundred students in the art of Karate and Judo, and Fonseca Martial Arts students continue to take top medals in the local, regional and national karate competition in which they've competed. Through martial arts instruction, students develop respect for others, a sense of personal responsibility and discipline as they develop their technique and skills. FMA's curriculum and approach are designed to work with people of all levels of skill and fitness, from beginning to advanced, to bring out the best in every individual.
The Fonseca Martial Arts Programs have now expanded into local schools, park districts, and corporate locations.
John Fonseca Highlights:
2004 AAU James E. Sullivan Award Nominee
3X U.S. Olympic Athlete of the Year
2X Pan American Games Gold Medalist
4X Pan American Karate Champion
Black Belt Magazine Hall of Fame
USAKF Hall of Fame
WKC World Championship Gold Medalist
2X WKF World Championship Bronze Medalist
3X WKF World Champion Bronze Medal Contender
Paris Open Gold Medalist
8X USANKF National Champion
4X AAU National Champion
3X USAKF National Champion
Captain USANKF Karate Team 2000 – 2005
4th Degree Black Belt
ACE (American Council on Exercise) Certified Personal Trainer
ASEP (American Sport Education Program) Certified Coach
To contact John Fonseca and Fonseca Martial Arts visit his listing on the Martial Arts Schools & Businesses Directory or FindADojo.com by clicking on the image on the left.