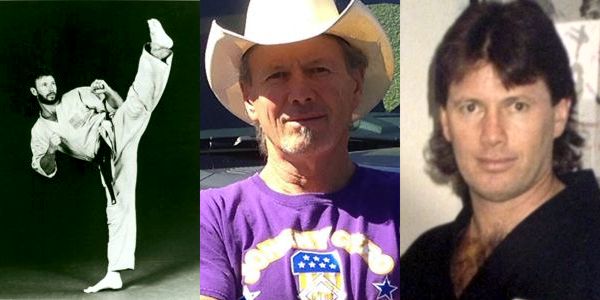 Johnny Gyro started his first Martial Arts class at the age of 8. He is an 8th Degree Black Belt in Tang Soo Do, and also holds Black Belts in Tae Kwon Do, Kang Duk Kwan, Shi Pal Gi (Kung Fu), Hapkido and Gung Fu. With a particular love and talent for sparring and boxing which began as a 4-year wrestling division champion in his teen years, Johnny Gyro began professionally competing in karate tournaments in 1978. He competed in tournaments across the United States, Canada and Central America on an average of at least two tournaments a weekend or more. Johnny Gyro was proud to be nominated "Competitor of the Year" in 1982 by World Karate News Magazine and again in 1983 by Kick Illustrated Magazine. In 1985 Johnny Gyro was named "Fighter of the Year" by Martial Arts Magazine and in 1990 was inducted into the IFKA Hall of Fame with their title of "Competitor of the Year"
Johnny Gyro was ranked the Number One Competitor consecutively from 1982-1987 in California and Nevada (Region 2) by Karate Illustrated Magazine and Martial Arts Magazine. He was also the Number One Rated Fighter in the Professional Karate League (PKL) and in the California Karate League (CKL), as well. He held the hard fought honor of being Nationally Rated #18 in 1983 and #10 in 1985 by Karate Illustrated Magazine and was the #6 Rated Fighter in the United States by the NAKC in 1986. In the AAU Tae Kwon Do competition, Johnny Gyro was rated #1 in 1983 in Men's Fighting Region 2, California and Nevada.
Johnny Gyro has competed in well over 900+ karate tournaments in his career. He won the Grand Champion at many rated tournaments but none stand out as much as the 1986 Ed Parker Long Beach Internationals, considered one of the most prestigious tournaments in karate competition world wide. The fact that he had fought 18 times in two days, in Men's Teams, 35 and older Teams, Amateur Division and Pro Division, and winning all divisions and the Grand. The following year he took home the runner up Grand at the 1987 Ed Parker Long Beach Internationals.
Johnny Gyro has been featured on the cover of 9 national and international karate publications. Black Belt Magazine named Johnny Gyro Karate "School of the Month" in January 1996. Johnny Gyro and his wife, 5th Degree Black Belt Noel Gyro, put together along with the award winning Illusion Factory, two DVDs, "Bully 911" and "Live to Tell About It". The DVDs, now free apps for you iphone or ipad (soon on Android), has won 2 Telly Awards and the Parents Choice Award for content, contribution and educational value.
Johnny Gyro can be found 6 days a week at his school, Johnny Gyro Karate, teaching all of the classes with his wife, and three sons Ryan, Brandon, and Harley. His passion now is to pass on his knowledge to others and watch them grow, and accomplish their dreams.