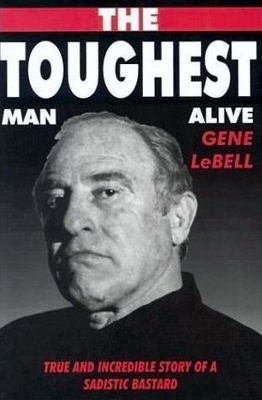 Called "the toughest man alive" by his peers, Judo Gene LeBell has been a martial arts icon for decades. At age 12 he began training in judo. Shortly thereafter Gene began frequenting the Main Street Gym in Los Angeles the training place of many champion boxers. Mixing boxing and judo Gene trained like a maniac when in 1954 he won the AAU National Judo Championship. Even though he weighed in at 160 Gene fought and won in the heavyweight division. The following year he repeated as national champion winning 28 matches in two days, 17 of those victories were won with standing throws.
"Judo" Gene LeBell next traveled to Japan where he trained at the Kodokan in Tokyo. Often times the "foreigner" was forced to fight a series of opponents until he lost. Gene usually went through 20 or more "victims" before calling it a day.
Upon returning to the United States, "Judo" Gene LeBell became a professional wrestler, wearing a hood and fighting as The Hangman he eared a reputation as being the nastiest wrestler in the business.
As a professional wrestler Gene won pro titles in Hawaii, California and Texas and held the North American Heavyweight Champion title. Gene was World Champion for 12 seconds –it would have been longer but he accidentally whacked the wrestling commissioner in the eye with his newly acquired Championship belt. The official rescinded the belt and the title and barred Gene from future competition in Texas.
In 1963 "Judo" Gene LeBell defended the honor of the martial arts by taking on a world ranked light-heavyweight boxer (Milo Savage) who issued a public challenge claiming that there wasn't a martial artist alive that could stand up to a professional boxer. Wearing his gi, Judo Gene scored a 4th round KO by throwing and choking out Savage, which set off a full-scale riot.
"Judo" Gene Lebell has always been a man of action and nowhere is that more evident than in the hundreds of movies, television shows and commercials he has appeared in since 1955. For more than 30 years this good natured red haired giant has been one of Hollywood's leading stunt men. It's almost impossible to turn on the tube or go to a flick and not see Gene taking a fall, shooting a machine gun or tossing someone through a window.
When asked if he really is the toughest man alive "Judo" says with a smile, "No, but I am the best looking."