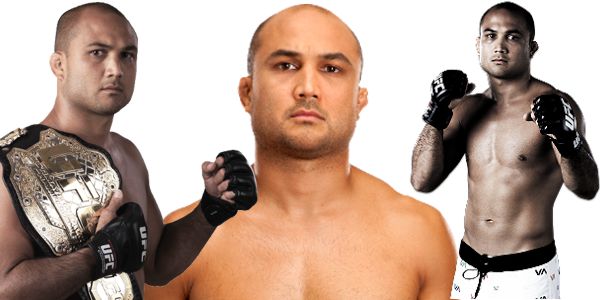 B.J. Penn (Jay Dee Penn or Baby Jay) was born on December 13, 1978 in Kailua, Hawaii. He is an American professional mixed martial arts (MMA) fighter and Brazilian Jiu-Jitsu practitioner, was the Ultimate Fighting Championship lightweight champion and UFC Welterweight Champion. He is one of only three fighters in UFC history to win titles in multiple weight classes. He holds notable wins over Matt Hughes, Takanori Gomi, Jens Pulver, Caol Uno, Duane Ludwig, Matt Serra, Rodrigo Gracie, Din Thomas, Renzo Gracie and Joe Stevenson. He is the first American-born winner of the World Brazilian Jiu-Jitsu Championship (Mundial) in the black belt category (2000). Penn is also the former UFC welterweight champion and was a coach on the The Ultimate Fighter 5 reality show. After winning the lightweight title at UFC 80, he became only the second man (with Randy Couture) to win UFC titles in two different weight classes.
Nicknamed "The Prodigy", BJ Penn was introduced to Brazilian Jiu-Jitsu in Hilo Hawaii at the tender age of 17 by neighbor. It was through this same neighbor that BJ met Ralph Gracie in 1997 and decided to relocate to Mountain View, CA to further his jiu-jitsu training. From that time on, BJ Penn launched his storied career through the ranks of Brazilian Jiu-Jitsu.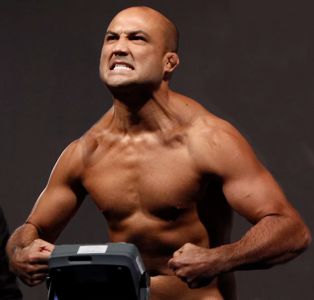 His accomplishments caught the attention of the Ultimate Fighting Championship, where he began his mixed martial arts career less than a year later in 2001. He demonstrated strong striking skills, knocking out lightweights Din Thomas and Caol Uno before suffering a decision loss in a title fight against UFC lightweight champion Jens Pulver. In 2003, after Pulver left the UFC and relinquished his title, a tournament to crown a new champion flopped when Penn fought Uno to a draw in the finals at UFC 41, a failure which caused the UFC to later suspend its lightweight division. Penn bounced back later in the year with a victory over Takanori Gomi, future PRIDE Fighting Championship lightweight champion, in Rumble on the Rock, an MMA organization promoted by Penn's brother.
The crowning achievement of Penn's career came in 2004 at UFC 46. Penn jumped up in weight classes to challenge the five-time defending UFC welterweight champion Matt Hughes to fill a title contention slot in a division where Hughes had already defeated all the available opposition. Heavily favored to win, Hughes lost the fight four minutes into the first round by rear naked choke after giving up his back with only 23 seconds left in the round.
Shortly after defeating Matt Hughes, the new champion signed to fight in the K-1 organization. The UFC promptly stripped him of the welterweight title, claiming Penn breached his contract and that the signing constituted him refusing to defend his title. Penn filed a suit against the UFC and publicized his side of the conflict, claiming his UFC contract had already expired. Penn filed a motion to stop the UFC from awarding a new welterweight title, but that motion was denied. In his first K-1 fight, Penn fought again at welterweight (170 lb) and defeated Duane Ludwig at the 2004 K-1 MMA Romanex show in under five minutes by arm triangle choke. Following the Ludwig fight, Penn moved up in weight class to face the undefeated Rodrigo Gracie at middleweight (185 lb). Penn won by decision, extending his winning streak to four fights.
In 2005, at the K-1 Hero's 1 event in Japan, Penn faced light heavyweight Lyoto Machida, losing by decision. Later that year at K-1 World Grand Prix Hawaii, Penn returned to middleweight to face Renzo Gracie and won by unanimous decision.
In early 2006 at UFC 56, UFC president Dana White announced that Penn and the UFC had agreed to a settlement and Penn was to return as a top welterweight contender. Penn re-debuted on March 4 at UFC 58, losing to Georges St. Pierre by split decision in a fight that determined the number one welterweight contender.
In July, Penn briefly spoke with KUAM about rededicating himself to earning the lightweight championship, along with the welterweight and middleweight titles.
After top contender St. Pierre injured himself during training, the UFC announced that Penn would replace St. Pierre in an upcoming title fight, setting up a highly anticipated rematch with Hughes for UFC 63 on September 23, 2006. In the bout, Penn controlled the first two rounds, but sustained a rib injury during the scramble to take Hughes' back in round two. He was visibly different in the third round, appearing exhausted and missing punches he was landing earlier. Hughes was able to take Penn to the mat, and in side control crucifix position rained punches on Penn's head until referee "Big" John McCarthy stopped the fight at 3:53 of the third round, making this the first time that Penn had been stopped in a fight. In an interview found on Penn's personal website, Penn stated that by round three he could hardly breathe and had no "mobility in his core." Despite the injury, Penn congratulated Hughes, calling him a great fighter and saying he deserved the victory.
Penn was a coach for The Ultimate Fighter 5, which aired on April 5, 2007. Penn lead a team of eight lightweight fighters, and fought a rematch against Jens Pulver at the conclusion of the series on June 23, 2007. He won with a rear naked choke in the second round after controlling Pulver from the mount and then taking Pulver's back. Although he held the choke for a moment after Pulver tapped out, the two then embraced, with both later saying they no longer held any ill will against each other.
On July 7, 2007, during the post-fight press conference of UFC 73, UFC president Dana White announced that Penn would stay at lightweight to fight current UFC lightweight champion Sean Sherk. However, Sean Sherk subsequently was suspended by the California State Athletic Commission, and the status of the possible title fight was left in limbo as he pursued his appeals. With Sherk's title status still in limbo after months of hearings, the UFC scheduled Penn to fight Joe Stevenson at UFC 80 on January 19th 2008 for an interim lightweight title. The subsequent final decision by the California State Athletic Commission, which did not overturn Sherk's suspension, led to the title being stripped from Sherk and the Penn-Stevenson fight being upgraded to a full title bout, with the winner facing Sherk in their first defense.
Penn knocked Stevenson down seconds into the first round with a right uppercut, then took Stevenson down, eventually inflicting a serious cut near Stevenson's hairline. In the second round, Stevenson fought more aggressively but was still unable to threaten Penn. Penn worked to back mount and defeated him by rear naked choke at 4:02 of the second round to win the UFC lightweight championship. With this win, Penn became only the second man (with Randy Couture) to win UFC titles in two different weight classes.
The UFC has officially announced that Penn's first title defense will be against former champion Sean Sherk on May 24th 2008. He has hinted that if he defeats Sherk, he would like to move up to welterweight and fight current champion Georges St. Pierre for the title.
His nickname "B.J." is short for "Baby Jay", as he is the youngest of his male siblings named "Jay Dee Penn".
He has 4 brothers: Jay, Jaydee, Reagan and Kalani.
Penn's mother, Lorraine Shin, is a 3rd generation Korean-American.
B.J. Penn, along with Glen Cordoza and Erich Krauss, is the author of Mixed Martial Arts: The Book of Knowledge, an instructional book on mixed martial arts fighting.
Penn can often be seen wearing the brand RVCA at UFC events. Sponsored by RVCA, he wears his custom-made Official B.J. Penn trunks for major UFC events.
B.J Penn operates a website called BJPENN.COM which he updates daily with free MMA lessons.
Penn's entrance music is Hawai'i '78 by the late Israel Kamakawiwo'ole.
Early accomplishments along the way include the following:
May, 1997 Enters first tournament in Bakersfield, CA and wins both his weight and the open weight class.
June, 1997 Enters the Joe Moreira tournament as a blue belt winning his weight class.
June, 1997 Wins submission grappling tournament
1997 Enters Brasileiro and places 4th in his weight class, blue belt category
1997 Continues to enter tournaments upon return from Brazil placing first consistently
1997 Receives blue belt from Ralph Gracie
1998 Silver medal at Brazilian Mundials competition in his weight division; receives purple belt upon return
1999 Bronze medal at Brazilian Mundials in heavier weight class as a newly promoted Nova Uniao brown belt.
1999 Gold medal, Copa Pacific Tournament in Los Angeles
1999 Joins Nova Uniao Competition Team (reserved for the four top team competitors)
2000 First non-Brazilian to win gold medal in black belt division of the Mundial World Championships held in Rio de Janeiro, Brazil.
May, 2001 Enters UFC 31 preliminary match and beats Joey Gilbert by referee stoppage at 4:58
2001 Beats Din Thomas by knockout in 2:17 at UFC 32
2002 Beats Caol Uno by knockout in at UFC 34
2002 Beats Paul Creighton knockout at UFC 37
2002 Beats Matt SierraDecision at UFC 39
ENDORSED BY:
Team Nova Uniao
Legends Jiu-Jitsu
Cross Fit.com
On The Mat.com
American Kickboxing Academy
Evolution Sportswear