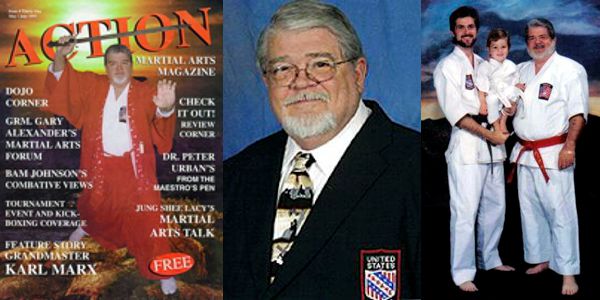 Keichu-Do Founder Karl W. Marx Sr., was called to serve God Two days after being Saved and Baptized. Early by most standards, which is usually two years? After giving his testimony to a Salvation Army Pastor two days later, He was invited to put on a Self-Defense demonstration and give his testimony to 60 at risk youth at their summer camp. The average age of the boy's was approximately 12 t0 17 years of age. The average salvations coming forward to accept Christ as Savior, during that time (a month I think) was only three or four. On this occasion the following day which was Sunday every youth all sixty of them came forward and gave their lives to Christ. A pronominal event to say the least. The three Pastors at the camp certainly believed that. Marx was invited to bring his new found ministry to their Churches. Soke Marx visited other Churches, and public schools in Louisiana, even the Catholic Retreat Center. Many young people were being touched by the Holy Spirit and gave up their lives to Jesus Christ. Two years later Marx was given a license to preach the Gospel. His first assignment was the Beauregard Louisiana State Prison Camp in Pineville. This was for prison inmates from The Angola State Penitentiary.
After graduating from Louisiana Collage, with a Bachelor of Arts in Psychology, and a minor in Sociology, Karl W. Marx Sr worked for three years as an Institutional Counselor, then as a Social Case Worker. Before graduating, Marx held three jobs to support his family. Teaching Self-Defense, at Collage for the Martial Art Fraternity Kappa Epsilon Pi, which Marx founded. The first of it kind in the United States or any were in the World, probably, to our knowledge, and in His Self-Defense School in Alexandria Louisiana, also his job at a Barber Shop cutting, styling, and examining hair for diseases that cause failing hair. Capillature is a treatment process from France. Trichinosis is any disease of or affecting the hair.
When Karl W. Marx Sr returned from France and Belgium he was considered to be only one of less than 50 Trichologest or Capillaturest in the United States. TR.D that is equivalent to a PH.D. The reason being the educational knowledge appears to compare to the Physical knowledge of a Chiropractor, or Physical Therapist. Marx later attended Graduate school at Northwestern State University and earned a Master of Science Degree in Recreation and a minor in Special Education. During the three years Marx worked at the Louisiana State Mental Institution, He Keichu-Do American Karate continued his education by taking night classes. With all the extra Credits Marx had over the three years, he added to his Thesis and wrote a Dissertation for a PH.D from another University in Athens Greece. Marx also wrote a book concerning Oriental Philosophy, and different Religious philosophies. Earning a PH.D after counting all the extra credits and the information, research, and life experiences then using the information credits and the Dissertation from the Religious philosophers. From the big book by Marx he earned another Doctorate from The International University in Oriental Philosophies. In 1997 Marx was inducted into the United States Karate Alliance Prestigious Hall Of Fame. By the way this is the only Hall of fame he accepted.
Some might think that these two degrees are no good because there are so many diplomas Mills out there, Even Karl W. Marx Sr is not sure. However he entered the Great Plains Baptist Graduate School and earned a Doctorate of Philosophy from an institution that has been there over 30 years. By the way Marx also has a Bachelors degree in Biblical Studies from Yeshua Bible Collage. He is a co-founder of Andrew Jackson Collage, America's First Martial Arts Collage which was accepted by the Louisiana State Board of Secondary Education. President of the Collage is He-Young-Kimm. Which I believe is still there since 1980. That is 29 years; Grandmaster Kimm is one of the most creditable men in the World. And a great Martial Artist whose demonstrations were unforgettable. Marx served as Dept Head of the Martial Arts Therapeutic Recreation and Rehabilitative process program. K.W. Marx was voted man of the year in Louisiana Martial Arts, by his peers, and was Texas State Kata Champion (Soft Style) Louisiana State Champion in Sparring, Kata, (Hard Style) and Weapons; Marx also won the Gulf Coast Nationals in Weapons and second in sparring. He placed third at George Minchew Texas Karate Olympiks.
Karl W. Marx Sr is named among a literal WHO's WHO of the World's mega Martial Artist as a LIVING LEGEND. Marx's students have won many Championships in Karate including State, Regional, National, and even World Champion ships. Marx's has 8 sons 5 of which are black belts and two grand children who are black belts. He also has a beautiful daughter black belt. His Son Michael Defeating Russian, Australian, Spain, Mexico, Competitors has won a world Championship. God has truly blessed Pastor Marx as his fruits show. He has appeared at the Dr James Dobson "Focus on the Family" and the 700 Club of Pat Robertson. Marx has authored 7 books that some were controversial; however many weak Christians are the complainers, or in Marx's opinion just frustrated judgmental no humor sad individuals. Of all the achievements, honors, and awards he has accomplished, his most chariest possession, is his Ordination certificate, after two years of studies in a two in Four year Bible collage setting, Marx was ordained as an Evangelist pastor.
Karl W. Marx Sr passed away to be with his Lord and Savior, February 13, 2013. He was 76 years old.
Born again and Baptized May 15th 1970.
This Bio was started on June 15th 2002, 1970.