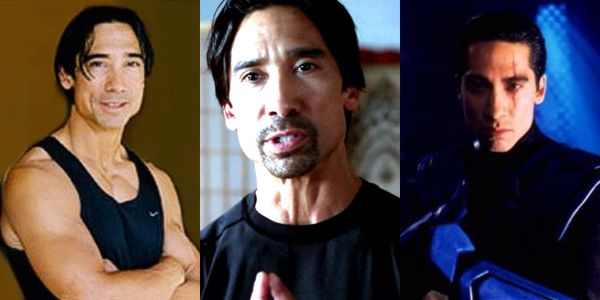 Keith Hirabayashi was born in Seattle, Washington on September 17, 1959. He grew up in the Seattle area and attended the University of Washington. He has trained in wushu, Tae Kwon Do and karate. His career in action movies has taken him around the world. He currently lives in Los Angeles, California with his wife Suzanne and their son Jake.
Keith began his martial arts career after becoming intrigued with Wushu during the performance of a wushu form. He sought out a Wushu instructor Roger Tung in 1973 and began his life long journey in Chinese martial arts. The Japanese-American's enthusiasm for the art lead him to train Wushu in China in 1980 and he returned in 1982 to compete in China. In 1983 he joined the karate competition circuit and in 1985 he was inducted into the Black Belt Magazine Hall of Fame as the Competitor of the Year. Keith Hirabayashi has been five time Grand Champion at the US World and US Open Karate Tournaments.
Keith Hirabayashi's martial skill lead him to several roles in movies including China O'Brien and China O'Brien II, starred Cynthia Rothrock and Richard Norton. He enjoys a career in Hollywood as an actor and a stuntman. Keith has portrayed Thai, Vietnamese, Japanese, and even Native American characters and his long list of movie credits reflects the strength of his screen charisma and his ability to diversity as an actor. His better known roles include Sub-Zero in "Mortal Kombat 2" and Nobu in "Beverly Hills Ninja." His most recent appearances include "National Security" with Martin Lawrence and "Lost Time" with fellow Robin Shou, fellow martial artist and actor.
Keith Hirabayashi also teaches martial arts and fitness training at Champions Martial Arts, the dojo he opened in 1995 in Los Angeles, California. He is a talented instructor dedicated to sharing health and fitness with his students. He offers his Ultimate Body-shaping Course which includes eight to ten weeks of fitness training, nutritional counseling, and motivational support ending with a gala banquet and an award for the participant who shows the greatest improvement in his or her physical fitness. Mr. Hirabayashi holds several of these courses each year. His "Little Dragons" classes include students who begin to study the arts at the age of four years old.
Fitness guru Kathy Smith called on Mr. Hirabayashi's for his expertise as technical advisor for her kickboxing workout video.
Mr. Keith Hirabayashi is an excellent role model for his students and his physical prowess in the martial arts is matched only by the deep compassion he brings to his teaching and to his personal relationships. He puts in long hours in the training of his students, yet he makes it a priority to spend time with his wife and six year old son, Jake. The Hirabayashi family attends church together on Sundays and regardless of his busy professional schedule, Mr. Hirabayashi serves as the assistant coach for his son's Little League baseball team.