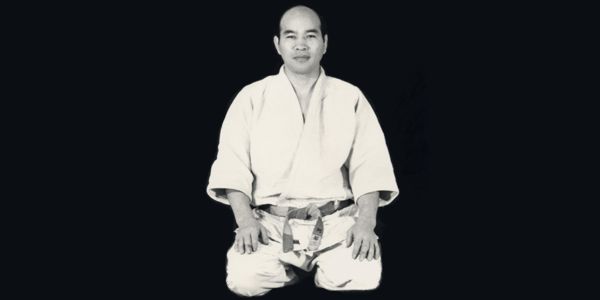 By Gary Robinson ~ A short anecdotal biography of the Master's activities throughout the years 1938-86
Ukikoto no arumi no chikara tamesan
My potentiality has got a limit
Kenshiro Abbe was born December 15, 1915 in the Tokushima Province of Japan. He was the fourth son of Mrs. Koto Abbe and father Toshizo.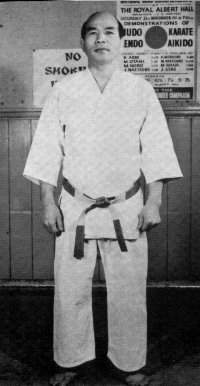 In 1955 at the age of 40, Abbey came to England to introduce the International Budo Council. This organisation as a whole was founded only a little earlier that year. Upon his arrival in London, Kenshiro Abbe launched his own Theory of Kyushindo and this became well known in the Budo field, which at that time consisted of Judo alone. Kenshiro Abbe was the master who introduced Kendo, Aikido, Karate, Kyodo, Jukendo, Iaido, Yarido and Naginatado to Europe.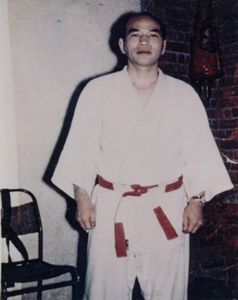 Kenshiro Abbe Sensei's eccentric behavior in London did not endear him to too many people and he was often at loggerheads with Budo Authorities. Famous anecdotes of his eccentric methods and behavior included training sessions in swimming polls and allowing birds to fly into the dojo. Kenshiro Abbe was very fond of small birds! There is also tale of him 'borrowing' a tethered horse and riding it through the London streets. At that time any Japanese face in London was relatively rare – one on horseback was extraordinary! Bill woods, co-founder of that first dojo together in Kings Cross would become accustomed to Kenshiro's unpredictable behaviour and would be kept busy for many years to come in the role of 'right hand man'. Kenshiro Abbe did invite his family to live with him in London however they refused, apparently not at all attracted by the life style that Kenshiro Abbe offered them in England. Within the context of this "anecdotal biography" of Kenshiro's adult life and activities in Budo only, I shall not concern myself here with this complicated mans childhood, adolescence or the family affairs or his respected ancestors of the past, present and future. All other information available to me is available to anyone via the Internet and various other 'hard copy' books. Outside of Japan the Tokushima Budo Council of Europe is the only authorized guardian of Kenshiro's legacy of Kyushindo Theory study and practice.
Kenshiro Abbe cooled somewhat towards his own organisation and decided to begin travelling alone. He bought a van and set out to first visit Marseilles, Nice, Monaco, Turin and Rome. He became a drifting teacher, with few or no belongings. Wherever he was in a town he would simply ask for a small space in a church or warehouse or perhaps even set up outdoors. He would spread his 15 Tatami mat and teach Judo to young children and adults.
It is known that Kenshiro Abbe later also visited Sweden, Athens, Dakar and Abaysinia. He returned to Japan for the first time in 1964 and worsening health following a recent car accident caused his to cease his wanderings for some time. Following a remarkable complete recovery in 1968 he began to teach again in Europe, returning to London from time to time. He returned to Japan for the second time in the late seventy's and stayed there until he died in June 1986.
Kenshiro Abbe had his first Satori (revelation/enlightenment) at 18 yrs old and then spent 24 yrs in maturing and developing his ideas before launching his personal theory of Kyushindo in 1955. He had a second Satori in 1969 after reading the teachings of Nichiren. However, not having trained four five years and being impaired by old training injuries and the previously mentioned car accident, he was unable to physically and mentally control himself and this frustration caused him to become unstable in himself. His inevitable retirement had begun.
In 1938, at the age of 23 (the youngest ever) Kenshiro Abbe was awarded 6th Dan and called up for his military service.
It was during this period that Kenshiro Abbe first formulated his theory of Kyushindo Budo, although he did not reveal it publicly at that time. It was also at this time he was selected as a student by Morihei Ueshiba, the creator of Aikido. Aikido was at this time still secret and Ueshiba Sensei only selected special students. Abbe was to study for ten years under Morihei Ueshiba and became his senior student of Aikido. Ueshiba Morihei was the greatest personal influence on Kenshiro's life in Budo.
In 1945 Kenshiro Abbe was graded 7th. Dan Judo and 6th. Dan Kendo by the Butokukwai but at the end of the war the Occupation Forces disbanded the Butokukwai and it became illegal to practice martial arts. By 1949 Budo was again legalized in Japan.
In 1951 Kenshiro Abbe became editor of Judo Shinbun, the Japanese Judo Magazine and Director of the Judo Social League. He was also Official Referee of the All-Japan Police Championships and the National Tournaments.
By 1957 Kenshiro Abbe had formed British Councils for various martial arts including Judo, Karate and Kendo. By 1964 the Judo Council was the second largest Judo organisation in the country whilst the International Budo Council had members all over the continent, the USA, Australia, Africa and the Far East.
In 1960 a car accident dislocated and permanently damages his neck. Further nerve damage caused prolonged physical illness and mental disturbance. Kenshiro Abbe eventually found himself in constant pain and unable to think clearly.
He returned to Japan for the 1964 Olympics. His worsening condition prevented him from returning to London for several years, during which time the International Budo Council lay virtually dormant apart from Kendo.
In the first week of October 1968, he read the writings of a great Buddhist leader, named Nichiren Daishonin. He read for six hours, put the [unknown. ed.] book down and found himself completely well again. Apparently for the first time in nine years his mind and body were sharp and clear again. He had no pain in the body, although his weight had dropped to eight stone. Born anew or 'transformed' he began his life again.
Kenshiro Abbe was swift to express great displeasure at the way his group had been run and decided that it was necessary to start again from basics and build up a new spiritual growth for the organisation. It was his opinion that instead of wishing to study the truth of Budo, most members wanted only physical instructions which they could then warp, twist and teach to their own students using his authority. He decided that it was necessary to break down the Councils and start again from scratch. He therefore did so, virtually destroying the organisation.
By 1969 Kenshiro Abbe returned again to Britain, took the title of "Docho" or "Creator of a System" and started the British Judo Council with Bill Woods 2nd Dan. This was located at first in a disused school and transferred later (following the incident with the birds) to a room above a pub. O'tani (a lifelong training partner of Kenshiro Abbe) later took on this responsibility and continued this until his own death.
——————————————————————————–
The mortal remains of Kenshiro Abbe were donated to the Saitama Medical University. His funeral service was held in Zuigen Temple in Tokushima City on the 10th. June 1986 and he is commemorated in the family grave.
In a life mixed with much courage and sadness; Kenshiro Abbe had reached the heights of acclaim and the depths of despondency. Abbe was the master who introduced Kendo, Aikido, Karate, Kyodo, Jukendo, Iaido, Yarido and Naginatado to Europe yet he died almost totally alone and forgotten by most.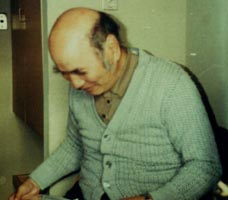 In his early years Kenshiro Abbe was known as a serious person, even when it came to social activities. For instance, at the Busen* he was bewildered at the antics of the students at a welcoming party. They plied him with alcoholic drinks that he politely declined, but he could not refuse to take part in some of the entertainment. He was invited to sing a children's song and though insisting that he would not sing he agree however to recite a "Waka" (a 31 syllable poem). It went: "ukikoto no arumi no chikara tamesan" – its translation being "my potentiality has got a limit". He recited it in a serious and solemn manner, perhaps not aware then just how prophetic and appropriate these words would be for his own life during which he would continually challenge his own limitations.
*Busen – is the exclusive teacher training college of the Butokukwai in Kyoto. The main studies were Kendo and Judo. Kenshiro Abbe received instruction from Ogawa Hanshi, the Butokukwai 10th. Dan Sword Master.
During his time there Kenshiro Abbe gained his Yodan (4th. Dan) -again the youngest ever to do so.
As indicated at the start of this article – no attention has been given to Kenshiro's early years, though by all accounts these times also were remarkable. Kenshiro Abbe it seems was a born leader, deep thinker and most courageous master and Docho.