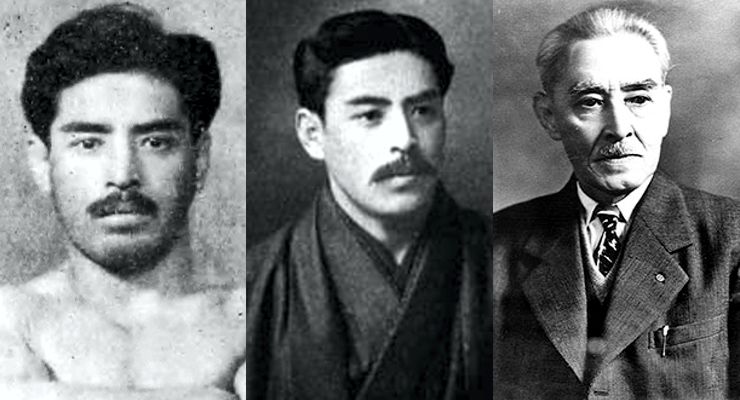 Kyuzo Mifune was born on April 21, 1883 in Kuji City, Iwate Prefecture, on Honshu Island in Japan the youngest of seven children. It may have been destiny as Kyuzo Mifune was born only one year after the founding of the Kodokan Judo Institute by Jigoro Kano. Kyuzo Mifune is considered to be one of the greatest judo technician and one of its biggest proponents after the founder of judo, Jigoro Kano.
As a child, Kyuzo Mifune was extremely obstinate always finding himself into some kind of mischief or organizing others into similar predicaments. Kyuzo Mifune's father was a strict disciplinarian and by the time Kyuzo Mifune was 13, his Father had had enough of the boy and sent him to a junior high school at Sendai, in northern Japan. As luck would have it, Kyuzo Mifune discovered judo at the school and would become dedicated to the art for the rest of his life. When he was 14 years old he entered a high school tournament and he was able to defeat 9 opponents in a row at that one tournament alone.
Kyuzo Mifune was able to graduate and he went on to a Tokyo preparatory school. His second goal was to attend Waseda University. His first goal however was to join the Kodokan. Joining the Kodokan during this time required a personal interview with Jigoro Kano by recommendation of ranking judoka and then one must sign a oath in blood. Kyuzo Mifune did not know a single person at the Kodokan so he choose Sakujiro Yokoyama to recommend him. Sakujiro Yokoyama was know as 'Demon Yokoyama' and his judo was fast and powerful so he had earned a fearsome reputation at the Kodokan.
Kyuzo Mifune requested asked for his recommendation and was willing to camp on Yokoyama's doorstep until Sakujiro Yokoyama was willing to recommend Kyuzo Mifune to Jigoro Kano. It was in July of 1903 that Kyuzo Mifune joined the Kodokan. Kyuzo Mifune's joy was short lived however, as Mifune's father discovered that Mifune was spending more time training in judo than studying, and he cut off Kyuzo's allowance. Kyuzo Mifune was now 22 years old and forced to go out and find work. Instead, he began his own newspaper and was able to sell advertising. He built the newspaper into a thriving enterprise. He sold the paper and made a substantial profit and used the money to enter the economics program at Keio University.
Continuing to train at the Kodokan, it took Kyuzo Mifune only 15 months to achieve the rank of Shodan in Kodokan judo and only four more months to earn his Nidan (2nd dan). Kyuzo Mifune had perfect timing and speed and he quickly gained a solid reputation as a judoka. and he was never defeated at the annual Red and White Kodokan tournament. By 1912, Kyuzo Mifune was an instructor and ranked Rokudan (6th dan). He had already earned the nickname, the 'God of Judo.' He was only 30 years old. Kyuzo Mifune's Father wanted Kyuzo to marry and he recommended a girl in Kyuzo Mifune's hometown. Kyuzo returned home for only the second time since he had left and got married.
Marriage must have agreed with him and in the the next 20 years, Kyuzo Mifune's reputation continued to grow. When he was 40 years old Mifune was challenged by a 6 foot tall, 240 pound sumo wrestler. Mifune was only 5 feet 2 inches tall and weighed barely 100 pounds. Kyuzo Mifune was finally able to slam the wrestler with his trademark 'airplane' throw (kuki nage or sumi otoshi) and he won the match. Kyuzo ate sparingly and he slept on a Western-style bed. He also never smoked.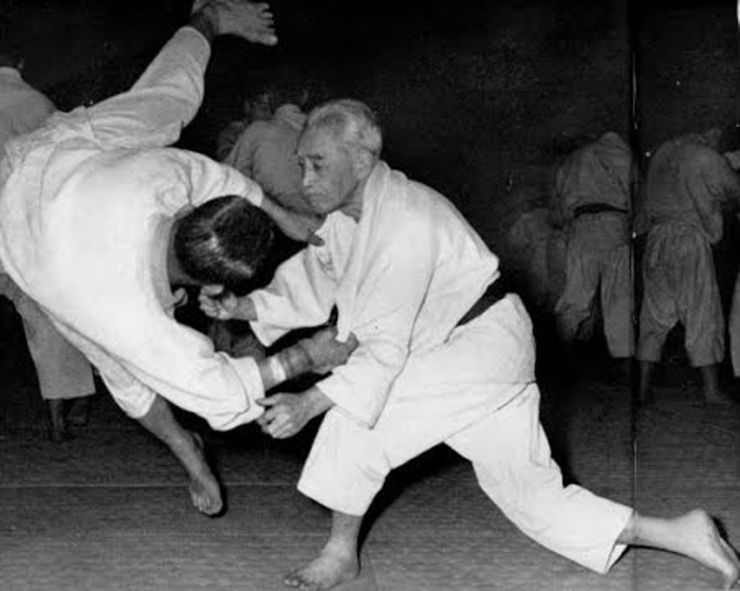 In 1937, Jigoro Kano promoted Mifune to the rank of kudan (9th dan) and when Jigoro Kano died in 1938, Kyuzo Mifune became the most influential judo instructor. Kyuzo Mifune was more feared than loved as an instructor and students often complained about his long lectures. On May 25, 1945, Kyuzo Mifune was promoted to Judan (10th dan). He was the fourth of only 15 judoka to ever receive this honor.
In 1956, Kyuzo Mifune wrote his classic book, The Canon Of Judo, a remarkable exposition of judo history, philosophy, and technical description. E. J. Harrison wrote a book foreword that was simple but expressed Mifune's philosophical nature: "Freedom in continuous change!"
A frequent visitor to the Kodokan over many years, Trevor Leggett, remarked that judo was much 'rougher' at the Kodokan before World War II than it was afterward; this was, perhaps, because of the influence of Kyuzo Mifune.
In 1964 Kyuzo Mifune was awarded the Order of the Rising Sun (3rd Class) and a short time later, on January 27, 1965, Kyuzo Mifune passed away in the Nichidai University Hospital in Tokyo.