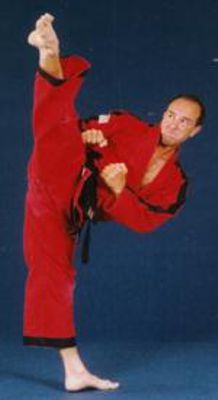 Grand Master Lou Grasso holds a 9th Degree Black Belt in the art of TaeKwon-Do and is President, Founder and Grand Master instructor of Lou Grasso's Universal TaeKwon-Do Federation. He received his 9th Degree Black Belt from the world famous Hae Yong Kim, President and Founder of the Hae Yong Martial Art Association and is the first and only non-Korean to receive a 9th Degree through this world-wide organization.
Grand Master Grasso began studying martial arts at the age of 12 and studied various styles of martial arts including Judo, Masutatsu Oyama Kyokushin Kaikan style of karate, White Crane Kung-Fu, Aikido, Hop-Ki-Do, Tang-soo-do, Chong Do Kwan, Oh Do Kwan, and Ji Do Kwan (a specialty style which involves many self-defense techniques) in Korea, along with TaeKwon-Do and is a weapons expert. He studied the World TaeKwon-Do Federation style as well as the International TaeKwon-Do Federation system for which he became an internationally certified instructor and judge.
Grand Master Grasso also had the distinct honor of being a personal student of the founder of modern TaeKwon-Do, General Choi Hong Hi. Grand Master Grasso is also featured in General Choi Hong Hi's 15 volume TaeKwon-Do encyclopedia and was his personal aide during his sojourn to Santa Barbara, California. Grand Master Grasso has also been featured in several leading martial arts magazines including Black Belt Magazine, Karate Illustrated, etc.
Grand Master Grasso opened the first TaeKwon-Do studio in Reno, Nevada in 1968 and has had branch studios abroad and currently has four studios in Nevada.