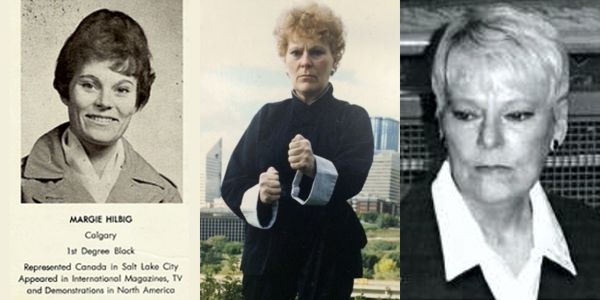 Margitte Hilbig was a martial arts master based in Edmonton, Canada. In 1964, she became the first woman in Canada to earn the rank of Black Belt in karate. She was also one of the first female tournament fighters in North America, almost always battling men twice her size.
Margitte Hilbig had more than 52 years of training and teaching in various systems, including American kenpo karate (under late Grandmaster Ed Parker), hung gar, Shaolin tiger kung fu, white crane kung fu, wing chun and judo.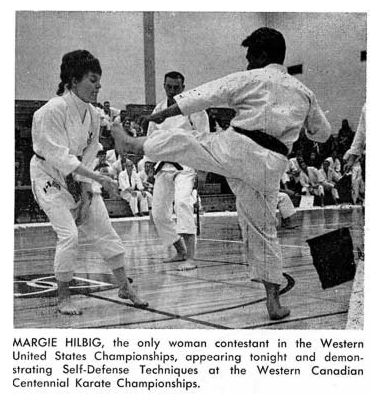 In 1995, Margitte Hilbig was bestowed the rank of master by Grandmaster Stan Lee. Later that year, she was inducted into the Alberta Martial Arts Hall of Fame in Canada. She taught both civilians and cops at the Edmonton Police Service headquarters.
In addition to her martial arts accomplishments, Master Margitte Hilbig twice successfully fought off breast cancer, survived World War II as an orphan, and received a YWCA Women of Distinction Award nomination in the athletics, recreation and fitness category. She chronicled her amazing life in the book Walking a Tiger's Path: The Story of Canada's First Female Karate Black Belt.
Margitte Hilbig passed away peacefully on December 27, 2016 at the age of 78. She was an extraordinary woman who influenced thousands of students and had many friends at work and in the martial arts community. She will truly be missed and never forgotten. As per Margitte's wishes, there were no formal services. A private Celebration of Life was held at Edmonton Police Headquarters on February 10, 2017.
Margitte Hilbig taught at the Chinese Boxing Connection. Visit the schools website at https://www.chineseboxingconnection.ca and on the Chinese Boxing Connection Listing on the on the Martial Arts Schools and Businesses Directory by clicking on the image on the left.