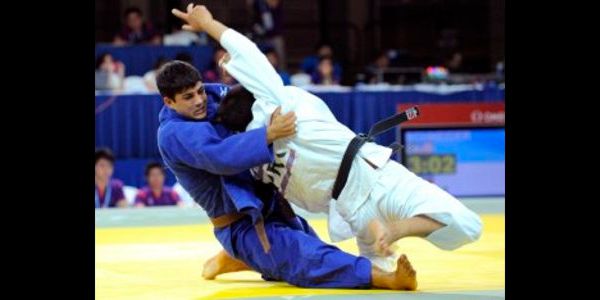 At the Youth Olympic Games Saturday night, 17-year-old Chicago, Illinois' Max Schneider won judo gold medal in the judo boys 66kg division at the International Convention Center in Singapore. Schneider didn't give up a single point during his matches en route to winning the gold, in a sport where no U.S. athlete has ever won judo Olympic gold.
'This feeling is incredible," Schneider said. I've dreamt about this ever since I was a little kid. It's such a great feeling to finally reach one of your goals and aspire to greatness. We came in with a game plan. [Coach Serge Bouyssou] told me if I stuck to my game plan, nothing could stop me, and he was right. I stuck to my game plan and came out on top.
It's been just over a year since Schneider was edged out for bronze in the 66kg division at the Cadet World Championships in Budapest, Hungary. After returning home, he turned his focus to high school wrestling a sport he tried for the first time in 2008 and excelled immediately at as he advanced to the Illinois State finals as a freshman in 2009. With the season running until February, Schneider would ordinarily train in both sports and begin gearing up for the junior judo season in March.
Only this year, Schneider's state title win as a sophomore on the Lane Tech College Prep wrestling team was followed by a trip to the operating table to undergo shoulder surgery on April 12.
With his competition status in question, Schneider received clearance to do judo again in July just weeks before leaving for the Youth Olympic Games on Aug. 9.
On Saturday, Schneider received a first-round bye, after which he racked up two yuko (quarter-point each) and two waza-ari scores to defeat Farshid Ghasemi Asl (IRI) and advance to the 66kg quarterfinals against Jalil Jalilov (AZE). Schneider lost his semifinal match to Jalilov at the Cadet Worlds last year, but the American dominated Jalilov this time, earning yuko and waza-ari scores before defeating Jalilov by ippon with eight seconds remaining in the match.
In the semifinals, Schneider led by a yuko score against Davit Ghazaryan (ARM), a fifth-place finisher at the 2009 Cadet Worlds as a 60kg player, before defeating Gazaryan by ippon late in the match.
In the final, Schneider faced Song-Chol Hyon (PRK) an opponent he had never seen or fought previously.
"I had to keep my own pace," Schneider said. "I had to attack, play my judo basically. So I had to set the pace of the match, get my grips, attack when I wanted to attack, not let him get his attacks, and just keep the forward pressure, just keep pressuring him."
Hyon attacked late in the first minute and Schneider countered with a throw for ippon to win the match. Schneider's fourth win of the day gave him the opportunity to hear the national anthem play as he stood on the top of the podium.
"It means everything to me," he said. "For this sport, we've never had our flag raised and our anthem played. We've never won a gold in Olympic judo. This is the first time ever."
Schneider continues to have big dreams for the future: "The sky's the limit, the next Olympics, hopefully win it with the big dogs."
Schneider's win brought tears to the eyes of Coach Serge Bouyssou (Hope, R.I.), who also coached the 2009 Junior World Team.
I'm fighting back tears, if that'll tell you anything," Bouyssou said. "It was great. It's always a great feeling when you see a kid like Max who struggles through injury and you see the potential in a kid like this. And then he just steps forward and shines at the moment that it's time to shine. I'm so proud of him so proud of the way he fought, so proud of the way he listened to the directions. Everything you said to him. At the end of his matches, he was saying "Is there anything I can do to improve? What are you seeing that's wrong?" And even here [after the final], he was looking to get better. "It's really just an amazing experience for both of us."
On Sunday, Bouyssou will return to the coaching chair when his daughter, Katelyn Bouyssou (Hope, R.I.), takes the mat in the 52kg division.
RESULTS
Judo, Boys 66 kg Finals
1. Max Schneider (USA)
2. Song Chol Hyon (PRK)
3. Davit Ghazaryan (ARM)
3. Phuc Cai (DEN)
About Team USA
The U.S. Team in Singapore is comprised of 82 athletes in 18 sports, the maximum number of qualified U.S. athletes. Team USA is competing in aquatics (swimming and diving), archery, badminton, basketball, boxing, equestrian, fencing, gymnastics, judo, modern pentathlon, sailing, table tennis, taekwondo, track & field, triathlon, volleyball, weightlifting and wrestling.
About the 2010 Youth Olympic Games
Singapore is hosting the inaugural Youth Olympic Games from Aug. 14-26, 2010, as young athletes ages 14-18 compete in 26 sports and take part in the Culture and Education Program. Approximately 3,600 athletes from around the world will participate, and 204 National Olympic Committees will be represented. The Singapore 2010 Youth Olympic Games aim to inspire youth to embrace, and embody and express the Olympic values of excellence, friendship and respect.
By Lindsay Hogan -SINGAPORE