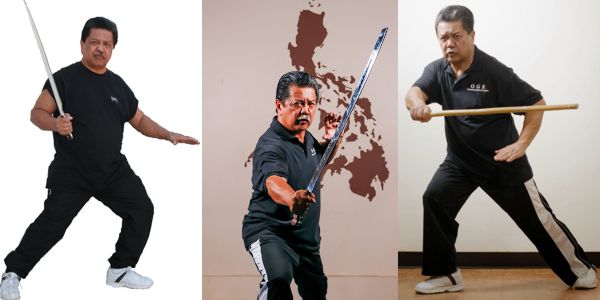 Master Michael Giron, is the President and Founder of the "Bahala Na" Original Giron Escrima Federation. He was born on December 31, 1949, the second of four children, to the legendary Grand Master Emeritus Leovigildo Miguel Giron and Soledad Mapa. Although he is deeply rooted in Stockton, California, he presently lives in Vallejo, California.
After graduating Edison Senior High School, Master Giron went to San Joaquin Delta College, (SJDC) and majored in electronics. Master Giron lost interest in college so he enlisted in the United States Air Force in November of 1969. After his three and a half years of duty, he returned home.
As the son of a Grandmaster Michael should have been training in Filipino martial arts from an early age, but In this case it was not so. His father, like many of the men after WWII (first generation Filipinos) wanted to forget the war and start a new life for themselves and their families. This caused a lot of Escrimadors to go underground, never displaying their fighting skills. Master Giron did not know that his father was one of those bladed warriors until 1968, when he was 19.
He was never pushed into learning the art by his father but others questioned why he never wanted to learn. Master Giron's answer was "I wasn't ready yet," because he knew he would have to fully commit to learning this art and he did not want to be a disappointment to his father.
Finally, in 1975 he began his training. It was not easy training under a Grandmaster who is also your father. Perfection was the only option. Master Giron attended the normal class downstairs and more often than that he did private training upstairs. Michael saw history being made as he witnessed the first Filipino Martial Arts Academy in Stockton, CA. Some of the first students were greats like Dan Inosanto, Richard Bustillo, Ted LucayLucay, Dentoy Revillar, Rene Latosa and many others.
The Instructors were Angel Cabales, Gilbert Tenio, Max Sarmiento, John Eliab and Leo Giron. After learning the 20 styles within the Giron System and the private extensive training Master Giron passed all the testing and earned the right to be a Certified Graduate of Bahala Na Giron Arnis Escrima in 1980. A year and a half later he received his Instructor's Certificate. Master Giron was proud to participate in the first full contact Escrima tournament on the west coast and possibly the USA. This tournament took place in San Jose, CA in 1982, and was sponsored by the organization called the West Coast Eskrima Society which united several Filipino Masters. The Masters were Mike Inay, Jimmy Tascoa, Max Sarmiento, Gilbert Tenio, Narrie Babao, Dan Inosanto, Richard Bustillo and Leo Giron.
Master Giron continued his training and later pursued a career as a professional musician. When he retired as a musician, he was back to training. His father passed away on May 21, 2002 and the fighting system he had learned from his father in the 80's had slowly been modified. Master Giron did not see any reason for change as the fighting system of his father was battleground proven. The changes were causing more harm to the students and the organization that his father had created, so Master Giron did one of the hardest things he'd ever had to do in his life, he resigned from the Bahala Na Martial Arts Association, relinquishing his title as Grand Advisor and his lifetime membership in the organization.
He then created the "Bahala Na" Original Giron Escrima Federation and is presently co-director of (ESKCOA), the Escrima Coalition of Stockton, CA. and a member of Jujitsu of America in San Bruno, CA. On June of 2007 at a Filipino martial arts seminar he was recognized as a Master, Black Belt Lakan Lima 5th Dan by Grandmaster Robert Castro and Lito Concepcion.
By creating "Bahala Na" Original Giron Escrima Federation it allows Master Giron to maintain the purity of the art that he had learned, and continue to maintain the legacy of his father and this great gift that was given him. By doing this Master Giron will have fulfilled his personal mission as the son of a legend and in doing this it allows him to do his small part in promoting the Filipino martial arts.
Grandmaster Michael Giron
974 Benicia Road Vallejo, CA
Phone:   (707) 853-2477
Email:    michael.giron@sbcglobal.net