Mike Schwarz is a 2nd level master instructor with the title of Panginoon Guro in the Davis/Cabales System of Serrada Escrima. He prefers though to be addressed by the less formal and more commonplace term, Punong Guro, which is of course abbreviated by the letters PG.
Mike Schwarz was born on the 21st September 1961 in East St. Louis, Illinois right on the banks of the mighty Mississippi River, more commonly known as the gateway to the great American west. Adopted shortly after his birth, his adoptive parents brought him up in the small farming town of New Baden, Illinois exposing him to sports like little league baseball and other activities common to many American children. His father, who as a young man played minor league baseball, exposed young Mike very early to the combat arts. Himself a Golden Gloves boxer, he was determined to provide young Mike with the tools needed to defend himself. Over the years, those early lessons from the age of 10 fueled his drive to seek out and learn from the very best and also those not so well known in the combat arts fields.
Like many of his generation, Mike Schwarz became a fan of Bruce Lee and marveled at all the things he did with such explosive power. Prior to his movie career, Bruce Lee was on the small screen entrancing millions in his role as Kato, trustworthy aide to the Green Hornet, in an action series of the same name. Weekly, his ability to defend himself with his hands and feet pushed thousands like Mike, to pursue the previously unknown world of eastern martial arts. Following television, Bruce Lee made the successful leap to the big screen capturing the hearts of millions world wide and setting in place, a permanent interest in eastern arts that continues today long after his passing.
Because American culture in the 1960's was less violent than it is today, Mike like many others faced resistance from his mother when he expressed a desire to learn to defend himself. Finally after years of control, he rebelled at the age of 15 and began his study of the martial arts that continues to this day.
Breaking free of the chains of parental control, a now teenaged Mike Schwarz looked at his available training options and settled on a combination of Tae Kwon Do/Hapkido/Judo. He began his studies in the system under the late 7th degree black belt Master Chang He Yhoon in the nearby city of Belleville, Illinois in 1977. As PG Schwarz describes it, the school rolled all three disciplines into one and for a while, all three were taught at once. As traditional as Korean schools can be he recalls such events as running in the winter snow barefoot for 10 minutes, lifting two people at once for throwing strength, and performing contusion blows, kicks and blocks repeatedly.
Today of course, it would be considered cruel to subject children to this type of training and it's likely some adults would be unable to cope. Putting his heart and soul into training, he managed to earn his 1st Degree Black Belt just two years later in 1979. A change in priorities would slow down his progress as he earned his 2nd Degree belt in the later part of the 1980's and his 3rd Degree in 1992. However, while Mike Schwarz does not currently train in the system, he is a lifetime member of the Midwest Martial Arts Association.
After spending some months assisting Master Yhoon in his school by teaching Tae Kwon Do and Hapkido, Mike Schwarz ventured out on his own. To keep his hand in the arts, he taught in community centers and any place where one could hold a class. Branching out into organizing and leading self-defense seminars, he began to broaden his knowledge base by exploring Goju Ryu Naha Te and Aikijutsu and studied these formats for 2 years.
In 1985, Mike Schwarz discovered the California Martial Arts Academy (CMAA), which was located in St Louis, Missouri and where he began his on-going 21-year journey into the Filipino Martial Arts. Like many schools across America, CMAA hosted seminars by the noted Masters Dan Inosanto and the late Ted LucayLucay among others, where students could get an introduction to different martial systems for their curiosity or as a launching off point for training.
One seminar featured Master Jimmy Tacosa, himself a master in the Cabales Serrada Escrima System. At that time, Master Tacosa was living around the St. Louis region doing seminars and actively teaching others about the Cabales system. Unfortunately for PG Schwarz, his journey was short lived as he experienced the Cabales system with Master Tacosa for just five months. Why? Did he grow bored with the precision, the constant foot and hand drills, the repetition? No, life took a different route and training would wait.
In 1985, Mike Schwarz became Seaman Schwarz as he began a tour of service with the United States Navy. After boot camp and advanced technical training, PG Schwarz traveled both nationally and internationally while working in the communications field. Not surprisingly, he continued his martial training, as it can be readily found in and around most military installations worldwide. While in the Navy, he was exposed to Burmese Bando and continued in his study of Tae Kwon Do where he received his 2nd Dan Black Belt. Continuing to develop his love of teaching, PG Schwarz also taught in his off duty time exposing other service members to the martial arts.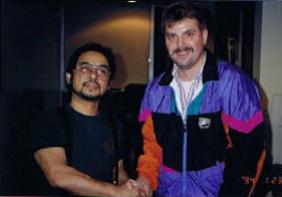 PG Mike Schwarz with the late Ted LucayLucay
Serving honorably, he had left the Navy and resettled in Illinois. After some time to himself to decide the path he wished to follow, his spark for the Filipino Martial Arts was again re-lit and he decided to seek out an instructor. After some soul searching, he came upon yet another Master of Cabales Escrima, Pangulong Guro Charles Cadell. For just shy of a decade, he was involved with Master Cadell and his style of instruction. PG Schwarz always gives credit to Master Cadell for giving him a well-rounded understanding of Cabales Serrada that serves him well today. Master Cadell not only exposed him to the techniques of Cabales Serrada, but also provided him with an education based upon his own personal experiences and direct teachings, about the man behind the system himself Grand Master Angel Cabales. During his time under Master Cadell, Mike Schwarz was awarded his basic instructorship in 1995 and continued to train with Master Cadell until 1997.
Master Cadell has and continues to be a leading trainer of law enforcement and corrections personnel within the state of Illinois as he also works for the state Department of Corrections. Due to the demands of his career, he currently teaches only a small select group of individuals who are ranked under him. While with Master Cadell, PG Schwarz and others assisted in the development and use of the techniques that are now trained to Illinois law enforcement personnel. It's safe to say that the blunt weapon and empty hand techniques currently used within the Illinois Department Of Corrections were tried and tested in those training sessions so very long ago. We look forward to the day when Master Cadell once again has the time to share his experiences and training in Cabales Serrada, as career demands have most unfortunately kept him off the training and seminar circuit. Recognized in most circles as the last individual personally awarded his Master certificate in Serrada escrima by Angel Cables, his place in martial history is secure as are his accomplishments.
During the time following his break from Master Cadell, PG Schwarz stayed busy perfecting his skills by teaching private lessons and doing seminars for local church groups. All the while he was doing this, he kept looking at what was available locally, regionally and nationally. Like all of those with a passion in their heart to be the best that they can be, he kept on searching for a way to move up to the next level in his personal martial training journey.
In 2003, he began to look towards affiliating himself with one of the remaining masters of GM Cabales. With Master Cadell as the only master within close proximity and no longer and started researching who best could lead him on his path to fulfillment. Clearly, any of GM Cabales' masters could teach, but PG Schwarz was looking for the connection on a person-to-person level. After speaking with GM Anthony Davis, he decided to become an affiliate and instructor in the Davis/Cabales System of Serrada Escrima in 2004. Not only is GM Davis his primary instructor, he's also a mentor schooling PG Schwarz in the intricate details of managing a system and most importantly, he's a valued friend.
Growing an organization of course is not easy and between the two of them, Grand Master Davis covers the western half of the United States, while PG Schwarz has the eastern half as split by the US Rocky Mountain Range. To help build a unity with all those interested in the Davis/Cabales System of Serrada Escrima, PG Schwarz hosts and maintains a discussion group at: http://sports.groups.yahoo.com/group/WSEFflow/
To spread the word so to speak, he also maintains his own website at http://defensivecombat.blogspot.com/ where he has posted basic information on the Davis/Cabales system for the curious. Not surprisingly, he receives inquiries from those who study the Filipino Martial Arts both beginner to expert as well as those who do not and are either curious or wish to supplement the arts that they already study.
PG Schwarz has by his own count, influenced literally hundreds of students over his long martial career while teaching Tae Kwon Do and down to the five that he's currently instructing in Davis/Cabales Serrada Escrima, to include two who wish to become instructors in their own right.
The statement that "Knowledge Means Power" is clearly evident in the Martial World as well as in life, something PG Schwarz is dedicated to showing to all who entrust him. Anxious to get back into the seminar circuit, he has appeared at the Fight Back Self Defense School providing the students of Sensei Joe Finchen exposure to the Filipino Martial Arts.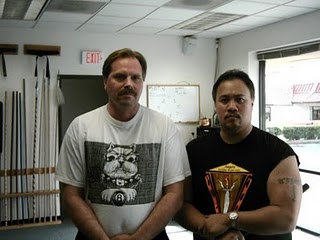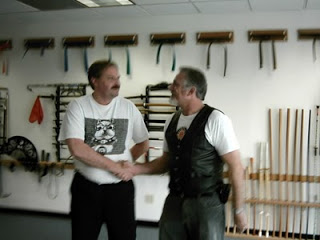 Since his association with GM Davis began, it's been a whirlwind of activity for PG Schwarz along with GM Davis in trying to get the WSEF up and running. As with any organization, things have to be planned and decisions made. One of the first things they wanted to do, monumental in itself, was to establish the WSEF as a premiere Filipino martial arts organization. They also wanted the WSEF to be open to all who wish to preserve, regardless of system or style, the legacy and teachings of the late Grand Master Angel Cabales.
To launch the WSEF in a matter befitting of their aims, they planned and held a recent seminar and banquet that honored the life, legacy and teachings of GM Angel Cabales. Held in Sacramento, California the event drew martial artists from across California and beyond.
The most remarkable and distinguishing honor that anyone could wish for was that GM Vincent Cabales Sr. himself, GM Angel's successor, was able to make it to the event. It truly was an honor for those present to have GM Cabales share in the celebration of his father's life and martial accomplishments. Not only did PG Schwarz receive his 2nd level masters instructorship in the Davis/Cabales System of Serrada Escrima at this event, held in March 2006, but he was able to meet some of the people who have been closely aligned with the Cabales Serrada Escrima system itself. Three people among the many there that left a lasting impression and their mark were PG's Carlito Bonjoc, Darren Tibon and Jeff Finder. Each has their own story to tell about their special relationship with GM Cabales and how that has helped shaped their own contributions to the Cabales legacy and to their own personal achievements as well.
Davis/Cabales Serrada Escrima By The Numbers




For the future, the sky's the limit, both literally and figuratively as far as the WSEF is concerned. Both GM Davis and PG Schwarz intend to make it their life's mission to preserve the Cabales System just as GM Angel would have wished. For that, they have our deepest respects and gratitude for not sitting back and doing nothing. As they say, actions speak louder than words!