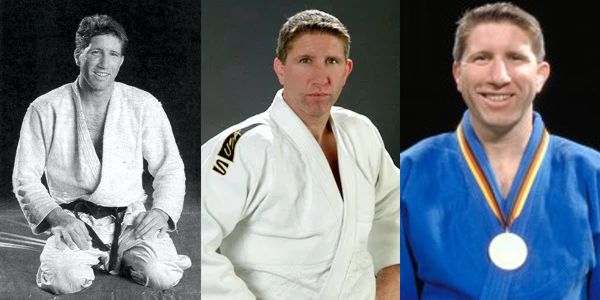 Mike Swain was the first American male to win the Judo World Championships when he took the gold medal in 1987. He competed in four Olympics, winning a bronze medal in 1988, and a number of World Championships.
Mike Swain also participated in a number of tournaments that are not as well known outside of the judo world, but very prestigious within it, such as the Kano Cup in 1986. In major international competitions, his record includes six gold medals, eleven silver medals, and nine bronze medals. As a competitor, Swain was known for his elegant classic Japanese style, as he had traveled to Japan and studied there as a young man. Later in his career, he coached the US men's team in the 1996 Olympics.
Mike Swain is an alumnus of the San Jose State University judo program, training under Yosh Uchida. He is currently a coach for the Spartans, and handles much of the head coaching duties for the semi-retired Uchida. In 2005, Swain and the SJSU Judo Executive Committee established The Swain Scholarship, the first judo athletic scholarship at a major American university.
Mike Swain is the owner of Swain Sports International in Campbell, California.
For more information about Mike Swain and Swain Sports International visit their listing on the Martial Arts Schools & Businesses Directory or FindADojo.com by clicking on the image on the left.