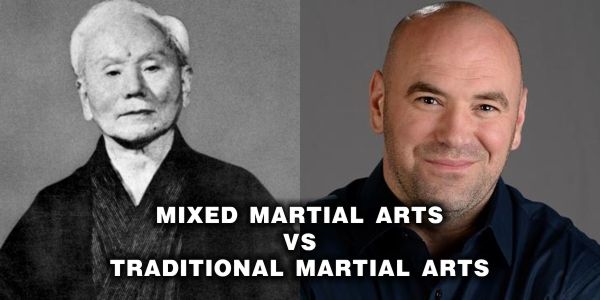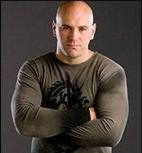 Who will win the battle between traditional martial arts and mixed martial arts schools? The traditional martial arts have been around for ages and mixed martial arts are the new kid in town. Today, Mixed Martial Arts (MMA) is the fastest growing and hottest sport in America. I was recently at the Martial Arts SuperShow a martial arts industry conference in Las Vegas Nevada. Dana White the president of the UFC (Ultimate Fighting Championship) was one of the speakers at the opening ceremonies. Dana explained how in a short time, the once banned in almost every state, UFC is now the largest and best know Mixed Martial Arts organization in the world today. Mr. White explained how the UFC's ratings are not only way above Boxing but the second largest most viewed sport on cable and on pay per view in the USA. The UFC has out rated baseball, the so called America's past time, basketball, tennis, golf, hockey, NASCAR Racing and what ever sport you think of on TV. The only sport that has gotten a higher rating then the UFC is NFL Football. Yet, in Europe no one cares about the NFL and the UFC is growing in leaps and bonds. Former UFC Champion and poster boy Chuck Liddell at MAIAChuck "the Iceman" Liddell is one of the most recognized and influential athletes today. Dana said that with the raise of the UFC that the next generation of kids will pick martial arts over any other sport.
With the growth and the popularity of the UFC and MMA and all the martial arts movies on the big screen, martial arts on TV and martial arts choreography in most adventure movies and TV shows this is making the martial arts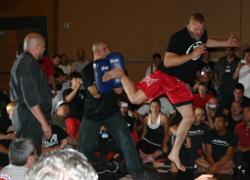 one of America's most popular activities for kids and adults alike. So, martial artist instructors and students should be loving the exposure and air time of the martial arts. I can still remember when the pilot made for TV movie "Kung Fu" aired in the early 70's. I was in Junior High, a Judo student and missed class that day to see this movie on TV that later became a TV series. Well, think again, you know that most traditional martial arts schools are totally against the growth of the mixed martial arts. They claim that it is too violent and that it doesn't teach the values and philosophy that the traditional martial arts do.

The same traditional martial artist that embraces the unrealistic artistic form of Hong Kong and Hollywood style martial arts in the movies (flying martial artist, fancy high kicking and one guy beating a few hundred opponents at the same time) have a hard time accepting the growing MMA revolution. They say that they do not want to see thugs beating each other up without values, honor and respect. I agree yet also disagree with that statement. Yes, many mixed martial arts schools cater to tough thugs and they do not teach values. Teaching fighting without values is just street fighting. Yet some of the nicest most accessible and friendliest athletes come from the UFC. UFC super stars Matt Hughes, Rich Franklin, Randy Couture and Chuck Liddell are great role models in an era when most athletes are not and do not want to be role models..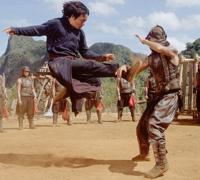 I can appreciate both schools of martial arts, the traditional, for the respect and values, and the more realistic UFC. I can even appreciate and love watching the unrealistic fighting scenes of Jackie Chang and Jet Li with their fancy kicks and supernatural ability to beat an entire army of martial artist all at the same time. Let's put things into perspective. Traditionally martial arts were used in war and for defense when they were originated. That is why they are called martial which means war like. Yet, with time, they have become a sport, with rules that are unrealistic for combat and in general do not work in the street. Most traditional martial artist are one dimensional fighters which means they either predominantly use their feet to kick high (pretty, yet not functional) and only fight standing up. MMA which is a sport is more realistic. It is as real as it gets and can be used in the streets for self defense. They have taken the best of kickboxing, wresting and Brazilian Jiu Jitsu with incredible physical conditioning to develop the Ultimate Fighter. This concept is not new, the late great Bruce Lee also known as the King of Kung Fu believed in mixed martial arts. He crossed trained in different systems. He believed in discarding the useless and using what worked. I was lucky enough to train in a traditional martial arts style of kung fu that has both stand up, as well as close counter and ground survival fighting way before the UFC was born. Yet today to improve my skills I train in different martial arts.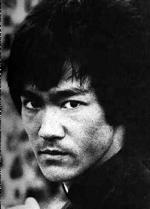 I believe in Lee's philosophy of using what works and discarding what is useless. With this in mind we have seamlessly fused the old and the new, both traditional martial arts and mixed martial arts in our system. This gives us the best of both worlds. Traditional values and respect and a hard core mixed martial arts system. At Anta's Fitness and Self Defense we teach good old American family values, honor and respect yet we teach mixed martial arts. We are looking forward to the growth of the UFC.
So who will win the battle between traditional martial arts and mixed martial arts, I think it's a draw, both are winners and we can learn from and use both of them.