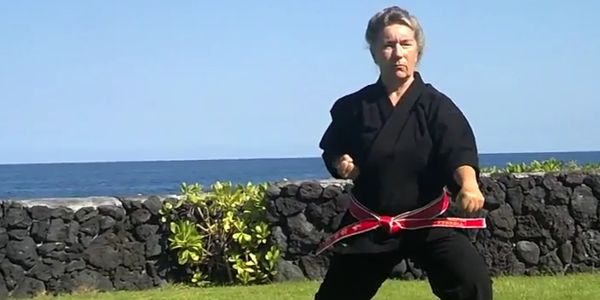 In September at Waipahu, Hawaii, 10th degree Kajukenbo co-founder Frank Ordonez promoted Napan Patricia Tyrrell to Grandmaster 9th Degree Black Belt. Kajukenbo is an American martial art system developed in Hawaii in the late 1940s and is practiced worldwide.
Tyrrell teaches a variety of martial arts styles and systems at Guangxi Martial Arts Academies located in Napa and Hidden Valley Lake, Calif.
A top Northern California competitor in forms, fighting and self-defense in 1988, 1989 and 1990, she still performs at tournaments from time to time, primarily in forms divisions, but usually donates her time at such events as a judge.
She has traveled extensively to a variety of locations in California — as well as Portland, Maine, Springfield, Massachusetts, Albuquerque, New Mexico, Austin, Texas, Phoenix, Arizizona, Las Vegas, Nevada, Vancouver, Washington, Portland, Oregon, Hawaii, Isabella, Puerto Rico, and China — to attend or teach at seminars or assist with martial arts tournaments.
Tyrrell and her son, Dan Tyrrell, a 7th degree black belt, are two of the founding members of Kajukenbo Hui, an independent ranking organization which was founded on principles of equality and democratic self-regulation and is dedicated to a legacy of independent and fair promotional standards within the Kajukenbo system.
With her son, Tim Gaskell, a 5th degree black belt, she also produces a martial arts TV series called "Masters of the Way," which aired on Napa Valley TV-Channel 28, Napa's Community Public Access station.
Other notable distinctions for Grandmaster Tyrrell include: Hall of Fame Award for Outstanding Achievement in the Martial Arts (September, 2001); Olympic torch bearer in Northern California for the Winter Olympics (January, 2002); Certificate of Recognition from Hui O Na Koa Kulike Martial Arts of Hawaii (2008); and Female Martial Arts Pioneer recognition from Grandmaster Wolf Hillesheim of Pinole, California (2009).
Story By Marty James from the Napa Valley Register