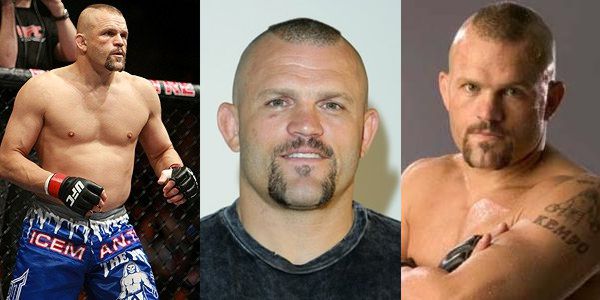 Chuck Liddell was born December 17, 1969. He is an American mixed martial artist and former Ultimate Fighting Championship light heavyweight champion. Liddell has an extensive striking background in Kenpo karate, Koei-Kan karate and Kickboxing. His Kickboxing record is 20 wins and 2 losses, with 16 of his wins coming by way of knockout. He also has a grappling background in collegiate wrestling. Chuck, Matt Hughes and Randy Couture, have the most UFC fights, Chuck has 23 UFC fights under his belt. Along with fellow UFC fighters, Randy Couture and Tito Ortiz, Liddell is widely credited for bringing mixed martial arts into the mainstream of American sports and entertainment. On July 10, 2009, Chuck was inducted into the UFC Hall of Fame.
At the age of 12, Liddell began studying Koei-Kan karate. His tattoo on his scalp reads "Koei-Kan". Chuck was a four-year starter on the football team at San Marcos High School. He became a Division I wrestler at California Polytechnic State University, San Luis Obispo and in 1995 he graduated with a Bachelor of Arts Degree in Business/Accounting.
Chuck Liddell began his MMA career in Las Vegas, Nevada by training in Brazilian jiu-jitsu under John Lewis and he made his UFC debut in 1998, with a decision victory over Noe Hernandez. Shortly after Liddell had a submission loss to top contender Jeremy Horn but Liddell soon established his reputation as a devastating striker with victories over Kevin Randleman, Murilo Bustamante, Vitor Belfort, Renato Sobral and Tito Ortiz.
By 2002, Liddell was considered the number one contender for the UFC light heavyweight title. The UFC wanted to arrange a title bout with then-champion Tito Ortiz, but Ortiz said he couldn't fit the fight into his schedule. Instead, UFC created an interim light heavyweight championship and Liddell was matched with experienced wrestler and former heavyweight champion Randy Couture at UFC 43. Couture neutralized Liddell's hooks with straight punches and began taking Liddell down at will. Randy Couture eventually gained full mount the referee stop the fight due to punches.
After this UFC defeat, Liddell entered the Pride 2003 Middleweight Grand Prix tournament as the official UFC representative. Liddell defeated Alistair Overeem in the first round of the tournament, but was eliminated in the next round by PRIDE veteran Quinton "Rampage" Jackson. Liddell's corner threw in the towel.
Returning to the UFC, Liddell was still looking for a title fight with Ortiz, but Ortiz was unwilling, despite Liddell's status as the top contender in the UFC. Eventually, after Ortiz lost the title to Randy Couture, the two would fight on April 2, 2004 at UFC 47 in Las Vegas, Nevada. After most of the first round was spent feeling each other out, Liddell threw a few punches and a kick which was blocked by Ortiz. Ortiz began to taunt Liddell by slapping himself on the head. When the round ended Ortiz showed his usual disrespect and pushed referee "Big" John McCarthy into Liddell, and they exchanged words. Shortly after the second round started, Liddell knocked Ortiz down with a flurry of punches which led to Liddell's TKO victory. Bad blood remained between the two fighters, with Ortiz repeatedly stating that he wanted "his" belt back. Ortiz and Liddell would not fight again for two and a half years.
In early 2005, Chuck was choosen as a coach on the inaugural season of The Ultimate Fighter, Spike TV's reality show which featured fighters competing for a UFC contract. Liddell was the coach of Team Liddell, while then-UFC-light-heavyweight champion Randy Couture coached Team Couture. The series was a success for both Spike TV and the UFC. Both of the winners of the show, Diego Sanchez and Forrest Griffin, were members of Team Liddell and have gone on to successful MMA careers.
On April 16, 2005 at UFC 52, Liddell fought Randy Couture once again for the li
ght heavyweight title. This time the fight ended in a first round knockout victory for Liddell, making Liddell the new UFC light heavyweight champion. Liddell was scheduled to defend his new title against UFC veteran Jeremy Horn, at UFC 54. Horn had given Liddell his first loss. Liddell dominated the fight with aggressive punches which caused Horn to be knockdowns in several rounds. Liddell's defensive wrestling ability, especially his sprawl, stopped the bulk of Horn's offense, which centered on grappling and submission wrestling. Liddell eventually won the fight via TKO in 2:46 minutes of the fourth round when Horn informed the referee that he could not see. Liddell had successfully defended his title and avenged two of his three career losses.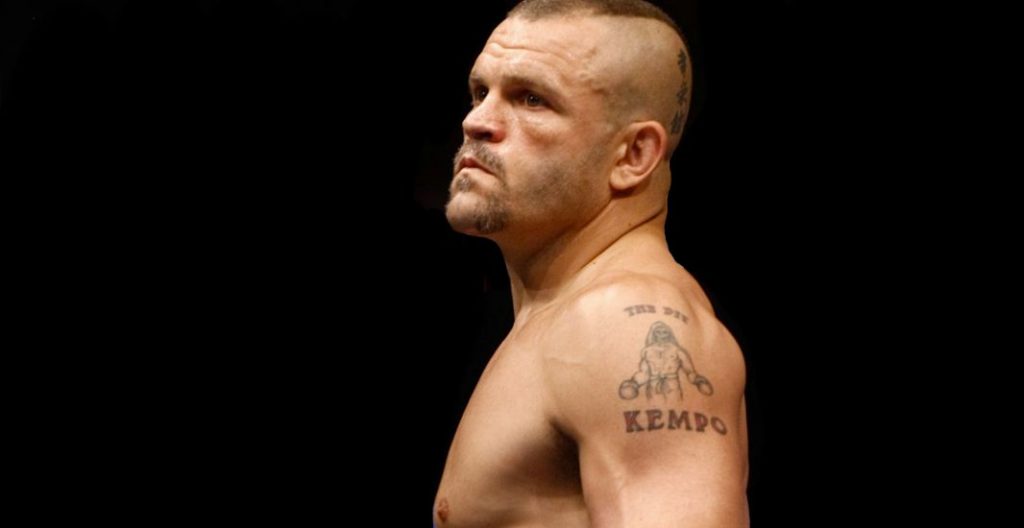 On February 4, 2006 at UFC 57 in Las Vegas, Nevada, Liddell fought Randy Couture in a rubber match. Liddell defeated Couture for the second time via knockout to retain the light heavyweight championship belt. After the fight, Couture announced his retirement from mixed martial arts. In Liddell's next defense, at UFC 62 on August 26, 2006, Liddell scored a quick TKO victory at 1:35 of the first round against Renato "Babalu" Sobral, who Liddell had defeated nearly three years prior.
At UFC 66, the most financially successful UFC event to date, Liddell fought a rematch with Ortiz, which took place on December 30, 2006. Liddell's takedown defense neutralized Ortiz's wrestling ability, forcing Ortiz to stand up with the known striker. Although Ortiz did take Liddell down at one point in the fight, Liddell went on to defeat Ortiz via TKO in the third round to successfully defend his light heavyweight championship for a fourth time. After the fight Liddell revealed that he had torn his MCL prior to the fight. During the fight he popped the tendon out on the middle finger on his left hand.
Rematch with Quinton Jackson
On May 26, 2007 at UFC 71 Liddell would lose the title in a rematch with Quinton Jackson. Liddell was knocked down by a right hook less than two minutes into round 1 and was unable to defend himself against Jackson's strikes on the ground, resulting in a TKO victory for Jackson. After the fight, in a post-UFC 71 press conference, Liddell indicated he would continue to fight. Dana White said that Liddell's next opponent would likely be Wanderlei Silva.
Post Championship
Silva and Liddell were supposed to fight in the main event at UFC 76 in Anaheim, California, but Instead, Liddell would face Keith Jardine, where Liddell lost a split decision to Keith Jardine, the first consecutive loss of his career.
On October 23, 2007 at UFC 79 a matchup between Liddell and Silva finally took place. Liddell defeated Silva via unanimous decision and both fighters were awarded "Fight of the Night" honors. This fight was also voted 2007's Fight of the Year at the first annual World Mixed Martial Arts Awards
On September 6, 2008, at UFC 88, Liddell fought Rashad Evans. At 1:51 of the second round, Evans connected with Liddell using Liddell's trademark punch, an overhand right, resulting in the champion, Liddell, landing unconscious on his stomach. The knockout was dubbed "knockout of the year" by MMA-website Sherdog and given "knockout of the night" honors by the UFC.
Following his knockout loss to Evans, Liddell began training sessions with American Top Team to "round out his skills", although he is still officially associated with Hackleman and The Pit.
Last UFC Fights
At UFC 115, Rich Franklin handed Liddell his third consecutive KO defeat. On April 18 at UFC 97, Liddell was defeated by Mauricio Shogun Rua in the first round by TKO. After the fight, White declared that Liddell is retired from fighting.
On July 10, 2009, at the UFC 100 Fan Expo in Las Vegas, Nevada, Liddell was inducted into the UFC Hall of Fame.
Liddell would be coaching opposite Tito Ortiz on the 11th season of The Ultimate Fighter, with the two of them fighting each other on June 12, 2010 at UFC 115. This didn't happen and on June 12, 2010, Liddell faced Rich Franklin at UFC 115 and was doing well against Franklin until he got caught at 4:55 of the first round with a counter right hook directly on the chin, which knocked the Liddell out. Franklin's counter came right after he broke his arm blocking a body kick from Liddell. Though Franklin wasn't able to put a lot of force behind it, the accuracy of the shot made it enough to knock Liddell out cold. Only a few hours after the match, UFC President Dana White declared that he guarantees "The Iceman" will not fight in the UFC ever again.
Liddell is in second place for the most wins inside the Octagon with 16, just behind Matt Hughes' 18 career wins under the UFC banner.
On May 28th, 2010 Liddell became the first mixed martial arts fighter to be immortalized in wax at the world famous Madame Tussauds in Las Vegas, Nevada. On May 9, 2007, Liddell became the first UFC fighter to be on the cover of ESPN Magazine. Liddell also has a autobiography, Iceman: My Fighting Life, on January 29, 2008.
Acting Career
As an actor Liddell has made film and television appearance. He appeared as himself in the movie Bachelor Party Vegas, He played as "Graft" in the pilot episode of the TV series Blade: The Series, had a guest cameo in the first season of Inked on A&E. He made a brief appearance in the 1981 film The Postman Always Rings Twice with Jack Nicholson. Liddell also had a very small part in the Jet Li movie Cradle 2 the Grave as one of the cage fighters, which included Tito Ortiz and Randy Couture. He also had a small appearance in the Nickelback music video for their song "Rockstar". He also appears in another music video, "Cowards" by American Head Charge. Liddell appeared as himself in an episode of Entourage entitled "Gotcha", which aired on April 29, 2007. In the episode, he participates in a scheme to a pull a prank on Johnny "Drama" Chase on a Punk'd-like show called Gotcha! hosted by Pauly Shore. Liddell has also had cameos in the film The Death and Life of Bobby Z, 300 and Drillbit Taylor.