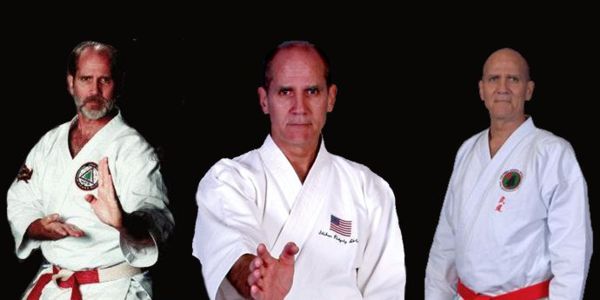 Ridgely Abele was born on August 09, 1950. He was a 9th dan in Shuri-Ryu Karate-Do and 6th dan in Shintoyoshin Jujutsu. He held the Kyoshi title for advanced study in the Martial Arts. He earned a a Ph.D. in Asian Studies from Martial Arts University in Hong Kong, China in 1995. He was elected to the Trias International Society (a society for the most spirited fighters in the country). He was the founder of the Columbia School of Karatedo. It is a national center for the Martial Arts, Karatedo, Jujitsu, and Okinawan Kobudo. Mr. Abele was a head coach for the USA Karate Federation and a national trainer for the United States Karate Team. Kyoshi Abele was a member of the Inner Council for the International Shuri-ryu Association.
Mr. Ridgely Abele produced over 160 Black Belts throughout the world. He maintained schools in Europe and the United States. He also worked in protective services, conducted clinics in defensive tactics and corporate security.
Mr. Ridgely Abele traveled extensively throughout the Unites States, Canada, Europe, and the Orient, training with the best American and Oriental instructors. Mr. Abele won many regional, national and world tournaments, including the United States Karate Association Nationals, the United States International, and the First Florida Professional Championships and USKA World Championships in 1983 and 1985. He placed second in both fighting and forms in the 1984 USKA World Championships, and was the 1985 USKA World Kata Champion Recently; Hanshi Abele has been inducted into the "Living Legends" as a pioneer of sport karate.
In 1982, he was appointed to Chief Instructor to teach Shuri-ryu (an authentic style) worldwide. There are only six Chief Instructors worldwide.
Mr. Ridgely Abele appeared on television and had been featured in karate movies. He is a graduate of Florida State University. He received his Doctorate in Asian Studies in 1992.
Hanshi Ridgley Abele passed away at 59 years old on December 10, 2009 after battling cancer. Funeral services were held at the Church of the Harvest, 4865 Sunset Blvd., Lexington, SC 29072 on Friday, December 18 at 2 p.m.