Before Ron Balicki got his start in the entertainment field as a stuntman and fight and stunt coordinator, he grew up in the windy city of Chicago. Awe struck with Bruce Lee, Ron was inspired to study the martial arts. After an indepth study of the martial arts, Ron sought out the one man who truly understood Bruce Lee's teachings, the legendary martial artist Dan Inosanto. After many years of study, Ron earned his instructorship in Jun Fan Gung Fu (Jeet Kune Do Concepts), Maphilindo Silat and Filipino Kali from Sifu Inosanto. Ron has reached the rank of Full Instructor under Sifu Inosanto.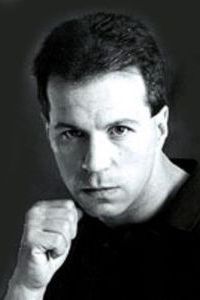 In 1987 Ron became a Cook County Deputy Sheriff stationed in Chicago, Illinois. Ron helped form the Cook County Sheriff's Special Operations Resistance Team (S.O.R.T.), a team of officers trained to do riot control. At this time Ron also began work as a bodyguard of various Hollywood movie and music stars.
Ron went on to obtain martial arts instructorships in Maphilindo Silat, Thai Boxing, Savate, Lameco Escrima, Wing Chun Gung Fu, Latigo y daga (whip fighting), and Shoot Wrestling. As a professional Shoot Wrestler, Ron has competed in America and Japan, winning his last fight in Tokyo, Japan before retiring.
Military, Law Enforcement, Anti-Terrorist groups and the French President's Secret Service have all sought Ron out for his experience and teaching skills. He is the author of numerous articles for magazines worldwide, and has produced a widely respected series of martial arts training videos.
| | |
| --- | --- |
| No Tomorrow (1998) | FBI Agent |
| Defender (1997) | :Mafia |
| The Burning Zone (1997) | Soldier (1 episode) |
| Surface to Air (1997) | :Prisoner of war |
| Spawn (1997) | Swat Team cop |
| Money Talks (1997) | :French terrorist |
| The Rock (1996) | :Soldier |
| Escape from L.A. (1996) | :Cop |
| Barb Wire (1996) | Customs Agent #1 |
| J.A.G. (1995) | :Soldier (1 episode) |
| Power Rangers (1993) | :Creature performer |
| | |
STUNT/CREW/OTHER RESUME

The Prodigy (2003)
Stunts
The Prodigy (2002)
Stunt coordinator / Stunt double // Producer
A Ribbon of Dreams
Camera Operator / Associate Producer
Redemption (2002)
Stunts (Gang member)
Life Streams (2000)
Stunt coordinator
Point Doom (1999)
Stunts
The Roseanne Show (1998)
Stunt double
No Tomorrow (1998)
Stunts
3 Ninjas: High Noon at Mega-Mountain (1998)
Stunts (fights and falls)
The Cutoff (1997)
Stunt coordinator / Stunts
Spy Game (1997)
Stunt double: Shank
Buffy, Vampire Slayer (1997)
Stunts
Second Skin (1996)
Stunt coordinator: bar fight
The Glimmerman (1996)
Stunts
Barb Wire (1996)
Stunts
Sword of Honor (1994)
Stunts (Terrorist)
Power Rangers (1993)
Stunt double: Rangers
Fist of Cheese
Stunt coordinator / Stunts (Thug)
Fate of the Dragon
Stunt coordinator
A Ribbon of Dreams
Producer