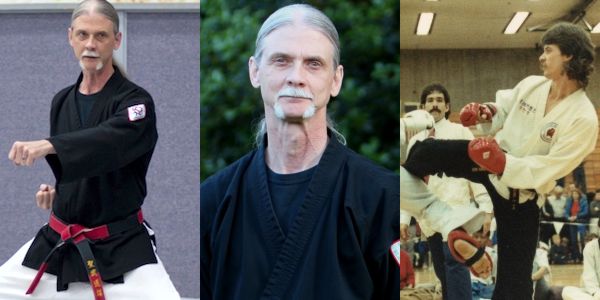 Mr. Ron Hagelganz began his martial arts training in 1980 under the instruction of Sansen Jerry Jensen, a 3rd Degree Black Belt and #7 World Ranked Karate/Kickboxing fighter. Training in an Americanized version of Song Moo Kwan Tae Kwon Do, he successfully tested for his 1st Degree Black Belt in 1984.
A few months later, when his instructor was injured in a sparring accident and retired, he continued teaching the class on his own and began developing the curriculum for what would become Whole Armor Martial Arts ®, the school you are reading about today.
In 1987 he became a student of Dr. Clement G. Reidner, Soke (Head founder), of the Shiho Karano Ryu and the Christian Black Belt Association. By then a 2nd Degree Black Belt in Tae Kwon Do, he shifted his study to Karate-do and Ju Jitsu in the Shiho Karano Ryu style.
With over 25 years as a student of Dr. Riedner, he has earned a 1st Degree Black Belt in Ju-Jitsu, a 3rd Dan in Iaido and a 5th Degree Black Belt in Karate-do.
But ranks and titles aside, it is teaching martial arts as a means of sharing Christ that keeps Mr. Hagelganz going. "And whatever you do in word or deed, do all in the name of the Lord Jesus, giving thanks to God the Father through him." Colossians 3:17.
Mr. Hagelganz is married with 2 grown daughters, and besides martial arts enjoys hot rods and playing drums and percussion.