Samantha Brown has been traveling the world for years on are various Travel Channel Series. In this episode, Samantha Brown learns Muay Thai in Fairtex Bangkok, from Brooklyn Monk, Antonio Graceffo. Next, Antonio translates while Samantha gets a lesson from Kru Apidae, the living legend of Muay Thai. Now you'll know the origin of those snazzy blue gloves and the Fairtex Muay Thai outfits that Antonio often wears on his show.
Brooklyn Monk, Antonio Graceffo is a martial arts and adventure author living in Asia. He is the author of the books, "Warrior Odyssey' and "The Monk from Brooklyn." He is also the host of the web TV show, "Martial Arts Odyssey," which traces his ongoing journey through Asia, learning martial arts in various countries.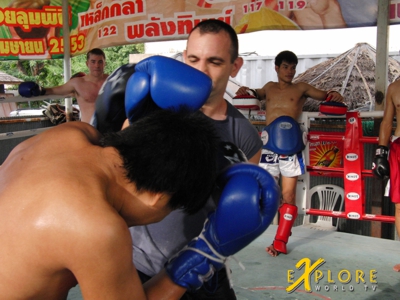 Warrior Odyssey, the book chronicling Antonio Graceffo's first six years in Asia is available at amazon.com. The book contains stories about the war in Burma and the Shan State Army.