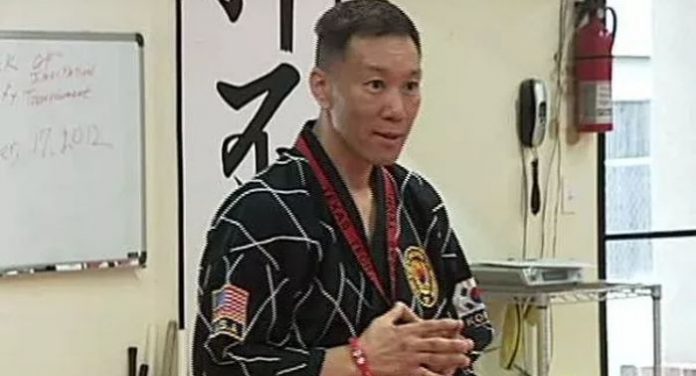 It is with sadness of heart that we share that Taekwondo Grand Master Sang Kim, from Lubbock, Texas has passed away. Here is an article about Grand Master Sang Kim from his home town.
LUBBOCK, TX (KCBD)
Family and friends are mourning the loss of a well-known Taekwondo instructor here in Lubbock.
"Grand Master Sang Kim passed away Tuesday night after battling a long-term illness," said a close friend.
Many people would say he is a long-time Lubbock martial arts legend and although his life was short, his impact has been a long and lasting one.
"He was a really sweet, sweet guy and he always looked out for everybody that he hung out with," said another friend Rebecca White.
As tears rolled down her face, memories of her beloved friend flashed through her mind.
"We were in our 20's and we'd go to clubs and have fun and dance and stuff," she said.
"If a guy messed with any of us that were with him, the girls that hung out with him, he would have no problem going and approaching the guy and saying, 'I hope that your intentions are pure and you're going to be sweet,'" White said.
A "big brother", a body guard, or a friend, White says Kim impacted the lives of so many here in the hub city and the news of his passing came as a shock.
"I just thought gosh, he's just too young, way too young," she said.
Friends tell us Sang Kim was only 52 years old. The Grand Master is an 8th degree black belt in Taekwondo and he had run a studio here in Lubbock since 1987. He recently opened a branch in Odessa in 2011.
White says she wants the rest of the community who didn't have the opportunity to know Kim to know what a great man it lost and how he will be always be remembered.
"He's going to be horribly missed and I hope his family is going to be okay," White said.
Kim's family only had a private funeral ceremony with close friends and family. The Odessa Dojang had a small lighting ceremony on Friday, January 10, and all students and friends paid their respects.
More About Grand Master Sang Kim